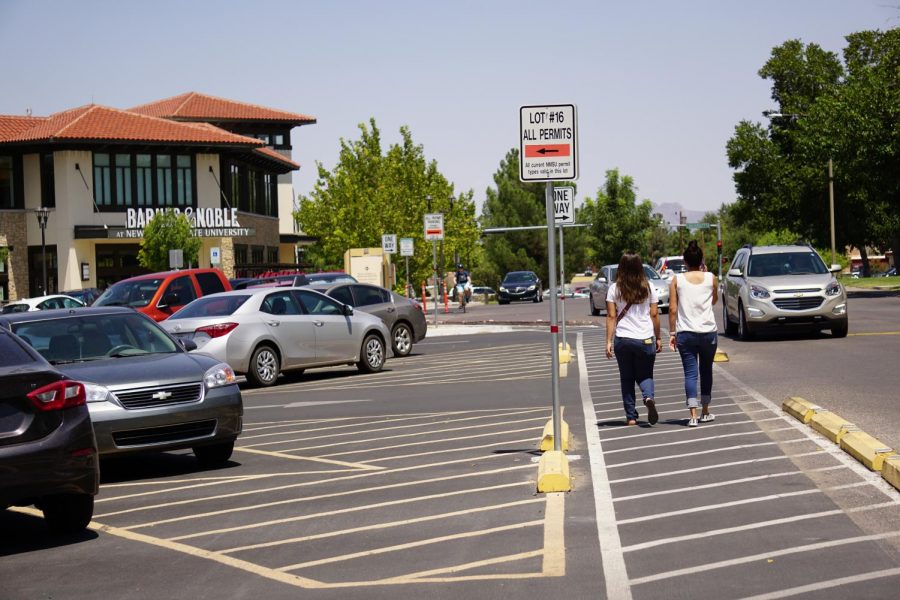 Cassidy Kuester
As of September 3, 2018, 2018-2019 parking passes are now in full effect for New Mexico State University. 7,760 total parking permits have been sold as of August 31 2018 at 11 a.m. for the new academic year. The Parking Department sold a total of 15,275 permits for the past 2017-2018 academic year.
Thus far in the 2018-19 school year, 1,757 faculty permits, 3,972 commuter permits, 283 outer lot (orange) permits, and 1,329 resident permits have been purchased.
According to a report from Auxiliary Services, NMSU's main campus has 449 commuter spaces, 2,864 resident (yellow and purple combined) spaces, 5,324 all permit spaces, and 1,646 faculty parking spaces.
This report reveals that in total, the campus has 14,672 parking spaces, which also includes the number of motorcycle, free parking, metered parking, and ADA parking spaces as well.
NMSU's Transportation & Parking Services website claims that the campus has about 13,500 available parking spaces. The website advises also that about 8,000 spaces are filled during the hours of 9 a.m. to 2 p.m.
Interestingly, the total number of permits sold last year—which is 15,275—exceeds the both numbers of parking spaces that Transportation & Parking Services and Auxiliary Services claim to be available. This difference ranges between 1,000-2,000 spaces.
As of August 31, 2018, the total number of current commuter permits of 3,972 already exceeds the number of 449 commuter spaces by a difference of 3,523. Commuter students are also allowed to park in orange lots, which have 5,324 spaces—however, orange parking spaces are also free to be used by the other 3,788 NMSU parking permit owners as well.
With a number like 15,275 representing total permits purchased for last year, NMSU can expect to see the number of 7,760 purchased permits for 2018-2019 to grow as the year continues.
A big problem that many commuter students claim they face is that finding a parking spot consumes lots of their time and that when they do find a spot, they have a far walk from their vehicle to their building.
"I understand that our parking stickers are cheap compared to other schools, but it's not worth it if you have to wait a whole hour to find someone who is leaving their space," public health major Jenna Serrano said. "By then, you already missed class."
Director of Auxiliary Business Support Kim Huddleston agrees it is difficult to park close to a building without having to walk a long distance, but also thinks there's ways to work around the packed lots.
"The fact is we have limited availability in parking the closest to a building people may want to go to," Huddleston said. "That's why we have the outer parking lots and we run the transit system. If you have to drive to campus, come early and find a place, park in an outer lot and ride the [Aggie] Transit in, or have a bicycle."
NMSU commuter student Amanda Peddie says that she has purchased a parking permit, but that she also tends to park off of campus instead.
"I think the best advice [for parking at NMSU] is to just get there as early as possible and hope [for the best]," Peddie advised.
Parking permits are priced at $67 for resident and commuter students and can only be purchased with proof of an Aggie ID card and current vehicle registration. Students may purchase permits online or in-person at the Parking Office located on the second floor of Barnes and Noble.