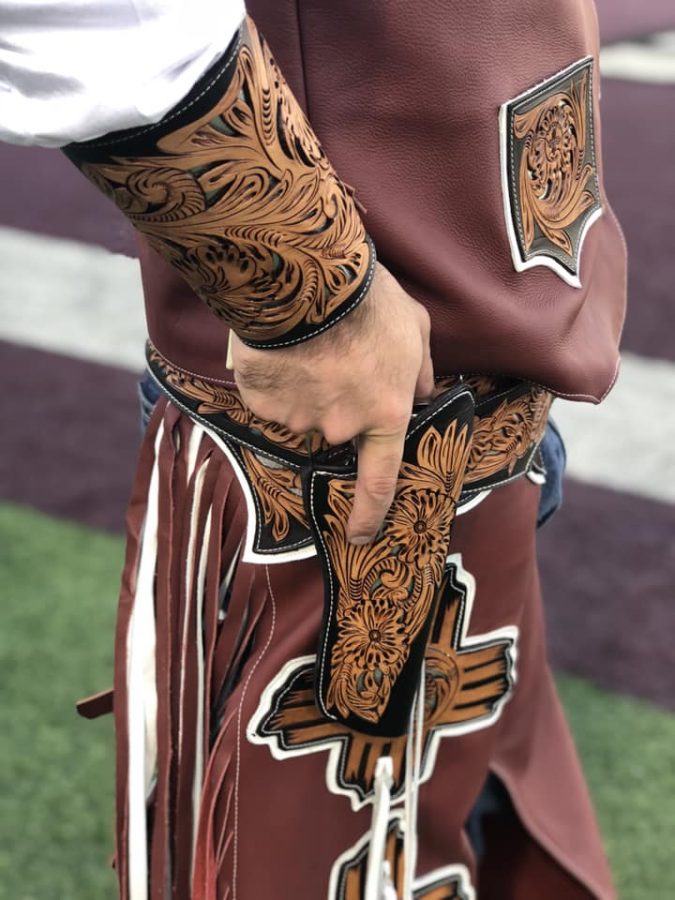 Pistol Pete, New Mexico State Aggies Mascot, recently retired two different uniforms that were over 12 years old and debuted a new cowboy uniform first seen at NMSU's Homecoming Parade Oct. 6.
The design for the new uniform was far from a solo job. DJ Downs, former employee of the Marking Department; Jessica Covington, head Cheerleading coach; current Pistol Petes Caleb Gustin and Emmett Freeman; and former Pistol Pete and recent NMSU graduate Caden Eisenbraun all helped design the new attire for Pete.
"The Pistol Pete outfits were over 12  years old and we felt it was important for our most recognizable ambassador to looks his best. Each detail of these outfits was to signify the pride, tradition and culture of NMSU," Covington said.
The new outfit was hand crafted by former professional bull rider Randen Henry of Lazy R Leather.
"It was designed by a bull rider, so the uniforms are more functional, move nicer and are lightweight," Gustin said.
Gustin enters his third year of being Pistol Pete while Emmett Freeman enters his second. Last year, there were three Pistol Petes and only two uniforms to share. Now, there are three identical uniforms for Gustin, Freeman and a third possible Pistol Pete to wear.
"We mentioned the suits a couple years ago—this has been several years in the making. Randen was recommended by a buddy of mine that does rodeo. It took about a year from the concept and the design to the final product that we got," Gustin said.
Pete's new attire consists of a crimson vest with the NM State logo on the front and NMSU Athletics' version of the Zia symbol on the back. The crimson chaps are decorated with two-tone fringes, Zia symbols and NM States logos as well. Pete also has brand new replicas of pistols from the Old American West.
"The gun that 'won the west' is what they call it. The Pistol Pete we have today is 100 percent modeled to be top-of-the-line cowboy. It's fitted correctly to the image we portray," Gustin said. "And we grow out our mustaches."
The new guns can give off a discharge effect that makes them seem real like a Hollywood effect, Gustin added.
"We have this air-filled pistol and put cooking flour inside of its cartridge and tape on both ends. The air pressure is enough to release the flour out of the top which gives the illusion of a discharge," Gustin said
The small details, such as the Zia symbols, the holsters, the pockets and the roping cuffs, were all individually hand-crafted by Randen Henry, Gustin said.
"This suit is built together as one unit in comparison to past suits we've had where the holsters, chaps and roping cuffs were all made by different people. Now, everything looks unique and connected," Gustin said.
Nicole Sack, assistant coordinator of marketing and promotions, said Pistol Pete's image is a significant representation of NMSU.
"Pistol Pete is a unique mascot, whose personality is as important as his uniform. Pistol Pete is one of the most visible components of any NM State event," Sack said. "We want him to be confident and full-comfortable in his uniform as he spreads Aggie spirit to our campus, community and beyond."
Gustin said Pete's image should be a depiction of the original west.
"The visual aspect, the western cowboy look and the feel are totally authentic. The look of Pete will be rockin' for the next ten years or so," Gustin said.