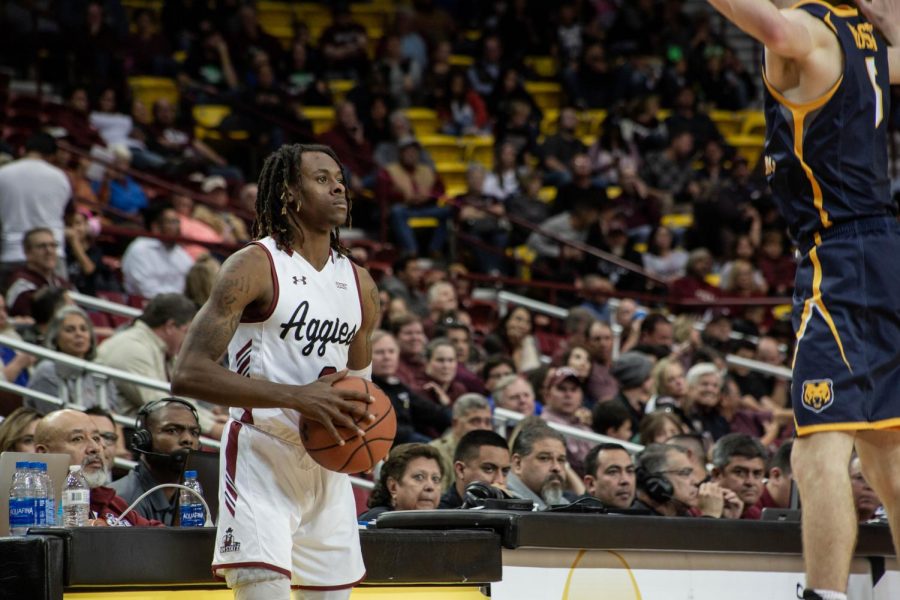 Mitchell Allred
Starting off conference play with a loss put Chris Jans and the New Mexico State basketball team in the unfamiliar position of not leading the pack, forcing the Aggies to adopt what Jans described as a "hunter" mentality.
Thankfully for NM State (15-4, 4-1 WAC), the frame of mind that accompanies the new role has only served as a benison, with the Aggies winning their next four games — including back-to-back road contests against Seattle and Utah Valley that troubled the team last season that accounted for their only two conference losses — to keep pace at the top of the increasingly competitive WAC.
"No question about it, that it was an important swing for us. For a number of reasons — one, trying to stay in a conference race, you know and stay connected to the top teams record wise," Jans said when asked about the road trip. "We emphasize these games a lot. Personally, it was important to me as well. Two places we hadn't won yet — I thought it was crucial that we go in and beat these teams on their home court, and our guys bought in to it."
The Aggies kicked off their current road trip with an 87-60 drubbing of Seattle on Thursday before pulling off a second half comeback effort to down Utah Valley 83-78 Saturday night, ending the Wolverines' 22-game home winning streak at the UCCU Center dating back to November of 2017 — something Jans addressed as a special priority for the team.
"We talked about Utah Valley's streak… We wanted to be the team to snap their streak and that would be a significant win for us — to be able to do that to their program in terms of how many other [teams] have went in there and lost that many times in a row," Jans said. "Obviously its a tough place to play, and we we able to accomplish it."
With one game left in their three game stint away from the Pan Am, NM State looks to continue rounding in to that championship-caliber form Aggie fans have grown so used to with a victory over UT Rio Grande Valley this Saturday before returning to Las Cruces, where they're undefeated under Jans in conference play, for a mini two-game home stand.
"Our numbers [on offense] are really really good right now… We're definitely playing better, even though defensively — our numbers still aren't where we want them to be, but the numbers don't always tell all the truth. I know we're playing better defensively," Jans said of the team's improvement. "When I watch the video, the on-ball pressure and the intensity is better, we're talking a little bit better, we've defensive rebounded well all year long so hopefully that will continue, but we've still got a long way to go — I mean that's the best thing about our team right now. We're playing better but we're not close to peaking or playing our best. We had tons of of breakdowns and we'll have all week to get better."
The Aggies will likely hope to ride the recent stellar play of senior forward Eli Chuha to more road success, who earned WAC Player of the Week honors after averaging 16.5 points and 12 rebounds per game overt the weekend while shooting an eye-poppingly efficient 80 percent from the field.
UTRGV has struggled offensively this season, averaging just over 68 points a game while shooting a conference worst 39 percent from the field, so this Saturday's matchup will be an ideal opportunity for NM State's defense to continue their upward trend.
However, Jans did mention how the Vaqueros' stellar athleticism and effective high pressure, trap-heavy defense — evidenced by their conference leading turnover margin and steals per game — is something that they haven't had to come up against for a while, but will be a necessary test as the team starts to approach the homestretch of the season.