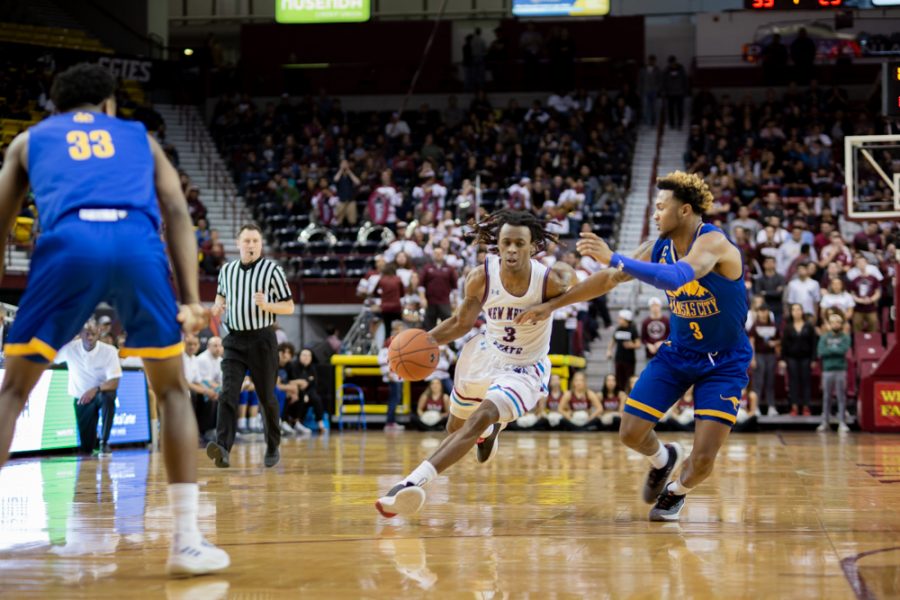 Mitchell Allred
A knockout blow in the form of a second half surge by New Mexico State propelled the Aggies over Kansas City 70-54, keeping them in an ever-tightening race for the conference title — what would be their fourth in five years.
The Aggies were up the entire game, but were unable to build a comfortable lead in the first half thanks to poor shooting (10-for-26 from the field) and shocking three point production from a UMKC side that was even worse from the field (7-for-26, with four of those field goals being threes).
First-rate defense and hustle was NM State's constant throughout the game, with the Aggies holding UMKC to 31 percent shooting, just 17 total rebounds compared to 43 for the Aggies and their season-low in points allowed, forcing multiple multi-minute long scoring droughts.
"One of the keys to the game was to try and hold them under 40 percent from the field, and I think we got that… We're looking to improve our defense right now," senior forward Eli Chuha said. "It's kind of on us, like the returners and stuff, letting the younger guys know how we defend but I feel like we're getting our guys in the right direction."
"I think after the Cal Baptist game, we kind of had like a bootcamp. We just had to reassure our defense and just pick it up and take it to another notch," junior guard Shunn Buchanan added. "Last year's team we defended really well, but this year's team, our numbers don't show it, and we want our numbers to show it."
When the defense is that solid, it allows for offensive troubles to get worked out, and once NM State took better care of the ball and started hitting shots they were missing in the first half, it was no contest.
The Aggies shot a much better 55.6 percent from the field in the last 20 minutes and blew things open with a quick 16-5 run — largely set up by their defense — halfway through the second half that extended their lead to 22 and showcased what NM State looks like when they're firing on all cylinders offensively. When seven guys are hitting three-pointers and the likes of Johnny McCants and Trevelin Queen sending the crowd into a frenzy with their highlight dunks, this team looks unstoppable.
"We're at our best when we're in to the ball and in passing lanes and we're getting deflections and we're getting some run out situations off our defense, and then obviously when the ball goes through the hole it makes the game a lot easier," head coach Chris Jans said. "We felt like at halftime, if we could make a shot or two it would open up the game, and that's what happened… Certainly our crowd got behind us and really helped us kind of open the game up and get us a lead we were able to sustain."
NM State has another favorable matchup Saturday afternoon (at 3 P.M.) when the winless-in-conference Chicago State comes to town, but the team knows better than to overlook an opponent based on record.
"Never, never underestimate your opponent. Just because they're winless doesn't mean they can't come in here and get a win," Chuha said. "We can't take them lightly — we still have to play like this is our championship game."