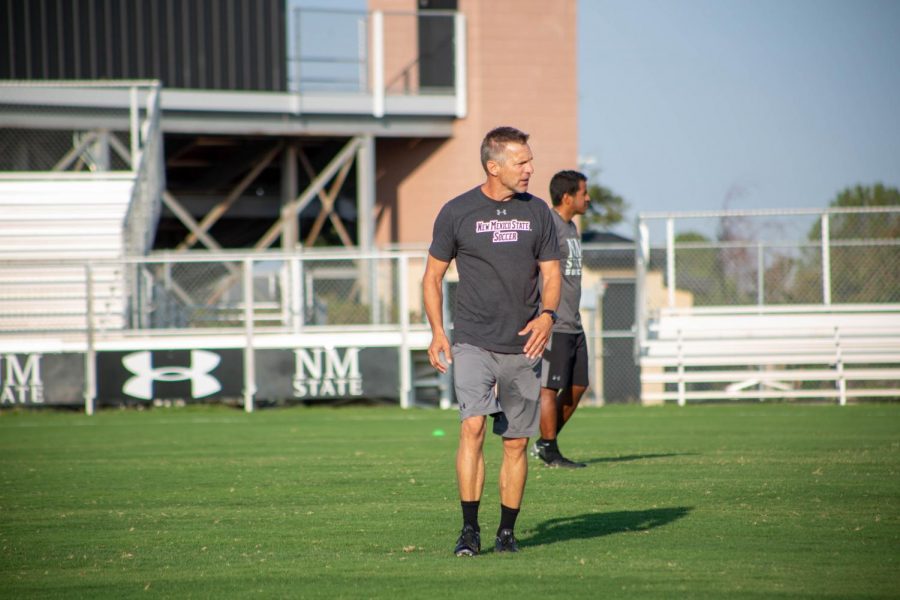 Mitchell Allred
The New Mexico State women's soccer team picked up their first win of the 2019 season over the weekend, holding off Idaho State to give head coach Rob Baarts his third career victory with the Aggies, and while the team is still far from a finished product, the product on the field already looks drastically improved after a much needed full offseason of work.
The Aggies ended their 2018 season with an overall record of 2-16, with their only wins against two lowly programs in Northern Illinois and Chicago State.
Baarts has been adamant about changing the culture since his arrival in January of 2018, and many of those shifts appear look like they're starting to come to fruition.
"If you talk to any girl on the team, you can see the culture change," Baarts said of his developing team. "We're starting to get that mentality of okay I see what we're doing, I'm going to work hard to make those changes, and I'm going to help my teammates make those changes."
The Aggies had difficulty keeping possession of the ball and creating any build up play last season, if the opening weekend is any indication, that's already old news. Baarts explored a new 4-1-3-2 formation in the Aggies' opener against ACU and have largely stuck with it, positioning two forwards up top and cramming the midfield in an attempt to be a more possession-oriented team.
"We thought we'd try something a little different with the tandem two as opposed to three spread wide," Baarts said. "[The formation] just gives us more of a hold on that midfield and let's us be a more ball-playing team."
NM State lost key seniors like Aileen Galicia and Audriana Chavez among others from last season's squad, but the impact of fresh faces early in the season looks to lessen that blow.
Shea O'Connor, a junior transfer from Oregon State, established herself as a striker in the purest sense of the word right off the bat, netting what could end up being the goal of the season in the Aggies' first game of the season.
Baarts also brought in Hannah Leitner — a freshman from Tucson, AZ — who displayed an exemplary workrate, making lethal runs on one end of the pitch and critical tackles on the other from her second striker role.
"I mean, you cannot teach what she does. What we can teach is her skill level, and that part is going to go from here to here in the next six months when she gets confidence and understanding of what she can do," Baarts said of Leitner. "I really do think she actually doesn't know what she can do… It is so untapped it's frightening. When we get her on par, she's going to be a force to reckon with."
With Leitner and O'Conner leading the attack and the Aggies midfield and backline each looking more disciplined and experienced, the team is poised to blow that two-win 2018 out of the water.
NM State (0-1-1) takes the road for the first time this season with a pair of games in Boise before returning to the NMSU Soccer Complex on Sept. 8 to take on Texas State.