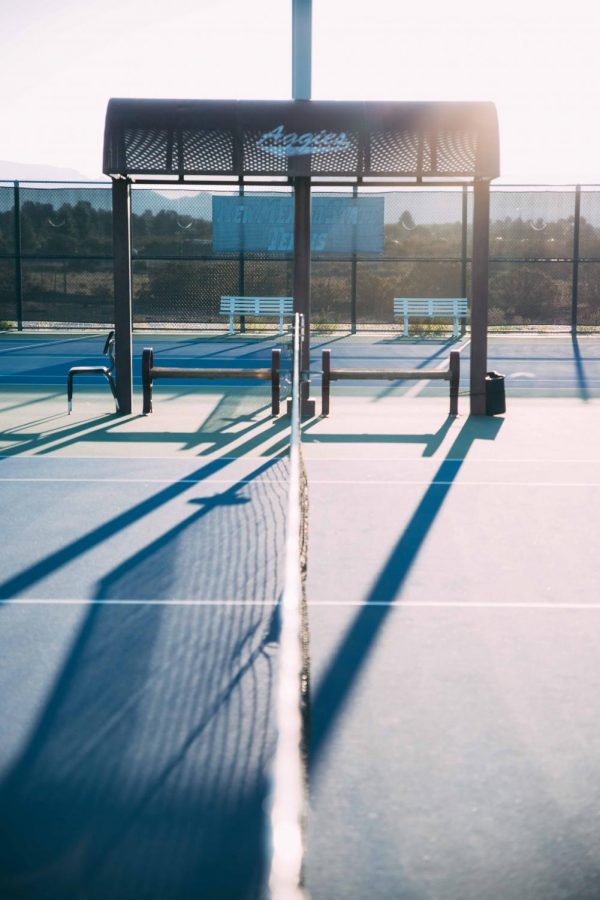 Shane Buchanan
Recent news of another New Mexico State Athletics representative's illegal conduct adds to the already existing controversy behind the ethical standards that NMSU holds for its student-athletes and coaches.
NM State men's basketball player Terrell Brown and NM State's women's tennis graduate assistant coach Stas Smirnov were each arrested for crimes that were committed before each began his affiliation with New Mexico State University.
Under a policy change by NM State Athletics that terminated an NMSU student-athlete code of conduct, which took effect July 1, student-athletes are only required to abide by the NMSU student conduct of conduct. As a result, their conduct will now be overseen by the Dean of Students rather than the Director of Athletics.
Summer 2019: NMSU allowing Terrell Brown onto NM State Men's Basketball
Over the summer, there had been some controversy behind NMSU's admitting Terrell Brown onto the 2018-2019 men's basketball roster after his arrest for robbery in the state of California where the action is listed as a felony, as first reported by the Las Cruces Sun-News.
Before Brown made his way to NMSU, the university's athletics department altered its standard for its student athletes by removing their student-athlete code of conduct and holding athletes to the same student code of conduct that all students at NMSU must abide by.
KRQE reported in July that NMSU's Dean of Students would have a hearing to review the case of Terrell Brown this semester, and the meeting did follow through.
NMSU Dean of Students Ann Goodman said that based on current NMSU policies, Brown is in good standing as a student of the university and is eligible to play basketball this year.
"Like any other case involving conduct of an NMSU student, I reviewed the information and documentation that was available against the current NMSU student admission standards and current Student Social Code of Conduct to determine next steps. Based on that review, it was determined that Mr. Brown was not a student at NMSU at the time of the incident, ergo Mr. Brown could not have violated the Student Social Code of Conduct," Goodman said.
Graduate Assistant Women's Tennis Coach Stas Smirnov arrested prior to NMSU
The latest news that raises questions about NMSU ethics was the release of news reporting that Smirnov was arrested in April 2018, prior to his arrival at NMSU as a student and coach, in Dallas, TX for assault with a deadly weapon, as reported by the Las Cruces Sun-News in mid-September.
As a result of his arrest, Smirnov was asked to not attend NM State women 's tennis tournament, Aggie Invitational that took place from Sept. 20 to 22, because the sister of the victim to Smirnov's assault would be in attendance to the Las Cruces tournament as an Incarnate Word tennis player.
Smirnov was a player for the University of the Southwest's men's tennis team in spring 2018 when he got into a post-match altercation with his opponent Warren Fulgenzi in a Dallas tournament.
NMSU student Gabi Hernandez said it was surprising to learn of the graduate student's background.
"That's something that makes you raise an eyebrow. You want to make sure that as a coach, he's coaching his athletes to handle themselves better after a game," Hernandez said.
However, Hernandez also said she thinks that Smirnov can use his coaching position to teach his athletes to build off of his experiences.
"It could be something where he doesn't want to redeem himself necessarily, but maybe so he can make sure athletes can be better players and have sportsmanship," Hernandez said.
NMSU freshman Jay Dena said that he feels that it is okay for Smirnov to coach at NMSU.
"As long as he leaves that in the past, I feel like that should be okay," Dena said.
NMSU Athletics under media-fire
After the Sun-News report, the Albuquerque Journal in particular addressed the university for coincidentally altering their athletic policies before accepting Brown onto the basketball team in their editorial "NMSU playing fast, loose with athletes' conduct code."
Chancellor Dan Arvizu and NM State Athletics Director Mario Moccia released a statement July 15 in response to the Albuquerque Journal editorial.
In the statement, Arvizu and Moccia explained their reasoning behind eliminating the student-athlete code of conduct and that having two codes of conduct has been a concern of the university's.
"This has been a concern for us for quite some time because having two different codes of conduct makes discipline ambiguous in certain cases and sends us off into a potentially dangerous area where certain students might be judged more harshly than others for the same infraction," Arvizu and Moccia said.
Like Arvizu and Moccia, Goodman agreed with the removal of a student-athlete code of conduct due to her experience of working in higher education, she said.
"There have been instances in which disciplinary matters have been handled 'in-house' by athletic teams and student-athletes were given preferential treatment because of their playing ability and team performance needs. When given the same circumstances, any other student may have been put into a probationary status or even suspended from school," Goodman said.
Goodman also said that the cases of both students do have an impact on NMSU's image, but she also feels that the students are not a threat to the NMSU community.
"I do think that stories like Brown and Smirnov do impact the image of NMSU athletics and the student body, however often times there are factors that the public and/or the media do not share that are critical to understanding the totality of the circumstance," Goodman said. "In these particular cases, it became evident that the past history of the individuals who chose to attend NMSU were simply allegations and there were no convictions in place."