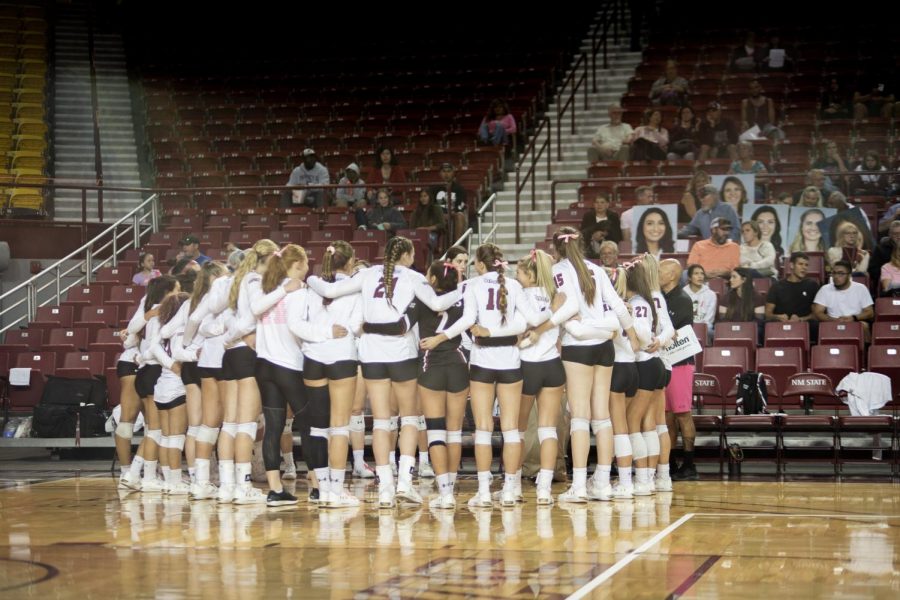 Mitchell Allred
Another year, another WAC Championship for the New Mexico State volleyball team.
After another straight-set sweep Saturday — this time over Grand Canyon, marking their 14th of the season and eighth in conference play — sealed the deal for NM State (23-3, 14-0 WAC) with two games still left to play in the regular season.
The Aggies, led by head coach Mike Jordan, continue their dominance as the premiere program on campus, securing a sixth regular season title during the Jordan-era and picking up their 15th-straight victory as they steamroll to towards a 10th NCAA Tournament appearance in the last 17 years.
Middle blocker Julianna Salanoa brought home her third WAC Player of the Week honor after hitting .579 and registering 23 kills over the Aggies' two games against CSU Bakersfield and GCU, strengthening her claim for conference Player of the Year as she already ranks in the top-20 nationally in blocks per set and total blocks and has the third best hitting percentage in the WAC.
Former WAC Player of the Week recipients Megan Hart and Savannah Davison also showed out in NM State's title-sealing blow out over Grand Canyon Saturday, adding 15 and eight kills respectively in another overwhelmingly dominant win — something that's becoming increasingly commonplace for this year's group, as solidified by their 42-8 set margin throughout the conference season.
NM State has been a powerhouse for the better part of Jordan's tenure, finishing well over .500 every year since 2001 and winning over 23 games in 10 of the last 18 seasons — tripling the program's total (just five 23-plus win seasons from 1974 to Jordan's first season at the helm).
Three losses matches the lowest total for any NM State team in the history of the program, and with the Aggies not playing a team they haven't beaten until the NCAA Tournament (assuming they qualify, which they are more than favored to at this point in the year), this group could solidify their place in Aggie lore as one of the best team's in school history.
NM State will host Chicago State on Thursday before taking on Kansas City in their regular season finale this Saturday at the Pan American Center.