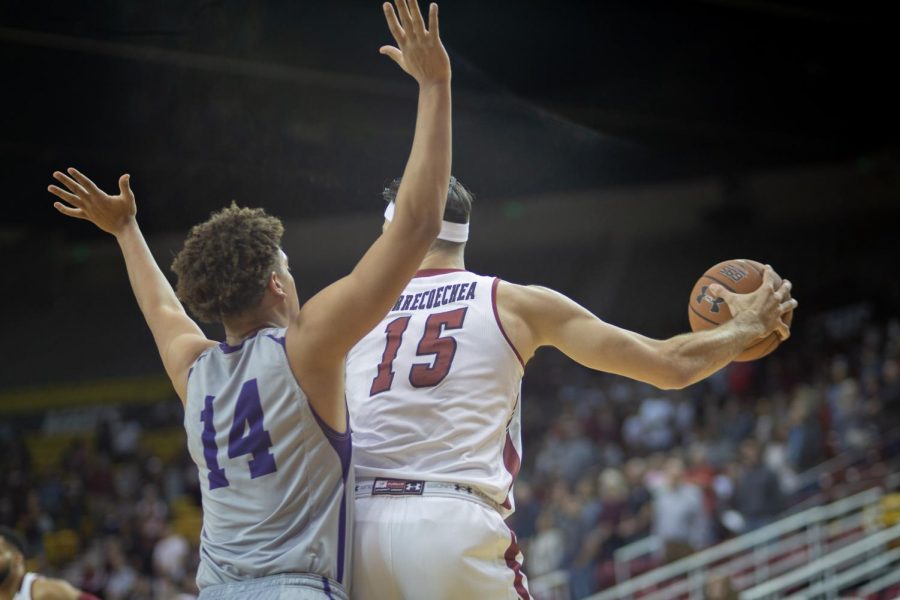 Mitchell Allred
After climbing back up to .500 following a near sweep at the Cayman Islands Classic, the New Mexico State men's basketball team set their sights on part two of this season's Battle of I-10, looking to avenge their November loss against a surging UTEP side.
The Aggies took advantage of the much needed midseason tournament to crank out a 78-70 overtime win over Colorado State and and blowout victory over South Florida before giving up a 14-point first half lead in a four-point loss to a quality, 8-1 George Mason squad.
Prior to the trip out of the country, NM State had fallen below .500 for the first time in the Chris Jans era, losing three out of four — albeit to UNM, UTEP and U of A, who are a combined 21-2 on the season — following a gimme matchup against Western New Mexico to start the season. While the Aggies haven't gotten past their injury troubles yet, NM State showed signs of a team on the up and up and flashes of the team that entered the season with those sky high expectations, which are still very much attainable.
NM State will have a chance to atone for their early season let down at the Don Haskins Center this Tuesday when UTEP leaves the friendly confines of El Paso for the first time of the 2019-2020 season to face the Aggies for a rematch on Lou Henson Court.
The Aggies will still be without senior guards AJ Harris and Clayton Henry, who remain out due to injuries suffered during the preseason, but will be much better equipped to do so, as they enter the rivalry showdown a far more battle tested team than the first go around.
UTEP's 65-50 win over NM State on Nov. 12 marked the Miners first win in the rivalry since the 2014-2015 and the fewest points the Aggies have scored since 1983, with a 36% shooting performance that featured a season low six three pointers and two field goals proving too offensively anemic for Jans' group to overcome.
NM State looked sharper in the Cayman Islands Classic, shooting over 44% over the course of three games while cutting down their turnovers from over 15 a game to 13, bettering their efficiency across the board.
Jabari Rice has also proven himself to be a legitimate option on the offensive end, scoring at least 13 points in four of his last five outings and shooting over 54% from the field and 42% from three point range. Rice will need to continue that recent form against a UTEP side that allows a solid 62 points per game.
The Miners have looked as good as advertised early in the season, winning four of their five games by over 14 points and showing their quality in crunch time in holding off an impressive UNM side whose only other loss came to a Final Four school in Auburn.
It should be noted that all five of UTEP's games have been at home, with three of those coming against Division II opponents. While it's clear the Miners are a much improved side with their transfers now eligible, they've yet to prove it in adverse conditions, allowing for what would be valuable momentum boost for the Aggies as they forge into résumé-building non-conference play.
NM State tips off against their borderland rivals tonight at 7 p.m. at the Pan American Center in what will be their last home game before semester's end.