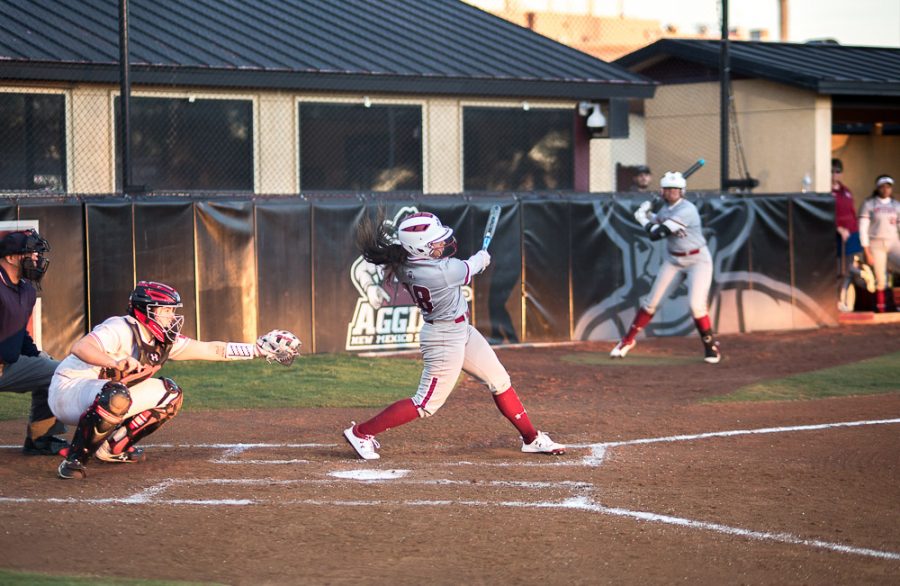 Mitchell Allred
The New Mexico State softball team split Friday night's double-header with the Omaha Mavericks, coming up short in the first game 7-6 before coming back to claim a 10-4 victory in the latter tilt.
NM State started game one hot with four hits and four runs in the third inning to go up 4-1. This would extend through the sixth inning when Caity Szczesny walked, allowing Ramsey Lopez to score.
The Aggies would be stifled from there, though, allowing six Mavericks' runs in the seventh inning, to concede a massive comeback victory to Omaha. Head Coach Kathy Rudolph believes the team's demise stemmed from the Aggies' not coming up in key situations defensively.
"I think that when Omaha made a big push, we didn't make the stops that we needed to make," Rodolph said. "I think Omaha is a good team. They came out very hungry, and they attacked us, and we gotta do better at making stops."
Game two was more of the same with the Aggies taking the lead early on, but this time, NM State staying in control. Lopez continued helping the Aggies in game two when she hit a three-run dinger that let Nicki Butler and Hailey Tanori score in the first inning.
They kept the momentum up in the second inning with Butler and Tanori, both blasting two-run hits to put the Aggies up seven to zero. Omaha was able to pull four runs back over the next three innings, but in the fourth, NM State's Hope Banales grounded one out to the center field, allowing Keala Brown to score putting the score at 8-4. The Aggies closed the deal in the sixth inning when Matalasi Faapito hit one out of the park, enabling herself and Brandy Hernandez to score and win the game.
"Well first and foremost, we felt like we could make stops in the circle and that we could defend- as long as we kept them at balance and so we did," Rodolph said of game two. "I felt like we did better about capitalizing and continuing to put pressure offensively throughout the entire game instead of just in one or two innings."
The Aggies and the Mavericks will take the field again tomorrow for yet another double-header scheduled to commence at 2 p.m. at the NM State Softball Complex.