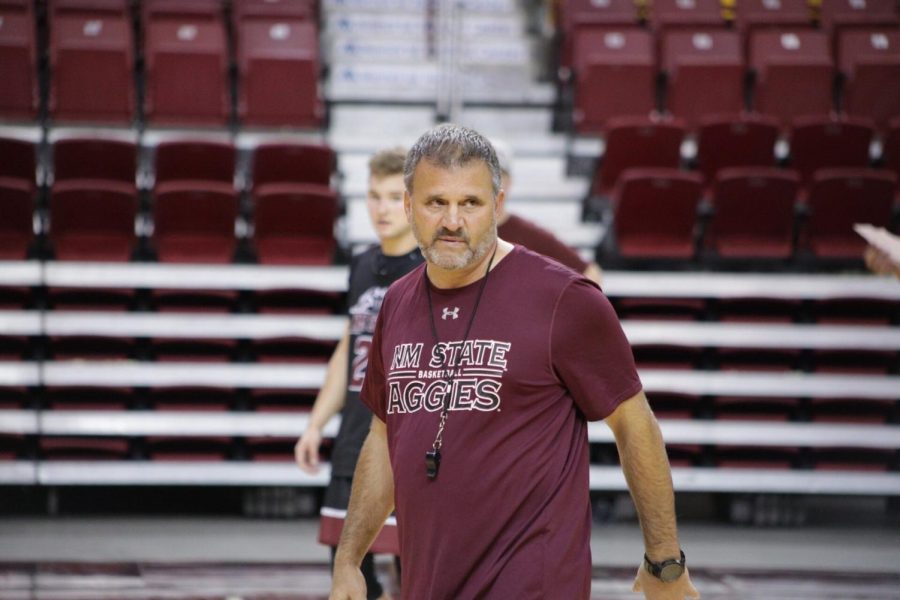 Cassidy Kuester
Despite the cancellation of all fall sports, New Mexico State University's athletic teams are still conducting practices following NMSU's COVID-19 response team's protocol.
On Aug. 13, the Western Athletic Conference presented the decision not to engage in competition this fall due to health and safety concerns related to the COVID-19 pandemic. The WAC said they hope to resume the seasons starting Jan. 1, 2021.
Until then, New Mexico State has been holding practices for sports originally scheduled to begin their season in 2020 . Guidelines for these practices have been provided to coaches and athletes by NMSU's COVID-19 response team, the medical staff at NMSU, and the athletic training department.
The NCAA released a document on Jul. 16, the third installment of guidelines for COVID-19, on developing standards for practice and competition that is updated regularly with new COVID-19 information that provides guidelines for preventing community spread of the virus in athletic environments. These guidelines include practicing outdoors and when not feasible indoors with sufficient ventilation, routine testing of student-athletes, observing student-athletes and wearing proper face coverings while keeping a 6 feet distance from others. The NCAA also asked that all member schools adhere to federal, state and local guidelines associated with COVID-19.
Along with several other sports, NM State's basketball team has been practicing since the start of the semester. According to Head Coach, Chris Jans, they have been practicing proper precautions to ensure the safety of athletes while attempting to social distance as a contact sport.
"All players and staff are wearing masks during the entire time we are on the basketball floor," Jans said. "Equipment is sanitized before, and after practice, our players are dressing out for practice in the gym, socially distanced in chairs six feet apart, as access to our locker is off-limits at this time. We do our best to keep all of our student-athletes in a safe, sanitized environment."
"As basketball is a contact sport, it is difficult to implement social distancing at all times, but we try to keep our student-athletes apart during drills, when standing in lines, when in a huddle, and dressing prior to practice… We're hopeful we'll be able to continue without interruption, and we will follow what the NCAA and WAC determine is a safe course for our student-athletes."
While following safe social distancing and using proper face masks during practice can further prevent the spread of the virus, it is still possible for student-athletes to become infected. The university and athletic department have a standard system for managing the testing of athletes and positive cases, along with following the CDC's instruction for positive patients.
"The University and it's Covid-19 Response Team have begun to test all student-athletes utilizing surveillance testing, which tests 25% of each team on campus every other week," Jans said of the university's procedures. "If a positive test occurs, the infected student-athlete will quarantine for 14 days, and contract tracing will occur. If additional testing is necessary, student-athletes will be tested at Fulton Center with the NMSU Medical and Training Staff. Once quarantine is completed, the student-athlete is eased back into workouts with guidance from our Athletic Trainer and Medical Staff."
While the situation is ever-evolving and the procedures and knowledge of the virus continue to develop, NM State athletics is taking the necessary steps to prepare for a sports' given season, provided that is able to comeback at some point this school year.