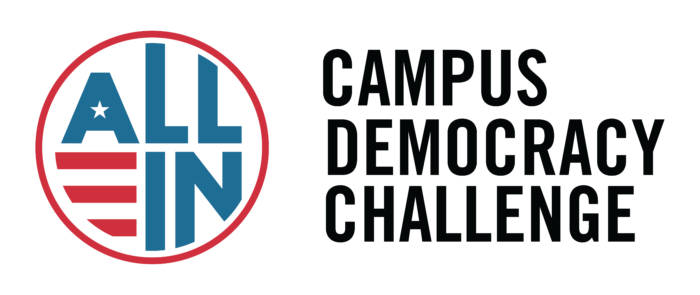 As the 2020 election nears, the New Mexico State Athletic Department, in conjunction with the ALL IN Campus Democracy Challenge, is working to educate Aggies about the voting process to encourage voter participation on campus.
"In late July, the NABC (National Association of Basketball Coaches) announced its partnership with the ALL IN Campus Democracy Challenge. College basketball coaches from around the nation were encouraged to take the Coaches Voter Engagement Pledge in an effort to get players from their respective programs to take part in the electoral process," Charlie Hurley, Assistant Athletic Director and member of the Media Relations team said. "NM State signed that pledge back in late July from a men's basketball standpoint, but in speaking with other athletic administrators in our department, it was clear this was something our entire body of student-athletes could benefit from."
The challenge is working to institutionalize democratic engagement on college campuses by acknowledging and awarding universities for increasing voting rates on their respective campuses. A university will produce and implement a voting plan, share their successes, and receive awards and seals for their efforts and achievements. There are currently 1,432 campuses, along with 766 institutions, participating throughout 49 states. These universities are working on getting 100 percent of the over 8.4 million students across theses campuses registered to vote and comfortable with the electoral process.
The NM State Athletic Department created their voting initiative at the beginning of the school year and first introduced it on Aug. 25. This was done in a video featuring Tennessee Owens, a senior Aggie men's basketball player explaining the initiative and urging everyone to vote. Hurley says this effort will be fulfilled through a series of videos starring other Aggie athletes.
We are Aggies and we are @allintovote! 🗳
With the election season about two months away, we're going to be encouraging and educating our fellow students and student-athletes about how to exercise their right to vote! #AggieUp pic.twitter.com/Vpd59IGIxl
— NM State Aggies (@NMStateAggies) August 25, 2020
"We are focused on getting student-athletes educated about the processes of voting through various videos with our teams," Hurley said of the initiate. "With the help of individuals like Doña Ana County Clerk Amanda López Askin, we have put together a series of information videos that we hope can instruct first-time voters on the best practices available to make their voices heard.
"Our goal with this initiative has always been to educate our student-athletes and general student population at NM State about the processes of registering to vote and the importance of voting."
A total of 11 videos will be distributed on their social media over eleven weeks. These will feature student-athletes from every sport, each touching on various topics regarding the electoral process, such as reminders about important deadlines, registering to vote as in and out of state students, and early voting dates and deadlines.
Millennials and Generation Z are the largest group of potential voters in the United States, but historically have low voting rates. In the 2016 presidential election, only 48.3 percent of college students exercised their right to vote. The NCAA is further striving to increase voter turnout by providing all Division I athletes the day off for Election Day, not just this year but every year from now on. Owens believes that student-athletes need to become more politically engaged and take action this November.
"Student-athletes, like I said, historically have not been the most engaged voters. So I think this is an 'untapped market,' if you will, when it comes to bringing about change," Owens said. "A lot of us student-athletes have had practice or games on Election Day, and before these changes and initiatives, Election Day was never a mandated day off like it is for a lot of sports now. I think this generation of student-athletes are the most outspoken when it comes to expressing themselves, especially through social media outlets. But come voting time, we don't put those words into action.
"For those that want change or want to be heard, it's crucial we vote so we can see it come to fruition. It takes more than sending a tweet or liking a picture on Instagram."
The NM State's Basketball team went even further on National Voter Registration Day by registering their entire roster to vote. This was done by Doña Ana County Clerk Askin, being brought in to guide them through the process. Owens says he, along with other Aggie athletes, has seen the athletic department's efforts as effective.
Today we got #VoteReady thanks to Doña Ana County Clerk @Letstalkamanda!
Today's #NationalVoterRegistrationDay event means all the Aggies are now able to vote in the upcoming 2020 general election! #AggieUp pic.twitter.com/ghBlLIhiEK
— NM State MBB (@NMStateMBB) September 23, 2020
"We're in unprecedented times, and I think the athletic department at NMSU has done a great job so far of engaging the student-athletes in what is going on. Their initiatives to get us out to the polls come Election Day has been great," Owens said of the department. "Whether it be giving teams the day off, joining voter participation groups on social media, or encouraging student-athletes to be poll workers on November 3rd, they've done a great job of providing all sorts of outlets and avenues for student-athletes to get involved. I definitely feel the efforts being made, and I think I speak for most student-athletes when I say that.
"I can't speak for other sports, but I would definitely say this is the first time I've walked into the locker room and heard the word vote being tossed around by teammates."
As the NM State Athletic Department remains working on getting Aggies more politically involved, Owens' additionally encourages all Aggies to take action and use their voices on Nov. 3rd.
"I grew up being taught that we can't think for others, and it's not right to assume we can do so. For unsure voters, especially fellow Aggies, athletes or not, I encourage you to do your part," Owens said. We're in a time where we open social media apps and see people posting left and right their opinions on the current state of our country, so it's time to turn those opinions into actions.
"Voting is an unbelievably special tool all Americans have, and there's no better way to be patriotic than to get out to the polls on Nov. 3. Before doing so, I think it's important you really become aware, though. Don't base your opinions or vote off of one tweet or post you see on social media. Do thorough evaluations before making a decision, not only in this election but for all elections going forward. Nov. 3 is one of the most important dates of our lives, and future generations will look back on this date and ask us if we participated. I hope when they ask you, you'll be able to say you went out and voted."