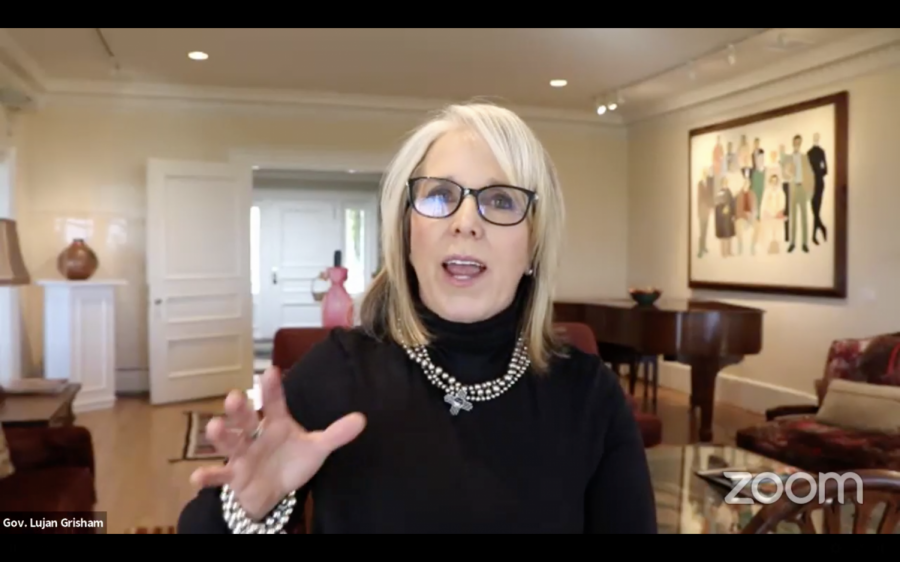 A continued hike in COVID-19 cases in New Mexico, which has featured consecutive days of record positives, has prompted Governor Michelle Lujan Grisham to tighten state-wide restrictions, posing added challenges to athletic programs — namely basketball, with the NCAA-wide allowed the first day of preseason practices coming on Oct. 14 — for New Mexico State and New Mexico alike.
The amendments to New Mexico's public health regulations, which include a reduced number in mass gatherings down to five and a full 14-day self-quarantine period required by those traveling from high-risk states, have forced each program to present a practice plan that must comply with the state's COVID-Safe Practices for Intercollegiate Sports agreement, contingent on the frequency of testing and the safety of the counties each university is located in.
The agreement calls for each athletic program to conduct three tests per week — something NM State has not done to this point, adhering to the in-place NCAA regulation requiring just one test per week until one week before the first game of the season before the agreement's implementation in conjunction with the record number of cases — and for the counties — Doña Ana for NM State and Bernalillo for UNM — to carry a 14-day average daily case count of below eight per 100,000 and a positivity rate under 5% for any full practice, let alone a competitive game, to occur.
According to Geoff Grammar of the Albuquerque Journal, Doña Ana County's positivity rate checked in at over 9% Thursday evening, with Bernalillo County hugging the line right at 4.7%, and both counties 14-day average daily case count were well above the magic-number eight, sitting at just over 25 and 14 cases respectively, jeopardizing any potential immediate activities, especially for NM State, who have not been approved yet but are determined to keep a timely start to the college basketball season on track.
With the Mountain West Conference's re-commitment to going forward with playing football in 2020, the most pressing issue on New Mexico's athletic docket is likely UNM's availability for what is scheduled to be its season opener against Colorado State on Oct. 24 following nine positive tests (eight players and an assistant coach) — the team's first positive tests since late August — in addition to the aforementioned county-wide rise in cases.
Team activities are currently paused, and while the Lobos are taking the necessary steps to isolate those positive tests to be able to reopen facilities and resume practice, that matter of the high positivity numbers in Bernalillo County pose a threat to the team's safe preparation for a game just eight days away and the season beyond, with UNM slated to host San Jose State on Oct. 31 for what is supposed to be its home opener.
New Mexico State is not set to take the football field until the springtime, making them one of three FBS schools who have forgone the regularly fall season. The Aggies independent status, coupled with the already irrecoverable financial hit of the pandemic, with over $3 million lost from guarantee games, have made returning to the gridiron for games all but impossible this semester.
While a general optimism has surrounded much of the college football landscape in its spotty return to action for every major conference and the better funded, bigger teams with no conference affiliation, the decision to try to press forward has not come with the expectation, or reality, of smooth, virus-free sailing.
Many schools have experienced similar situations to what UNM is going through now, with over 30 games postponed or canceled as a result of COVID-19 in the FBS. Some teams have been hit with internalized outbreaks, with the likes of Baylor and Florida postponing big matchups because of 20-plus player positive tests each.
With the continued unpredictability and volatility of the college sports world, all that can be done is to take things day by day, adjusting to the virus and government orders as something new develops, with the safety and best interest of those in these programs kept in mind.