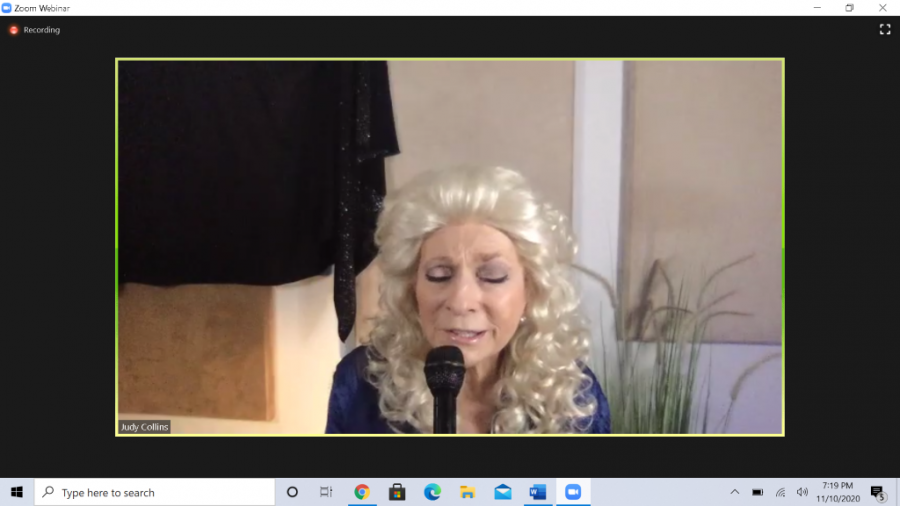 Selema Graham
On Tuesday, Nov. 10 internationally known singer and songwriter Judy Collins did a virtual performance over Zoom for New Mexico State University's Research and Creativity Week.
Collins is known for her wide range of music and social activism.
She performed four songs—one of which had never been heard before—talked to the show's moderator James Shearer who is a music professor at NMSU about her life and answered a few audience questions.
The whole show lasted about an hour and a half.
During the show, Collins and Shearer talked about her life. One of her more interesting claims-to-fame is that she sung during her testimony for the Chicago Seven. She attempted to sing "Where Have All the Flowers Gone." This was cut short as the judge told her, "we don't allow any singing in this court."
During the interview Collins said "nobody's ever put their hand on my mouth and said you can't sing. I must have gone into shock because for years I forgot anything else had ever happened."
Later Collins talked about her struggle as an alcoholic and how she was able to get treatment and help herself. A big help to her was the discipline she learned from studying music, especially the piano, and having to practice every day.
"I don't just do music, I am music. I am what I do. And that was pretty much engraved on my body, soul and mind. That carried me through a lot of things I things that I wouldn't have gotten through if I hadn't had that background," Collins said.
Collins also talked about the many people who have been a great impact in her life. Such as her piano teacher Antonia Brico, whom Collins made a movie for. Collins said she thinks Brico never really forgave her for leaving classic piano playing to go into folk and pop music.
"The thing that was so striking for me and so wonderful is that it changed her life. She had been kind of forgotten and there wasn't any work. And so the minute that the movie hit, suddenly she was going to universities… going to Europe [and] conducting," Collins said talking about the movie.
The movie is "Antonia: A Portrait of the Woman," which was nominated for an Academy Award.
In an interview, Shearer talked about how the show was set up and how Collins was picked.
"Dr. Cifuentes wanted to do some kind of bigger musical performance with discussion. All part of the Creativity and Research Week," Shrearer said.
Shearer said they were able to get to through her management. The original prospect was Janis Ian who has performed for NMSU a couple of times, but she wasn't able to do an online performance. Shearer said Collins has the same management and felt she had the means to do an online performance.
Shearer said how much of an honor it was to interview and talk with Collins. "She's truly a living piece of history, it's like talking to Bach or Beethoven—it's that good."
He sounded impressed with the show himself, but said several people texted him saying that the show was cool, and they liked being able to "sing with" Judy Collins as she ended the show singing Amazing Grace. A staple for the end of her performances.