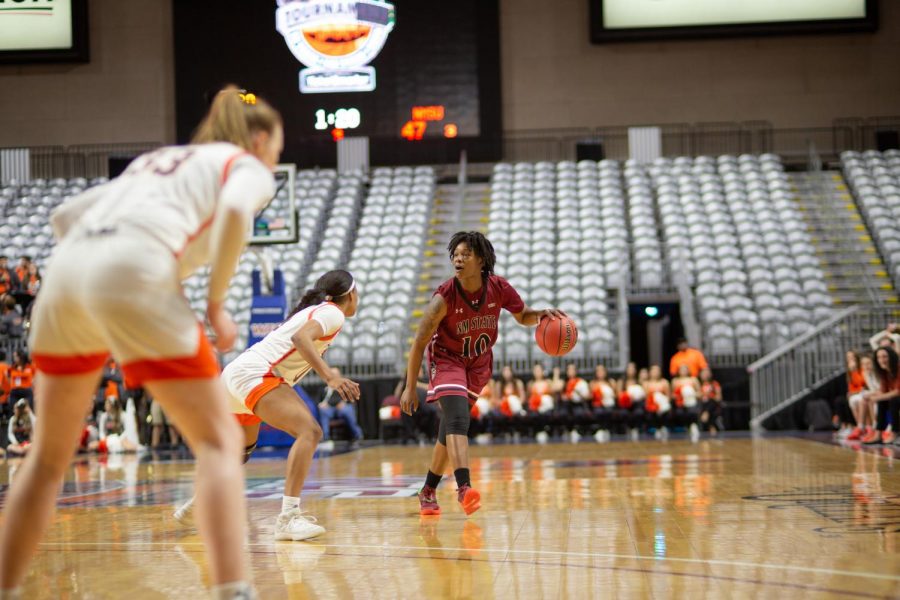 Mitchell Allred
After months and months of roadblocks, it appears that the cloud of uncertainty surrounding New Mexico State basketball's season has begun to dissipate, with relocation out of the state allowing for the opportunity to finally fully practice and season openers getting scheduled for both the men's and women's teams in the coming weeks.
On Tuesday Nov. 17, an announcement was made by NM State Director of athletics Mario Moccia, that the NMSU men's basketball team is leaving Las Cruces and heading to Phoenix, where they will stay for a period of time to continue to prepare for the 2020-2021 college basketball season.
NM State would be the first NCAA Division I basketball program in the country to relocate for a certain amount of time for the upcoming season. The Aggies' men's basketball team is planning on setting up at the Arizona Grand Resort & Spa for their new home for the next coming weeks, where they will be able to hold full practice for the first time this season and continue to isolate in a controlled environment without the strict restrictions of New Mexico preventing a resumption to play.
The Aggie men are still looking for a home court, with the makeshift courts at the resort serving only for practice purposes, but this hasn't stopped NM State from scheduling their first non-conference game of the season, with Chris Jans' squad set to travel to NAIA's Arizona Christian University next Friday on Nov. 27.
The NM State women's team also have their season opener on the horizon, with the Aggies set to take on I-10 rival UTEP at the Don Haskins Center next week on Nov. 25.
A lot more variability surrounds the women's team in their current situation, with head coach Brooke Atkinson's group not solidifying a semi-permanent home for practice or games with under a week to go before the start of the college basketball season. NM State will, for this week at least, stay in Tucson to practice before coming back to Las Cruces to isolate ahead of their matchup against the Miners.
What they will do beyond that stays shrouded in mystery, but after Governor Michelle Lujan Grisham's stern rejection of New Mexico State's in-state plans to resume athletic activity in a competitive capacity on account of COVID numbers increasing seemingly daily in New Mexico, relocation over an extended period of time remains the only option if the Aggies want to have any semblance of a semi-normal season.
No other non-conference games beyond their season openers have been scheduled, but with both NM State teams taking the court in just days, there's finally some solid evidence that Aggie fans will have a season to look forward to — something that wasn't a certainty just weeks ago.