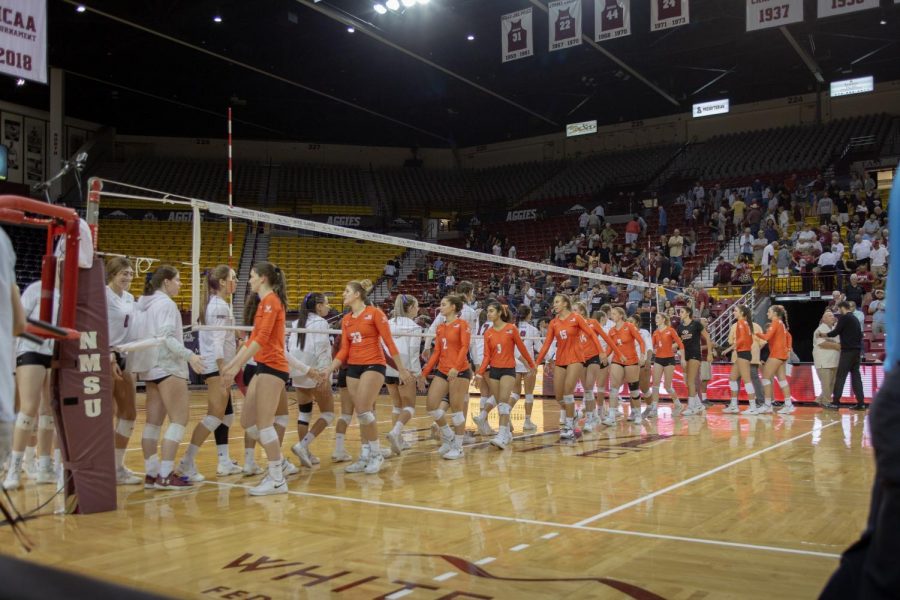 Mitchell Allred
The New Mexico State volleyball team capped of their series against UT Rio Grande Valley with a second straight sweep. The Aggies improve to 4-0 on the season, as they continue to dominate their WAC foes, extending their conference winning streak to 24 games.
Yesterday's three set victory consisted of a tight first two outings, with NM State winning by slim 25-20 and 25-21 margins, but a resounding 25-15 to close day one in Edinburg, Texas out carried into Tuesday morning's matchup, where there was hardly any doubt.
In that game, vets Savannah Davison and Lia Mosher led the team to a third straight win to start the season, both registering 8 kills with 5 blocks.The Aggies as a total amassed 41 kills, 34 assists, 10 blocks and 7 aces, which dwarfed the Vaqueros stat line across the board (just 29 kills, 24 assists, 4 aces and a measly single block.)
The first set in today's showdown started with the Aggies taking an early lead, but UTRGV did manage to mount a mini-comeback and even take as much of a 13-9 lead after some NM State errors. Once head coach Mike Jordan called a timeout, though, the Aggies would not look back, rattling off four straight points to tie and pulling away with kills from across the roster, sealing set one 25-19.
It was more of the same in the second set, with the Aggies leading from start to finish. UTRGV called a timeout after falling behind 10-7, but still could not get going as the Aggies got four straight kills to take a 14-8 lead. NM State went on a 6-1 scoring run to give them the double-digit lead 22-12 to ice things, finishing on top 25-14.
The third set started out similarly to the previous two, with neither team getting an early edge, but a 5-point Aggie run would turn the tide, giving an 11-6 advantage that would prove to be too much to overcome. The Vaqueros fought back and brought themselves within two points at 19-17, but the patented Jordan timeout momentum shift came immediately following, preserving the NM State victory that would end up being 25-20.
Davison and freshman Victoria Barrett repeated their success from last week, leading the team with 11 total hits. Natalie Mikels led the Aggies in assists totaling in 20 (out of an astounding 44 for NM State) and Lindsay Blakey led the team in blocks with four.
The back-to-back straight-set sweeps will only give Jordan's squad more confidence as they look to stay perfect when they host GCU in their first temporarily permanent "home" series of the season at the UTEP Memorial Gym in El Paso next Monday and Tuesday.