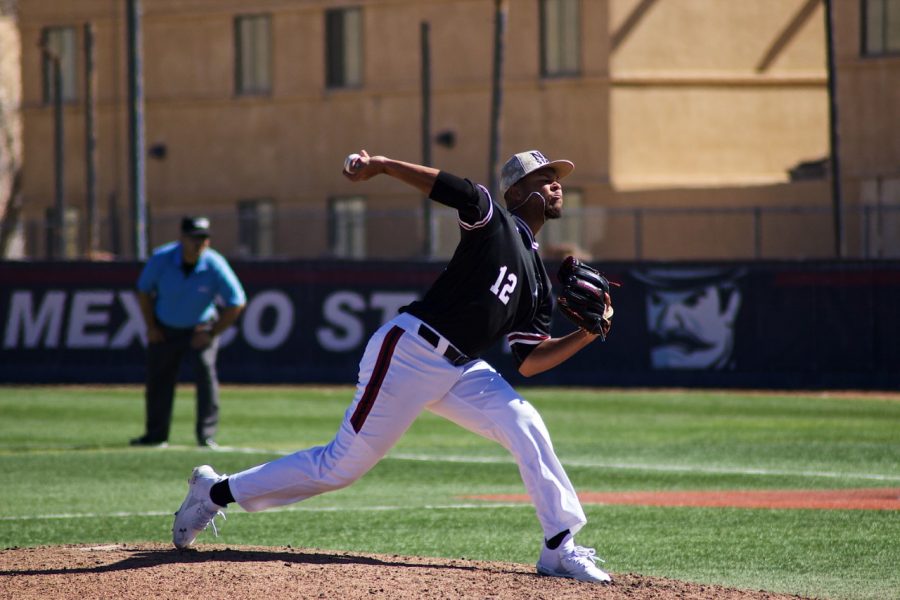 Just as the light started to shine at the end of the tunnel for fall and spring sports alike at New Mexico State, COVID-19 comes back to rear its ugly head — this time, interfering with the start of the Aggie baseball season.
NM State's season opening series against UNLV has been cancelled after the Aggies received news of a tier one positive test in the program. The team was on their way to Las Vegas via bus to take on the Rebels Thursday morning when they were made aware of the positive test, prompting a quick turnaround back home to Las Cruces, according to Colin Denver of KTSM 9 News in El Paso.
The series was originally scheduled to begin Friday and go through Sunday with a Saturday doubleheader in between, but the Aggies will now have to turn their attention to Abilene Christian in what is now scheduled to be their season opening series beginning next weekend on Feb. 26, assuming there are no more pauses as a result of COVID.
Similarly to how the basketball programs have conducted their testing throughout the season, all tier one individuals within the baseball program have been getting tested three times a week since they were able to return to practice last month, with Thursday's positive being the first to interfere with baseball activities since the start of the altered season.
After a historic start to the 2020 season in Mike Kirby's first in the NM State dugout that saw the Aggies get off to their best 10 game start in program history and finish 12-4 (all four losses coming to teams ranked in the top-20 nationally) before an abrupt end to the season as a result of the pandemic, the team is looking to carry the momentum into 2021 season sans the 2020 Collegiate Baseball Newspaper National Player of the Year Nick Gonzales, who led the country in home runs, runs and RBIs last season before being taken by the Pittsburgh Pirates with the seventh overall pick in the 2020 MLB Draft.
The Aggies still return a bevy of talent, spearheaded by Preseason All-WAC Team selection Noah Haupt, who registered a .405/.395/.667 slash line with 17 hits in 12 games played for NM State last season, but will have work to do to unseat three-way favorites UTGRV, GCU and Sacramento State over the 2021 campaign.