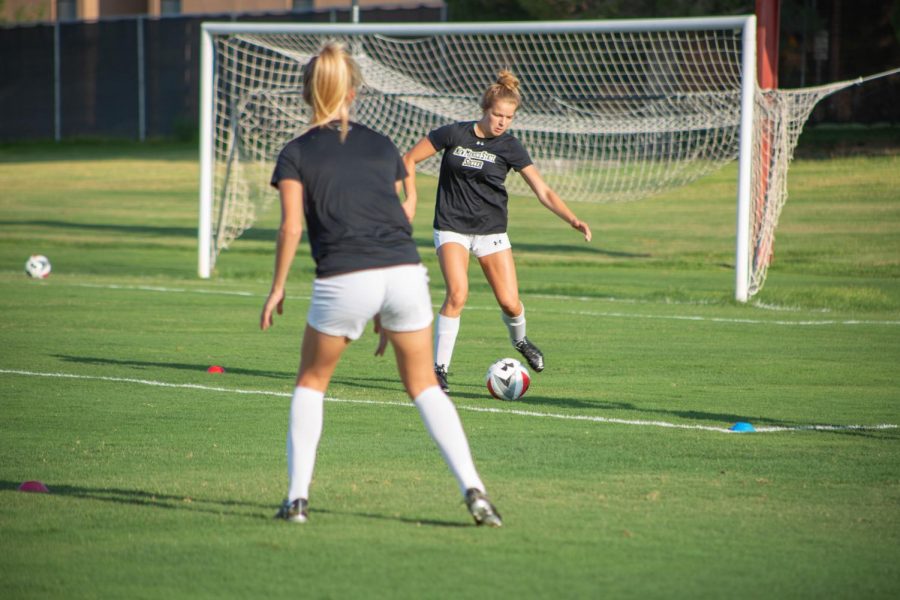 Mitchell Allred
Coming off of a tough start to the season that featured three straight losses, the New Mexico State Women's Soccer team dominated Chicago State Saturday night to kick off WAC play, controlling tempo from the offset and showing their versatility in a 5-0 annihilation for their first win of the season.
Out of the gates this NM State team set the tone with thoughtful passing and a first touch that kept them in control of the play. Defensively, the Aggie back line was an impenetrable wall led by center back Lece Aviles, who cleared seemingly every potential through-ball the Cougars would try, and Emma Smith, who bossed the midfield and won header after header.
Keeping the ball on the attacking end for for a large chunk of the game, it was only a matter of time before the Aggies would break through. A Lin up between Hannah Leitner and Corey Kizer. forced a worldie of a save by Chicago State's Chiara Chiaradia early, but the chances would only continue to come with the Cougars struggling to keep the ball out of their defensive third.
Kizer led the line for the Aggies, pressing the CSU defenders anytime they'd try to play it out from there back and preying on any defensive slip up, leading to a beautiful 20' goal to give the Aggies a much deserved first half lead.
Chicago State finally managed to mount an attack near the end of the first half, making runs that would result in shots on goal, but the NM State defense proved dependable, ensuring that the opportunities would be few and far between.
The second half would quickly turn into the Shea O'Connor show, with the senior forward finding the back of the net not once, not twice, but three times in a 15 minute span for the first Aggie hat trick since Devin Hart and Aileen Galicia scored three each against Chicago State back in 2017.
The constant pressure NM State applied would not stop, with a goal from Xitlaly Hernandez pushing the lead to 5-0 and capping off one of the stronger offensive performances of the Rob Baarts era for the program.
The game was surrounded with a cloud of semi-uncertainty given the national weather conditions over the last week, postponing the series that was originally suppose to begin Thursday, but even with constant rescheduling, the Aggies put together a complete game from start to finish that will propel them going forward as they head into a rematch against Chicago State Monday afternoon before traveling to Orem to take on Utah Valley next Thursday.