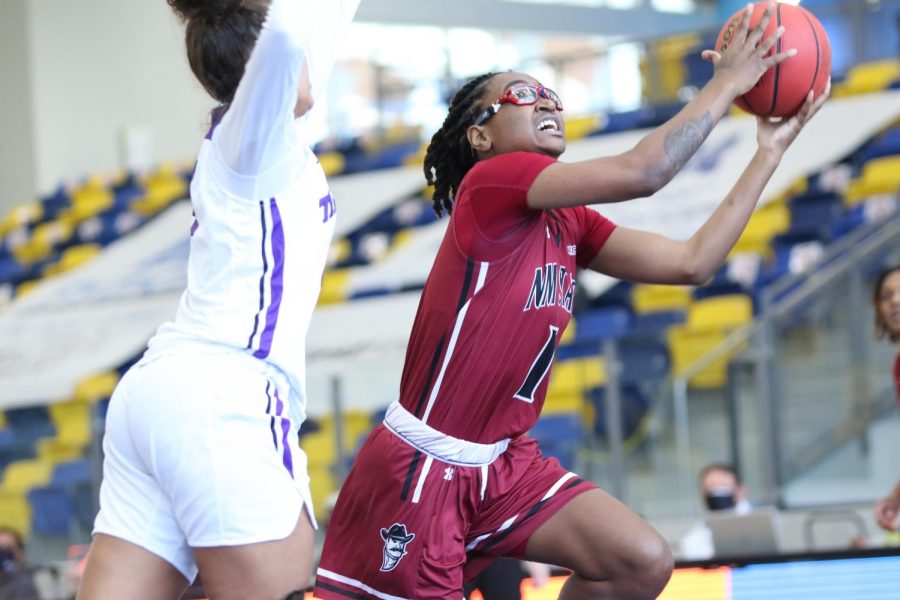 The New Mexico State Women's basketball bounced back after a Friday afternoon let down against Tarleton State to win its final "home game" of the season at Eastwood High School 67-44, setting the Aggies up to build momentum in the home stretch of the season and giving the team's seven seniors an appropriately flattering send off.
With only nine players available, NM State was shorthanded heading into the game, but that did not stop this Aggies team from bringing the heat against the Texans. Despite their lack of depth on the bench, the Aggies took the lead right off the bat, going on an early 9-0 scoring run and forcing six first quarter turnovers to build a gap early.
The Texans wouldn't go out quietly, heating up in the second after trailing 21-9 in the opening period, but the Aggies maturity was on full display, never really allowing the game to slip out of their grasp. Molly Kaiser was a key contributor to the match, scoring a career high 11 points all in the first half.
After leading by as much as 21, the Aggies carried a 44-26 lead into the half, continuing their early dominance throughout. A tough landing for Grace Colaivalu at the end was a scare for this NM State team due to their lack of depth already, but she managed to recover and was able to rejoin the match in the second half.
Coach Atkinson was not phased by the difficulty having a small number of players at your disposal presents, having full faith in the healthy ones stepping up and doing their part.
"With some injuries as of late, my younger kids are getting a lot of experience and I thought it was a good day for both my seniors and my underclassmen." Coach Atkinson said. "We have had to play and practice with less players just because of how tricky of a dynamic this season has been but our mentality doesn't change. We got two on the road this week and we are looking to play three in Vegas, we have five and that's our mentality. Every game leading up to that is our next challenge or next hurdle — we have to attack every single day before we get onto the next."
The Texans battled on in the third quarter, gaining some ground offensively which kept the Aggies from getting too comfortable. In response, NM state stiffened up on defense, smothering Tarleton State to the tune of 17 turnovers for the game and a lowly 34% shooting from the field.
NM State dominated the glass as well, out rebounding the Texans 32-23, with 10 of those coming on offense. Shania Harper impressed with the team highs of 12 points and 6 rebounds in just 21 minutes, leading a much improved Aggie performance after falling 62-53 just yesterday.
"Yesterday was a tough day for us in the sense that I thought we defended well, but we put them on the free throw line way too much and we just really struggled offensively… We got all the shots we wanted, we just really didn't convert," Atkinson said. "Our big focus was you have to be relentless on both ends — you can't let one end affect the other and so today I thought we got energy from the defensive end, and we were just much better offensively but also we made opportunities for ourselves. If we missed a shot we got an offensive rebound and a put back and we just have to have that mentality. We have to keep going at it until the whistle blows."
Seven seniors; including Aaliyah Prince, Nana Sule, Colaivalu, Dee Dee Echols, Deja Terrell, Amanda Soderqvist and Adrianna Henderson all capped off what would have been their final game at the Pan American Center if competition was allowed to take place back in New Mexico, but the vital vets have plenty of basketball left ahead of them, with a regular season-ending series against Chicago State next weekend before the WAC Tournament.