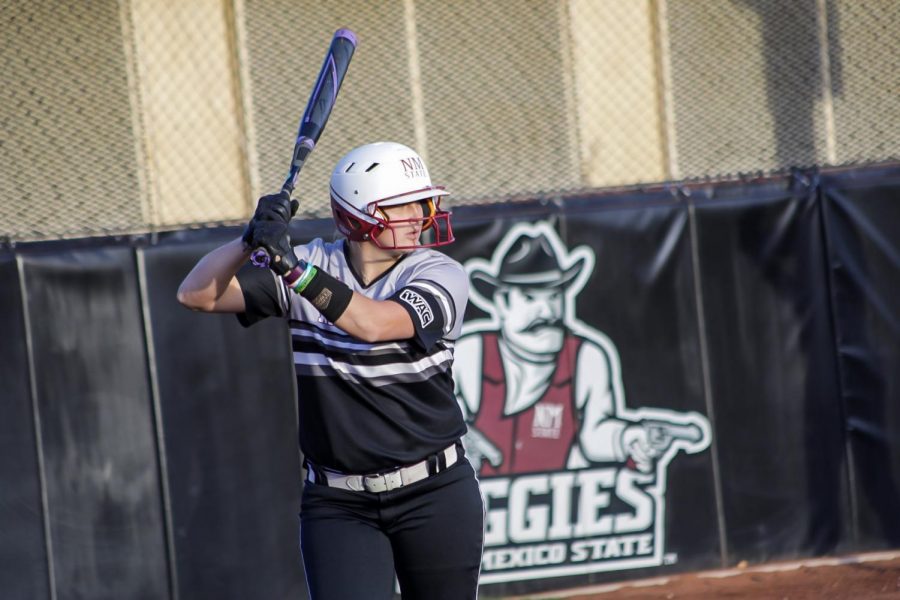 Cassidy Kuester
The New Mexico State softball team has been one of the university's most consistently successful programs for the better part of head coach Kathy Rodolph's last decade in charge, but if the pandemic has made anything clear, it's that change is unavoidable and mounting a return to the status quo can be a painstaking process.
That's not to say the Aggies are due for a complete rebuild — that was made clear by last year's squad that finished the shortened season 15-8 after losing the legendary class of 2019 the offseason before — but even Rodolph noted that rounding into form in a season that saw more unforeseen circumstances in its lead up than any that came it would take some time.
"Before we left to open the season, I had a parent zoom to kind of explain the parameters. I said, 'I just want to caution you that we are not going to start out like a normal team typically does, but please don't think that we are not very talented because we are — there's just no substitute for getting the experience that we need,'" Rodolph said. "We are trying to practice and get the experience that we should've gotten in the fall in the middle of trying to play… We are a really good team that is trying to develop."
NM State is just 3-9 to start this season, but five of those losses have come against teams ranked in the Top-25 nationally and three of their more favorable matchups at their season opening Spring Games series were postponed indefinitely. The brutal early season slate is not something unfamiliar to the Aggies, who have consistently scheduled bout against top teams in February and March in Rodolph's tenure — something she believes always serves a benefit in the long run.
"Everything that you hope the team will experience before the conference tournament in Seattle, I think we experienced in one [of our opening weekends]," Rodolph said. "What I'm trying to get the girls to understand is; it's not so much about what the other team does, it's about how we do what we do."
As a team that's had to rely on young athletes acclimating to Division I competition with little time to prepare, developing a team dynamic has been something difficult to come by, but according to Rodolph, that will only improve as the team spends more time gelling and getting more game experience together.
"I have been in coaching over 35 years and I have never gone into a season without being able to practice or play fall games. I knew that it would have an effect but I didn't realize the magnitude because of the makeup of the team," Rodolph said. "I believe we have one fifth year senior returning and we have three juniors academically and sixteen freshmen, so to not be able to play together in the fall against any outside competition…They are learning for the first time what it is to play Division I softball. It's been the perfect storm [of a challenge].
"It's really crazy because by now going into the spring the team has an identity and because we really didn't get too play in the fall, we are still trying to figure out what the identity of this team is going to be "
While underclassmen fill a majority of the team, no other area will that class be more relied on than on the mound, where the likes of Laurali Patane, Matalasi Faapito, Felicia De La Torre and Chloe Rivera will be tasked with carrying the rotation for the 2021 campaign.
Despite the promising up-and-coming pitching staff, Rodolph's teams have historically been known for their offensive output, and any production in that aspect of the game will undoubtedly be led by Nikki Butler, a returning WAC player of the year and fifth year senior. Being that it is a young team, Butler's leadership and past success will be instrumental in re-establishing a culture that saw the Aggies have their most successful run in program history in recent years.
"Nikki is not just a returning fifth year senior — she is somebody who has had a lot of success and she's been through kind of the ups and downs," Rodolph said of her superstar. "I think she is a voice of reason for the young ones, like 'hey don't panic it is going to be challenging but if we just stay the course it is going to get better.'"
It may take some time to get back to their world-beating form of year's past that saw conference championships come back to Las Cruces and records get broken on the regular, but the Aggies have the ingredients to get back to that level, and perhaps more importantly the opportunity, to make it happen.