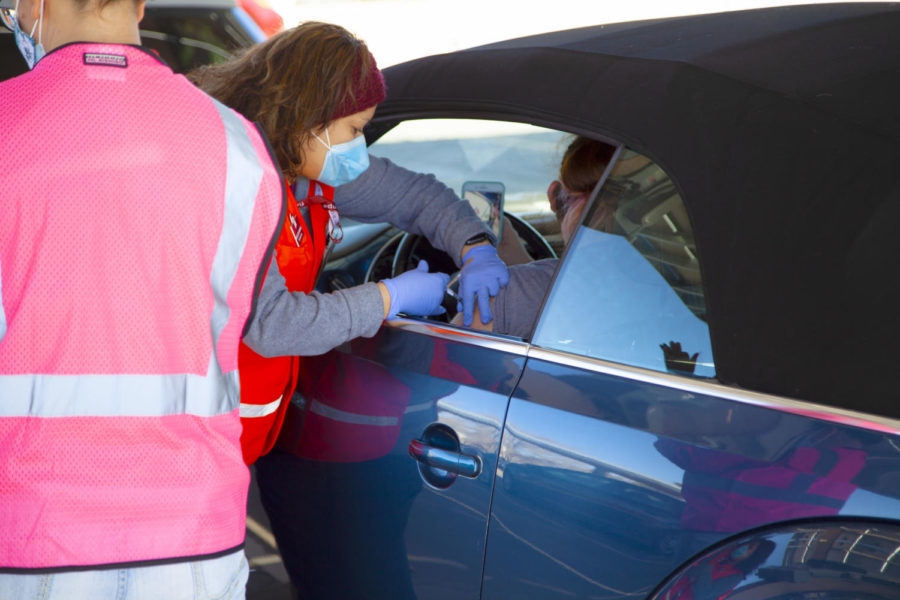 Jason McNabb
Since Jan. 15, New Mexico State University has hosted a weekly COVID vaccine clinic on Fridays. The clinic is run by volunteers from the NMSU School of Nursing, medical and nursing staff, both the NMSU Fire and Police Departments, the Department of Health, volunteer pharmacists, the National Guard and staff from the Aggie Health and Wellness Center.  
Michael Kinney, a student in the NMSU Nursing program, has been volunteering his time almost every Friday since the clinic opened.  
According to Kinney, these weekly clinics have provided hope to the Doña Ana community.  
"There was a number of people that when we gave them the injection, they started crying because they were so happy to have finally gotten it," Kinney said. "Even though the pandemic and the lockdowns aren't over, getting the injection was like finally seeing the light at the end of the tunnel for a lot of people." 
Kinney also mentioned that the clinics had a rocky start because the volunteers struggled to find a system that worked well. As the weeks continued and volunteers persevered, the Friday clinics started to run "like a well-oiled machine".  
"The first two weeks were a little rough, we were still trying to find our groove and trying to put this all together to where it was smooth running and efficient," Kinney said. 
The first week Kinney worked, the clinic started at 8 a.m.. Kinney recalled he worked until 5 p.m the day he started.  
"I think I was there till almost five the first week that I worked. Just the last week when we did it, we were done by about 1:15," Kinney said. 
Dr. Alexa Doig, the director of the School of Nursing, estimates that student and staff volunteers have given about 500 hours of their time and administered over 3,000 vaccinations.  
"The School of Nursing faculty and students have volunteered over 500 hours of their time since mid-January for this effort," Doig said. "NMSU has given well over 3,000 vaccinations. We're vaccinating between 500 and 600 people each Friday during our clinic." 
The nursing students who volunteer are assigned the task of vaccinating and informing the public about the treatment they are receiving.  
"Our nursing students are trained to give the vaccinations," Doig said. "The students, for the most part, are giving the injections and providing the people who are receiving the injection with some education about the vaccine and side effects and other things they might need to know." 
Doig said that the School of Nursing is "just trying our best to make a contribution." 
These weekly vaccination clinics are an endeavor put on by Dr. Doig's efforts, Kinney mentioned.  
"This was really a good, coordinated effort to help benefit the community. I think Dr. Doig deserves some pats on the back for that," Kinney said. 
New Mexico residents can sign up to receive the Pfizer vaccine through the Department of Health.