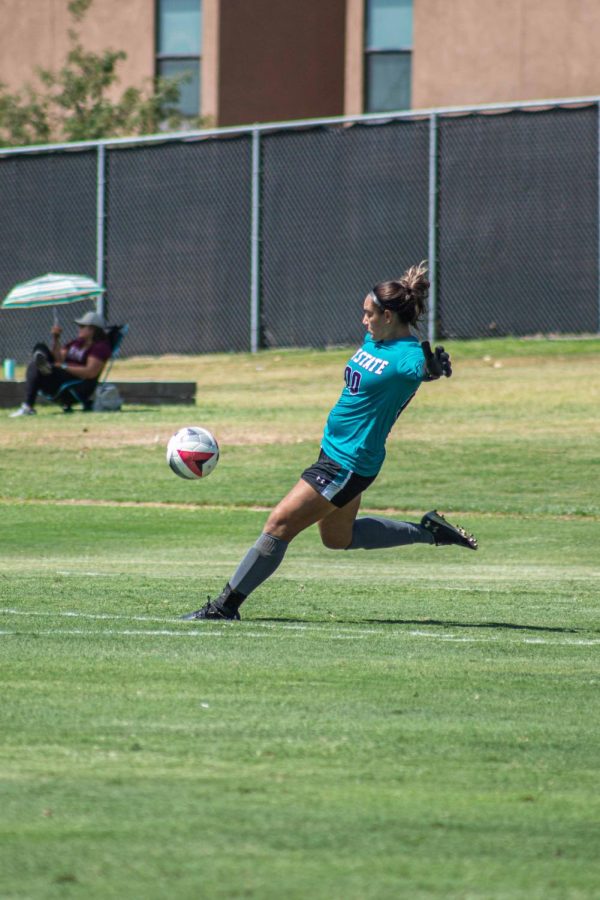 Shane Buchanan
After an intense battle with the Dixie State that left the two teams with a 2-2 draw Thursday afternoon, the New Mexico State women's soccer team took control and victory in game two of the double header, reigning over the Trailblazers in a 1-0 win fit for the Aggies' senior day.
The first half proved to be just as difficult for this Aggie team as the match on Thursday. The back and fourth was about the only consistency as far as play. Each team attempted to make connections offensively but the amount of physicality and defensive pressure proved that hard to come by. However, an opportunity would break through near the end of the first with Emma Smith attempting a far shot on goal into the top shelf-corner that was just off in the 44.' It was the regular grind for the Aggie defense as well, as they did an excellent job of keeping the Trailblazers at a distance when it came to attacks on Dmitri Fong.
The dynamic quickly changed as the players got back onto the field coming into the second. Within minutes, forward Hannah Leitner took a beautiful through ball as she darted through the Trailblazer defense like a hot knife through butter, converting on the lone goal of the game and giving the Aggies a 1-0 lead in the 49'.
From then on for the most part it was all Aggies with the ball being controlled exceptionally well by the trusted midfielders and target forwards. Keeping it mostly on the offensive this NM State team provided some gorgeous plays and did an excellent jobs at tethering together passes to shots on goal but did not succeed in getting it back of the net again.
A well deserved win for senior Aggie goalkeeper Fong and midfielder Jody Hernandez, who were honored in the Senior Ceremony for all of the contributions they have made to this NM State team.
Earlier this season, Fong set the single-season record for saves with 120 recorded — 14 of which against Utah Valley in a single match, making it the third-highest single-game total in program history. If that doesn't make it clear enough, Fong is an essential asset to this NM State team and her sure presence in the net will surely be missed. Midfielder Jody Hernandez has also been a consistent contributor to this Aggie team since joining in 2017. Her versatile play came especially in handy in the teams win against UTRGV when she notched herself an assist in the 3-1 win.
NM State will hope to ride this momentum into their home stretch of the regular season, traveling to Seattle to take on the Redhawks next weekend before closing out the campaign at home in a standalone match against Grand Canyon. The WAC Tournament will begin on April 13 in Phoenix.