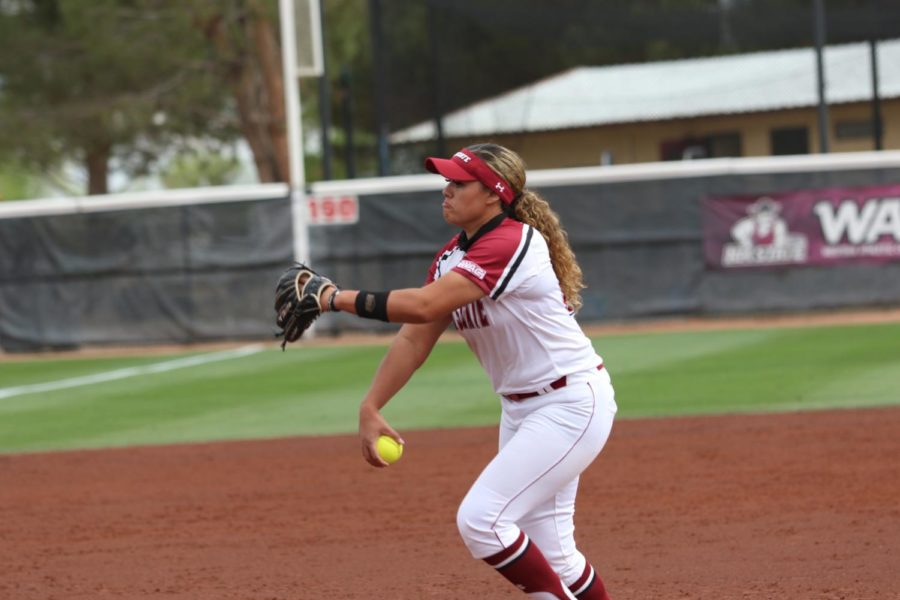 After a brutal slate against top-quality opponents, the New Mexico State softball team got back on track in historic fashion, winning both games in their Friday doubleheader against Tarleton State, with Matalasi Faapito pitching the Aggies' first no hitter in a decade in the early window.
Success at the plate was few and far between for both sides in the opening couple of innings, but it was the Aggies who broke through first with a Hope Banales bringing a run in off a second inning single. Faapito was in total control at this point, advancing just one runner in three innings as a result of a HBP.
The Aggies would widen the gap in the third when Nikki Butler drove a two run shot out of right center, bringing Antuanett Dean in with her. Butler continued to show why she's been a WAC Player of the Year, tacking on a perfect second homer out of left field for a grand slam widening the lead to 7-0 in bottom of the fourth.
The Aggies continued to take care of business with Matalasi Faapito on the mound, putting her name in the history books and finishing the Texans off in five innings, allowing no hits for the first time since 2011 to get things off to an extremely successful start to the three game series for NM State.
The second match proved just as lethal with this NM State squad seemingly finding their niche against the Texans,  especially from a defensive standpoint. The game took some time to get going, with NM State having less luck with their bats throughout, but the fountain of youth  proved abundant when freshman Brianna Gallegos picked up her first collegiate home run to break the duck in the bottom of the fourth. It was all Crimson from then on with Faapito showing her multifaceted talent, following up her all-time worthy pitching showing with a strong showing at the plate, driving another runner home for an insurance score later in the fourth.
The Aggie defense really was able to utilize their experience against those record worthy offensives by keeping the Texans at bay for the entire day.
These matches showed this Kathy Rodolph-led team is capable of in-conference, and as the Aggies enter their home stretch of the regular season, they'll look to build off of the momentum they've accrued in Friday's stymying of Tarleton State. The talent, the skill, and the ability to dominate matches was clear out on the field today, and they'll have a chance to continue that run tomorrow as they close out the series against the Texans.