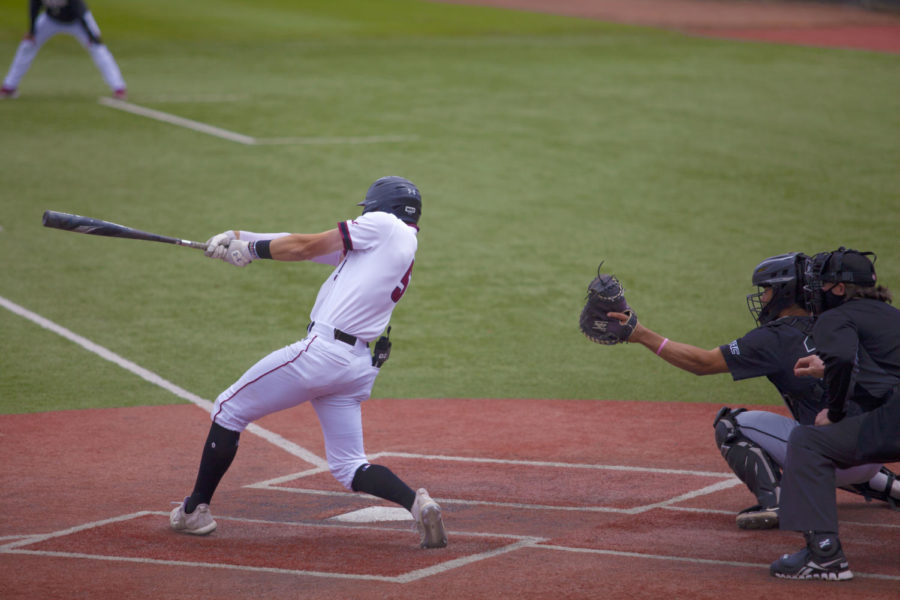 Jason McNabb
The New Mexico State baseball team finally gets a win, defeating Tarleton State 8-3 to end a nine game losing streak, taking advantage of hits they've not been able to in recent games to begin what the team hopes could be a good run of form as they charge into Sunday's matchup and the postseason.
Opening the series up on Friday, Tarleton State extended the Aggies losing streak, walking away with the win with a 12-8 win. The Aggies put up a good comeback effort in the sixth inning of Fridays game, taking a 6-5 lead after a five-run inning, but the Texans had other plans, topping that with a six run inning of their own. Unable to get anything else going, the Aggies fell, as Tarleton started the series 1-0 despite NM State's outhitting the Texans. 
Saturday's doubleheader began similarly, with Tarleton State coming out on top 4-1 after taking advantage of four NM State errors. In that game, the Aggies did not get a run until the sixth, taking defeat in a shortened seven innings.
Luckily for NM State, game three was a different story, with the Aggies getting onto the scoreboard first in the second with a score off an error from Tarleton's second baseman that brought in Brandon Dieter.
Keeping the Texans quiet, NM State scored again in the fourth on a fielder's choice RBI that resulted in Ronnie Allen Jr. scoring, increasing the lead to 2-0. Keeping the one run inning going, the Aggies did that yet again in the fifth, as Kevin Jimenez was brought home on an Ethan Mann hit. 
Finally getting onto the score board, the Texans got a 2 RBI inning in the bottom of the fifth on a Kemuel Thomas-Rivera hit that brought in both Ian Groves and Dean Frew. The game was brought to within a run at 3-2. 
Tying up the game was the Texans in the sixth as they got an RBI on an Ian Groves double out to right center, as Colby Feris scored and tied the game 3-3, but NM State would not go down easy, scoring four runs and extending their lead to 7-3. The first run was an unearned run off another second base error that brought in Jimenez, then getting a three RBI homer was Zach Smits, who sent a dinger over left field that sailed out of the park. 
NM States Kevin Jimenez sailed another hit out of the park over the right field fence to add on more to the lead, extending to what would be the eventual final at 8-3 and setting up for a chance at a series tie in Sunday's finale.
Following this Tarleton State series, the Aggies will face Benedictine Mesa Tuesday back in Las Cruces before hosting UTRGV in a return to conference play.