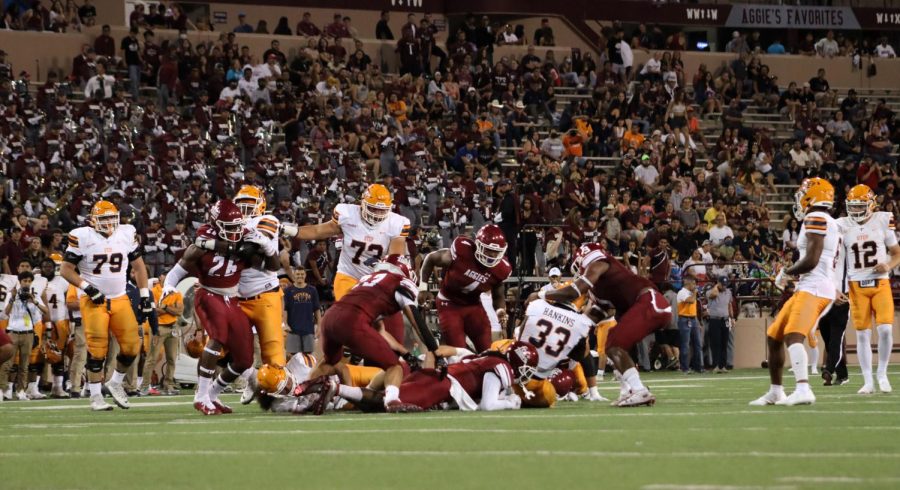 Emma Hood
For the first time since 2019, The New Mexico State University football team returned to Aggie Memorial Stadium with 19,034 seats filled, as they witnessed an embarrassing loss to their "Battle of I-10" rival University of Texas at El Paso Miners. In a disappointing start to the season, the Aggies could only muster 190 total yards of offense, handing the Miners a 30-3 win. 
Dating back to the 2018 season, the Aggies have taken the last three matchups over the El Paso-based competitors, but on Saturday evening, this NM State team had quite the rocky start, giving up the first score of the game to the Miners Redshirt Freshman, Deion Hankins within the first ten minutes. Generating points proved difficult for this Aggie offense, bringing a weak showing for the entirety of the first quarter with the exception of three semi-productive plays, one of which was 14 yard pass to Redshirt Junior O'Maury Samuels from Junior quarterback Jonah Johnson. Starting the second quarter, Redshirt Sophomore kicker Ethan Albertson was able to put the Aggies on the board with a 27 yard field goal, which ended up being the only points gained by the Aggies through the entirety of the game. After the game, Head Coach Doug Martin spoke on the team's young strength and opportunities to grow in these next games.
"On the positive side, if there is one for losing this game, we at least played physical. It wasn't like the spring games. Guys played fast and hit hard, so we can correct the other mistakes. The penalties hurt us all night. We had a couple of touchdowns called back due to penalties and had a few dropped passes. And then we were in third and long because of the penalties. In the first half we had a few passes go over our heads which was the problem. In the second half our defense played pretty well, only giving up 10 points and the one touchdown. They rebounded and played a little better in the second half. We have a long way to go and have a lot to overcome. It's one game, and we'll reload and play next week," Martin said at the post-game presser.
Difficulty to form meaningful plays continued with a lack of organization from this NM State team both offensively and defensively. Despite the lack of rushing and passing yards, there were a few glimpses of what this disheveled team could grow into. Sophomore Dalton Bowels snatched his first career interception, giving the crowd a momentary sense of hope. This momentum led into a beautiful would-be touchdown catch by Junior Dominic Gicinto in the back of the end-zone, with the tip of his foot dragging in-bounds first and the heel landing out of bounds, which would be reviewed and later ruled incomplete in a somewhat controversial call. It became incredibly apparent the competition was coming to a close with both the Aggies and Miners subbing out starting QBs Gavin Hardison (UTEP) and Jonah Johnson (NMSU) by the beginning of the fourth quarter. 
"Jonah was a victim of circumstances tonight with penalties and you know we didn't protect him as well as we probably should have either. He had a deep ball that was dropped. You know he had some throws that were pretty good, decent, still could've played better. He has played better in scrimmages but I think he's got a lot of upside. He takes care of the ball really well, he does not throw interceptions, he's smart, and he can run and make things happen with his legs. We'll get better, it's disappointing the way we played offensively not scoring more because we've been a lot better than this in scrimmages," Martin said later on in the presser.
Not without their fair share of early season woes, this NM State offense looks to improve if they want to turn this poor outing into a building block for success, as their season continues. The Aggies will be heading to Carson, California to face San Diego State University on Saturday, September 4th, and then travel back to the 505 for the infamous Aggies-Lobos showdown match-up on Saturday, September 11th.