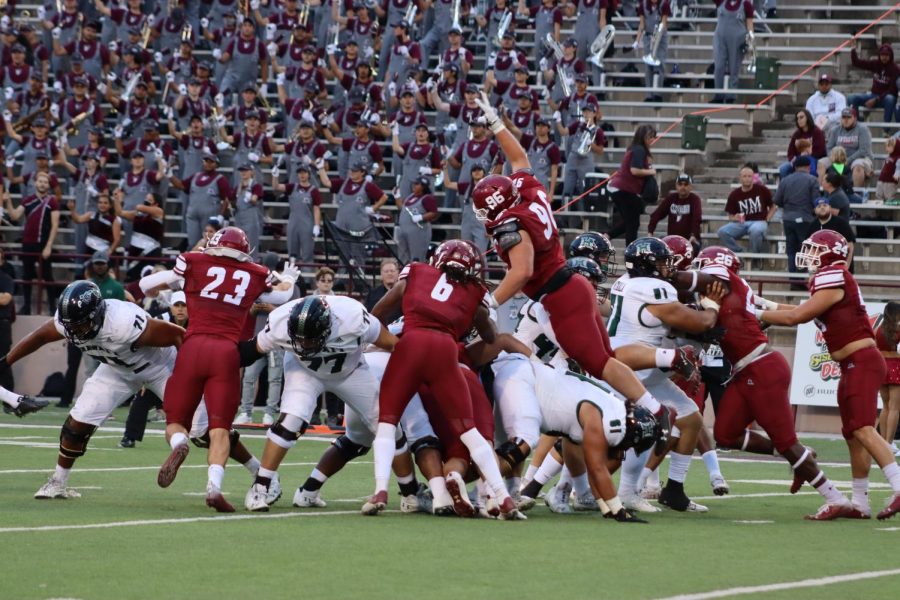 Emma Hood
The New Mexico State Football team now (1-4) gave up a 41-21 loss to the (2-3) Hawaii Rainbow Warriors in a valiant effort on both sides of play from this Doug Martin team.  
"I told our team after the game that nobody could question their heart or effort tonight because again they played extremely hard. I'm blessed and thankful to have a great group of players to work with. We're just shooting ourselves in the foot too much." Martin said, "we missed some opportunities to score offensively, and then defensively, we missed tackles and gave up too many big plays. Tonight was another example of us beating ourselves. I give Hawai'i all the credit, but I don't believe they're a more talented team than we are."  
Kicking off with some fire, the Aggies put points on the board with a 33-yard kick from Ethan Albertson making it their second consecutive week to score on the opening drive. The Rainbow Warriors offense quickly answered on their first offensive play from scrimmage with QB Chevan Cordeiro finding wide receiver Nick Mardner for a 74-yard touchdown that gave Hawaii a 7-3 lead with 9:19 left in the first period. Cordeiro finished 16-of-25 from 277 yards, the touchdown and one interception. Comparatively Aggie quarterback Jonah Johnson finished the game completing 28-of-47 passes for 280 yards and a passing touchdown.  
"The way that Jonah ran the ball tonight really extended some drives because we did not pass protect well enough to help him. He made plays and if we needed to put an inexperienced QB against that defense, it would have been a disaster." Martin continued, "Jonah's experience, ability to run, and how he can check us into the right pass protections were big tonight. I thought he played very well. The turnovers were his big nemesis tonight. If you're going to get sacked you can't fumble it. He'll get better. We really did not push the ball deep down the field as much tonight because Hawai'i plays a lot of two-deep safeties which they did most of the night."    
Early woes proved to be big issues, with a huge turning point in the contest after Johnson's second-quarter lateral was deemed backward. Hawaii's Cameron Lockridge capitalized on the play and was able to return for a five-yard touchdown giving UH a 17-3 lead with only 13:31 remaining in the opening. NM State quickly got their footings kicking it into high gear in the rest of the first half. Returning starting quarterback Jonah Johnson found wide receiver Jared Wyatt for a 52 yard gain, Wyatt was then pulled down by Hawaii's Lockridge with a horse-collar tackle call bringing NM State to the UH seven-yard line with the penalty. Johnsons was able to finish finding Robert Downs III on a 6-yard touchdown getting the score to a close 17-10.    
This NM State team showed much improvement in their offensive abilities seemingly getting into more of a rhythm having Jonah Johnson back in the fray. On his birthday of all days, Jared Wyatt hauled in a career-best nine catches for 114 yards and also became the first Aggie since Naveon Mitchell to haul in 100 yards (Sept. 18, 2019) in a game.   
"It's more just an execution thing. You know, a lot of the games that we've played, we're really explosive in the first half. And you know, we're going into halftime on a high wave and then just when that second half starts, we just kind of get complacent. We shoot ourselves in the foot a lot of times in the second half," Wyatt explained. "That's just something that we just got to continue to work on each and every day in practice. And it'll translate into the game but I mean, it's nothing that they're doing, it's more of what we're doing. Offensively, we're just doing things that we're just not used to doing."    
Sophomore cornerback Syrus Dumas also came in clutch in getting the Aggie offense the ball back time after time. With a little over 10' left in the first half, he was able to rip the ball from Hawaii running back Dae Dae Hunter giving possession right back to the NM State offense. Dumas also recorded his second pick since becoming an Aggie and forced the second turnover of the game. Power linebacker Chris Ojoh continued to provide a stable defensive element to recording two sacks against the Rainbow Warriors.     
With the potential that this NM State team has they look to secure their second win next Saturday at San Jose State to take on the (2-2) Spartans. Hopefully, this early learning curve will be coming to a close as Doug Martin's squad has continued to learn and improve game by game.