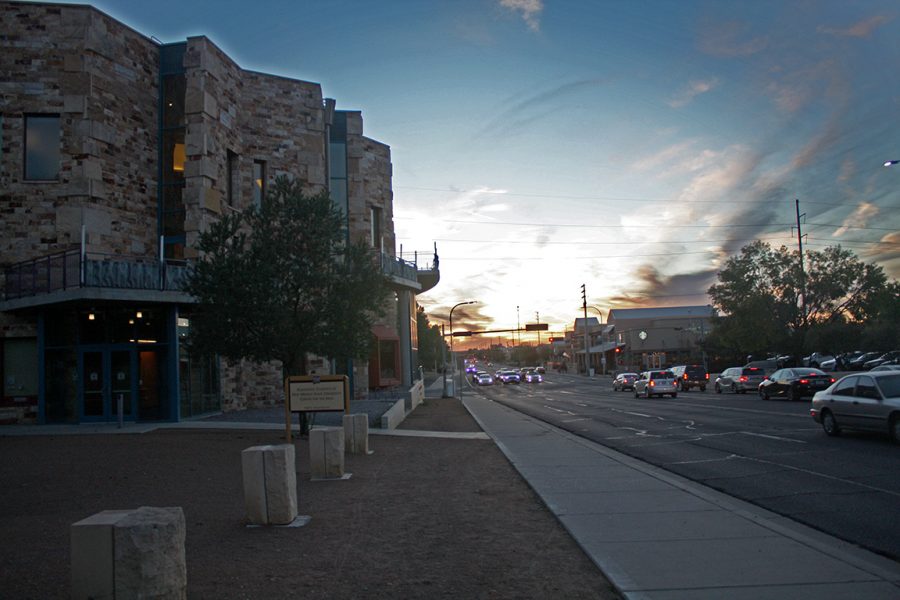 Selema Graham
"The Thanksgiving Play", written by Larissa FastHorse in 2015, is a satirical performance about four artists attempting to create the perfect play to recognize both Native American Heritage Month and Thanksgiving.  
Directed by Claudia Waldrip Billings "The Thanksgiving Play" consisted of a cast of New Mexico State University theatre students, with performances from Kamryn Neill, Benjamin Ramsey, Riley Merritt and Dominique Gomez. Stage directions were read by NMSU Professor and Stage Manager Mike Wise. 
Some themes explored in "The Thanksgiving Play" include privilege, "wokeness," performative activism and the amplification of unheard voices. The performance, held on Oct. 16-17, was a staged reading, meaning there were no props, set, costumes and performers had scripts in hand throughout the play. 
The play revolves around four central characters: Logan, Caden, Jaxton and Alicia all working together to create the best play to celebrate Native American Heritage Month and Thanksgiving.  
Drama teacher Logan, played by Neill, is looking to create an accurate but politically correct Thanksgiving Play for her student performers and parents. Awkward elementary school history teacher Caden (Ramsey) serves to guide the actors in maintaining the historical integrity of the first Thanksgiving. Logan's boyfriend and yoga enthusiast Jaxton (Merritt) is very concerned with the political correctness of the show and wants nothing more than to have a starring role. Simpleminded Los Angeles actress Alicia (Gomez) was hired to serve as the cultural compass for Logan's Thanksgiving play and help uplift voices of Native Americans. However, major conflict arises, and chaos ensues when the others discover that Alicia is in fact, not Native American and they must decide how to proceed. 
As this was a staged reading, there was no set, props or costumes for this play. The four performers delivered lines while standing at a music stand, with four chairs located upstage for any scenes that a specific character was not in.  
This simple design allowed the audience to focus their attention on the actor's performances and lines. A staged reading eliminated any additional distractions of scene changes, character blocking and the "oh … what's that one character holding now?" element of a traditional play. 
Overall, I was very impressed with how each of the actors had developed their characters. They had great comedic timing, which was evident by the audience's exuberant laughter throughout the play.  
I would like to recognize Merritt for especially embodying the yoga-bro persona of Jaxton while onstage and Ramsey for portraying the awkward yet endearing history teacher Caden. Actresses Neill and Gomez also deserve a special shout-out for their display of range as actresses. Neill and Gomez were seen in the NMSU Theatre Production of "Fefu and Her Friends" last month, who's characters were a stark contrast to this satirical comedy. 
I have never seen a staged reading before, and I really enjoyed my first experience with "The Thanksgiving Play". At first, I was off put by the "missing" set and props, but I felt immediately immersed into the world of "The Thanksgiving Play" a few minutes into the show. It was amazing to watch Neill, Ramsey, Merritt and Gomez story tell based solely on their own individual performances, expressiveness and comedic timing. 
I could also tell the other audience members really got a kick out of the show based on the uproarious laughter during the play and murmurs of "That was funny!" as I made my way out of the theatre. When the lights came up and I realized the performance had come to a close, I was sorry it was over.  
In a 2018 interview, FastHorse shared that the characters in "The Thanksgiving Play" embody the idea of "performative wokeness." 
"They want to seem really woke, but it's very much a performance that they do when it suits them and not when it's needed and not for the people it's needed by," FastHorse shared. 
Beneath the seemingly absurd characters and humorous plot of "The Thanksgiving Play", the play serves to allow audiences to consider the performative activism and privilege prevalent in today's society.