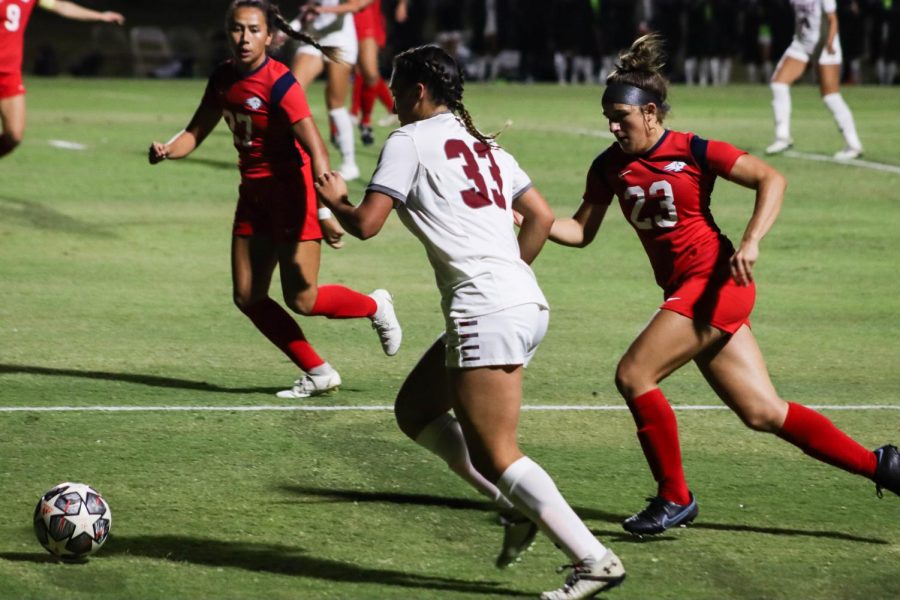 Emma Hood
With eleven graduating seniors, the New Mexico State Soccer team took their final home match with glory against the (6-13-1, 2-7-1) Dixie State Trailblazers. This marks the second-straight season NM State will pursue the WAC Tourney crown, seeded third this season in the WAC's West Division. 
The seniors made their last game one of winning form with the first score being off a connection between two veteran seniors in the 15'. Midfielder Emma Smith shot a long ball up as Corey Kizer made a perfectly timed run upfield, received and settled the ball with ease, and drilled it into the upper left for a gorgeous goal. Kizer ended up tying with junior Hannah Leitner for the team lead in goals as Leitner picked one up scoring late in the second. In the 73' Leitner secured the ball off a cross and weaved her way between two Trailblazer defenders to wack a header in on her way out of bounds just past Dixie State keeper Adelle Brown, which solidified the crimson lead.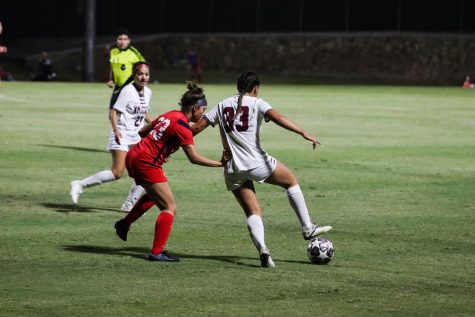 "Honestly it's a tough game for us, Dixie, they're organized, they try to play, they're really tough to beat and you have to add the emotions of senior day. Coach Baarts continued, "we have eleven seniors you know we got them all in there and the cool part was we got a lot of seniors a lot of play we got Mia a full game in there. It was a tremendous performance in my opinion." 
Looking to make up for lost ground, Shaylynn Uyeshiro found Trailblazer top scorer Kalea Woodyatt who went to work on the Aggie back line and fired a hit through Aggie Keeper Mia Montano to close the gap 2-1. Nothing else would go for Utah, however, with Montano making a pair of saves as she kept the net empty for the rest of the match; securing her first victory over the season. Emphasizing the elite form, Kizer and Leitners goals marked their 11th, tying them both at seventh place on the Aggies' all-time goal list.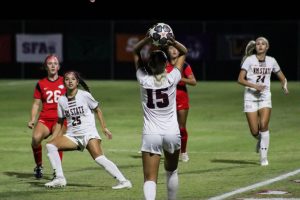 The Aggies will head to Abilene, Texas to take on the Lamar Cardinals Wednesday afternoon for the first round of the tournament. With a strong sense of team and tenacity for the title, this Rob Baarts crew will look to finally solidify the title win.  
"It's an exciting moment because we are playing someone new, even though they are in the conference on the other side and so I think it's going to be an action-packed game. They have some talented forwards that will have to solve some issues coming up in the next couple days but I think it's gonna be a great game." Speaking on the Senior player's contribution Baarts explained, "Honestly I think what the seniors have done a great job is lay the pavement, the pavements now there for the youngers too come and kind of keep the ball rolling, I think we are in a tremendous trajectory heading up and I think we will continue to go that way, the seniors did a great job of laying that foundation."