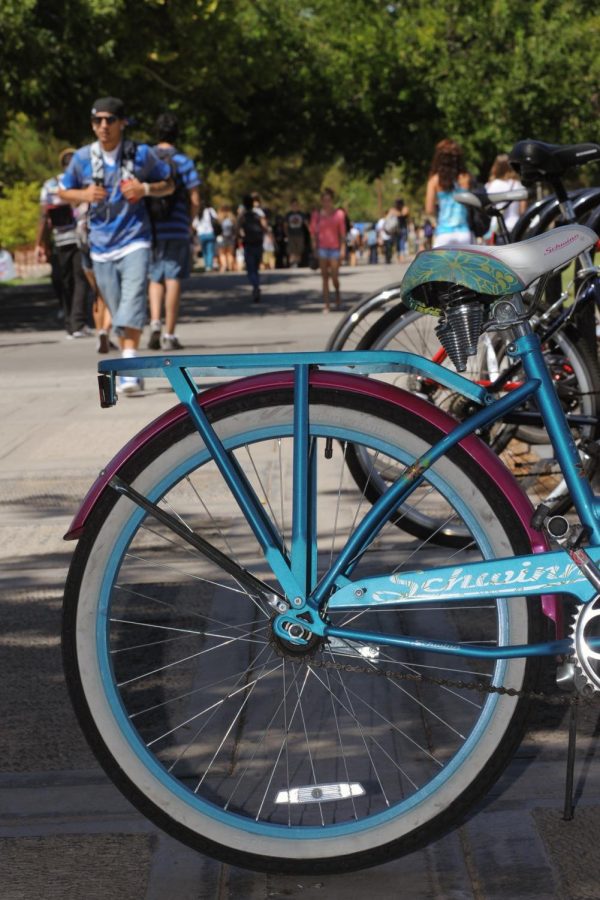 New Mexico State University Police Department successfully arrested three suspects of bicycle theft over the course of two weeks in early November, shedding light on the reality of frequent bike thefts on campus. 
According to Interim Deputy Chief for the NMSU police department, Justin Dunivan, the success of the arrests can be attributed to the vigilant watch and procedures of the NMSU police department. 
"Our dispatchers that are being very proactive, are watching the cameras that we have on campus, they observe suspicious people, they notify the officer that they have this individual around this hall," Dunivan said. "They were actually able to give a good description of the police radio to the responding officer, and the responding officer was able to catch those individuals in the process of the crime and was able to arrest him for that crime." 
As for campus bike thefts in general, there are certain circumstances in which thefts are more likely to occur. 
Dunivan noted that opportunity plays a big role in potential bike thefts on campus. 
"Whether it be the students in our parking lot, leaving their vehicles unlocked, or bicycles that are unsecured on a rack… when people or suspects walk by that and see that that's an easy target, they're going to unfortunately take that opportunity." 
NMSU Sr. Program Coordinator of Outdoor Recreation, Kenneth Coppedge echoes the same message. 
"They steal them off of front porches, even if it's your house and your front porch… [and] out of the back of pickup trucks or bike racks on cars." 
Bike thieves can also steal parts of a bike – such as a seat or tire – if they are not locked up properly. 
"Any of the [bikes] that have the quick latch or the quick detachment, whether it be the seat post, whether it be racks, whether it be tires, yes, it's an easy target," Dunivan said. 
For those looking to keep your bikes secure, it is recommended that thick, U-locks are used to secure your bike-to-bike racks. It is also recommended that you secure your tires and seats by either locking them on your bike lock or changing the bike's parts to make them harder to remove. If possible, it is also recommended that bikes are stored inside rather than outdoors.
Coppedge also recommends bike users to register their bike on bikeindex.org — a site that allows bike riders to register their bike, in case it gets lost or stolen. 
"The reason why we ask students to register their bike on Bike Index is that [if] the police department recovers a stolen bicycle, they can look up the serial number and see that it's registered on this website," Coppedge said. "We have had students that have gotten their bikes recovered before… because they knew their serial number." 
Dunivan offers advice to the public that when they see something suspicious to speak up. 
"If students see something, say something, give us a call," Dunivan said. "From an analyst standpoint, we need to be able to work together if there's crime trends, we need to be able to work together because as I've always said, whether it be between us and LCPD, crime doesn't stop at university, sometimes that trickles over onto campus." 
If you are in need of certain parts for your bike or some help with your bike in general, check out the bike shop located in NMSU's Activity Center. As well, Outdoor Recreation at NMSU is currently holding a promotion for free bike locks until the end of the semester or until the bike locks run out.  
If your bike gets stolen, call the NMSU Police Department at (575-646-3311). They are open 24-hours a day and seven days a week.