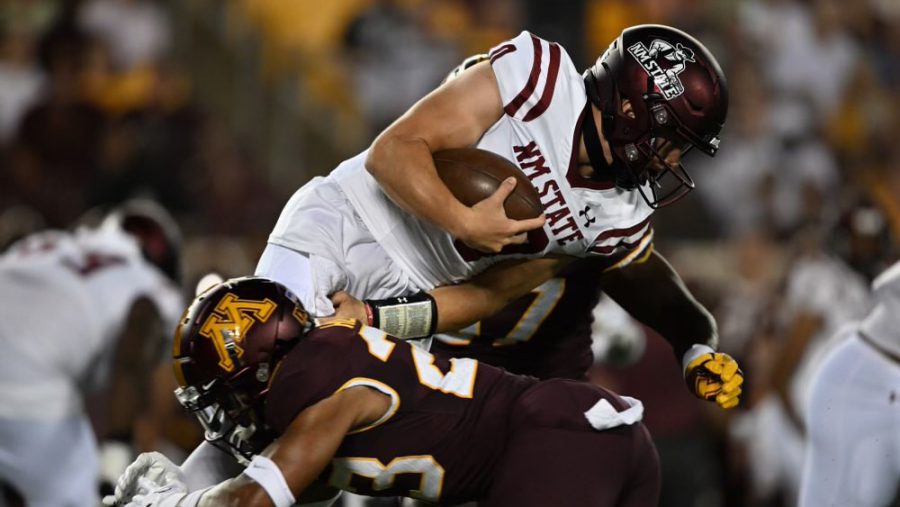 NMSU Athletics
For their second game in five days the New Mexico State football team took on the 5th year senior Tanner Morgan and the Minnesota Golden Gophers. The Gophers, containing four, five-year seniors on their team three of which in key offensive positions proved lethal for NM State. With consistency in their play and a strong offensive, the Gophers cleaned up the match pretty quick with the final scoring being a gruelly 0-38.
The first drive for NM State started as rough as it could as they received a delay of game penalty to push them to 1st and 15 on the first play of the game. The offensive woes continued in the second down when quarterback Diego Pavia was thought to have thrown an interception, but that was soon overturned and ruled incomplete.
In typical Big 10 level of play, the Golden Gophers took the field at their 26-yard line, as Morgan completed a pass to Autman-Bell for a gain of 15 yards. Morgan would go right back to the air as he completed another strike to Michael Brown-Stephens for 26 yards. Ibrahim would get his first carry on the next play when he ran for 16 yards. The drive would end with Ibrahim running in a touchdown from 4 yards out.
Getting the ball back with 9:50 in the first quarter the NM State offensive would continue to miss the mark. Dropped passes plagued the Aggies, however, Pavia completed a pass to Chris Bellamy for 11 yards following a run of 6 yards, gaining first down. Not much else came for NM State as they were forced to punt from their own 41-yard line.
It was all Minnesota for the majority of the game as the Golden Gophers offensive continued to run the ball as they pleased with Ibrahim running for 15 yards and 9 yards on back-to-back plays. The Gophers ran the ball 12 times for 63 yards which result in Ibrahim getting his second touchdown of the game from one yard out.
On the third offensive drive the Aggies made a quarterback change and put in true freshman Gavin Frakes. His drive started with back-to-back handoffs to running back Jamoni Jones for gains of 1 yard on both handoffs.. Frakes ended the game with 43 passing yards in comparison to Minnesota's own Morgans' 174.
The game did not get any prettier for the Aggies as the Gophers would score four more times forcing another four punts and an interception to end the game. The run defense couldn't buy a stop as the Gophers ran for five touchdowns. NM State would be left scoreless for the first time since 2011 in what was a 0-44 loss to Louisiana Tech. This Coach Kill team will have 10 days until they drive 45 minutes to El Paso to play the Miners in the Battle of I-10, still in search for their first win.