COMMENTARY: What makes today's game so great
Hang on for a minute...we're trying to find some more stories you might like.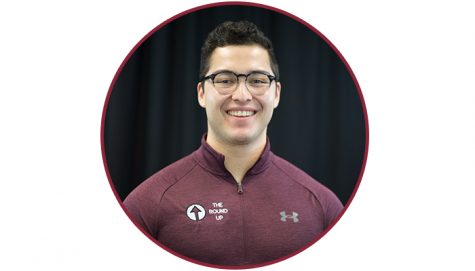 More stories from Derek Gonzales
I couldn't tell you how many times I wasn't sure this day would ever come. Growing up an Aggie fan was rough. I literally lived and died with them because as a heavier-set kid growing up, I didn't have friends. All I had was sports, and more specifically, Aggie games.
It would be either my mom and dad or my grandma and grandpa that would take me. Sometimes they would have to use loose change just to buy tickets but they always made sure that if I did well in school and behaved, I'd get to go. In 2009, my cousin Eric got me season tickets with him and his family so I was lucky enough to not have to worry about things and just be able to go with him that year.
I sat through every Aggie football game, from beginning to end, no matter the score.
When it was 90 degrees in September or raining almost every time they played Fresno State, I would sit through that because I always felt like one day, it would pay off.
I have transitioned into being a sports writer and have done my absolute best to rid myself of bias so I can be as fair and reliable as possible.
I just cannot ignore the emotion I feel today.
I am trying to not weigh the outcome of what happens in today's game because that wouldn't be fair to the program or the current group of guys.
Regardless of what happens today, it really is a special day. Special for a senior class that bought coming to NMSU on credit that improvements would be made. Special for a coaching staff that had to endure so much to even get this program on the cusp of going to a bowl game. Special for a community that has longed to be able to be proud of the Aggie football team.
Now I want to get a bit nostalgic. Here are the five best or worst memories I had as an Aggie fan growing up. I say best and worst because, without these moments, today wouldn't have the feel it has. It has made me appreciate the good times. And I say worst because obviously, at the time, it was like the world ended. Here we go.
42-21 loss to UTEP in 2013
It was my senior year in high school. I convinced all my friends to go to the game. I really did not understand how overmatched NMSU was only having 63 scholarship players going against a Miner team that had Texas A&M transfer Jameill Showers. I really thought they were going to win. Well, they didn't. I didn't drive to go the game so I got so mad that I walked home. I lived off of Del Rey Boulevard, which if you aren't familiar with Las Cruces, is a solid eight-mile venture. What are you going to do when you're that upset you know?
16-10 loss to UTEP in 2011
UTEP was the basis of a lot of frustration growing up and I'm not even including the 2015 overtime game on this list. NMSU struggled offensively for much of the game but had a chance to win the game at the end before an Andrew Manley fumbled ended the comeback attempt. He actually tore his ACL on the play too. Poor guy.
35-31 loss to Louisiana Tech in 2008
This was a travesty. Chase Holbrook, literally the GOAT, on his senior night, led an incredible comeback after NMSU fell behind 28-10, but it came up just short. Holbrook went 45-for-60 for 523 yards and four touchdown passes. My seventh-grade football team was honored at halftime for being Super Bowl champs, but you can bet that I cried once the game ended. It was the end of a great era.
40-38 loss to Nevada in 2007
Kyle Hughes, all you had to do was make a 41-yard field goal and the Aggies would've been 5-5. Instead, the guy nearly kicked it into the stands in the southeast part of the stadium. Holbrook and Colin Kaepernick traded blows on national television, but it just was not meant to be. This was another game that made me cry, but I hopped on NCAA Football 2008 and put 70 on the Wolfpack and it made me feel a little better.
38-37 loss to Idaho in 2005
It still hurts to this day. It was homecoming and yeah, the Aggies were 0-7 but that game was the Super Bowl of the world to me. Crowd-favorite quarterback Joey Vincent was put into the game for a struggling Royal Gill, and he threw for 340 yards, including a 43-yard touchdown to Mayfield High grad Tim Tolbert. After a 14-yard Justine Buries touchdown run to give the Aggies a 30-27 lead with 6:04 left, the extra point was blocked. This allowed the Vandals to tie the game with a field goal and send the game into overtime. In the first overtime, Idaho quarterback Steven Wichman threw an interception to Alex Bernard, who took it back for a touchdown to win the game. It was absolutely incredible… until the referees said he stepped out of bounds on the return at the Idaho 10-yard line. NMSU turns the ball over and it goes to a second overtime. NMSU scores a touchdown and Idaho does the same but goes for two. Right in front of my innocent 10-year-old eyes, Wichman completes the pass on a comeback route to Daniel Smith. Game over. I freak out, I start crying and yelling. My mom is telling me to chill but instead, on the way out of the stadium, I'm kicking over trash cans and screaming. This is my mom's favorite story of me too as you'd imagine.
So that's what I went through as a kid. Today, I will be present to what I hope is a historic day but no matter what, I am just grateful they aren't going to be 0-12 this year.

Hang on for a minute...we're trying to find some more stories you might like.