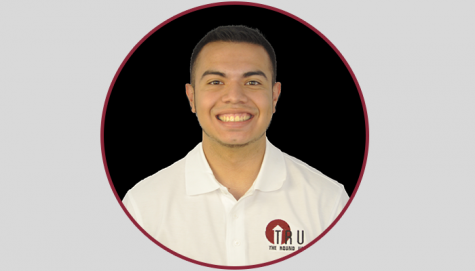 Albert is in his second year as the Editor-in-Chief and his first full year as the head of
The Round Up.
Originally from El Paso, Texas, Luna brings to the table years of experience in journalism, including working as the Head of Content for the NBA columns at ESPN El Paso. He was also heavily involved with his high school newspaper, Eastwood's 
Sabre
, which he credits as the primary influence which led to his interest in journalism. Upon coming to NMSU, Luna was quickly brought on to 
The Round Up 
as a staff writer, being promoted to Sports Editor shortly thereafter working under Billy Huntsman who he credits as being the best editor he has had. Luna, a senior, is double majoring in Finance and Government with a couple minors as well. When he is not working or in class, Albert likes to play the latest game of
NBA 2k
, help out with
CRU,
an on campus ministry group, or watch his beloved
Dallas Mavericks
. Luna wants nothing more than to see 
The Round Up
 succeed this year. He is confident that this year's entirely new product will serve the most important consumers, the students, in the best ways possible.
Albert Luna, Editor-in-Chief
Dec 11, 2017

Letter from the Editor: Thank you, readers

(Story)

Nov 29, 2017

ASNMSU to host first event with alcohol

(Story)

Nov 16, 2017

Sports Podcast: Paul Weir Returns to NMSU

(Story)

Oct 16, 2017

Number of forcible sex offenses up in 2016 on NMSU campus

(Story)

Oct 13, 2017

News Podcast: Interview with ASNMSU President Kevin Prieto

(Story)

Sep 12, 2017

Sports Podcast: Episode 2

(Story)

Aug 24, 2017

ASNMSU President and Vice President's Statement on Chancellor Carruthers Situation

(Story)

Aug 11, 2017

Interview with ASNMSU President Kevin Prieto

(Story)

Aug 11, 2017

Sports Podcast: Episode 1

(Story)

Aug 10, 2017

What We Have To Offer

(Story)

May 01, 2017

Letter From the Editor

(Story)

May 01, 2017

Round Up Exclusive: Interview with President Kevin Prieto

(Story)

Apr 12, 2017

ASNMSU Presidency Run-off Coming Down to Wire

(Story)

Apr 10, 2017

This Has to Be as Bad As It Gets For New Mexico

(Story)

Apr 10, 2017

Regents Delay Tuition Vote – Approve Housing and Meal Plan Increases

(Story)

Apr 04, 2017

Exclusive: Presidential Candidate Interviews

(Story)

Apr 04, 2017

Spring 2017 Senate elections

(Story)

Apr 04, 2017

ASNMSU PRESIDENTIAL CANDIDATES 2017

(Story)

Mar 15, 2017

History is All Around Us

(Story)

Mar 07, 2017

3 Takeaway's from Trump's Address to Congress

(Story)

Feb 20, 2017

'Love Trumps Hate' Rally Held on Campus

(Story)

Feb 13, 2017

New Art Building Now in Development

(Story)

Feb 09, 2017
Dec 05, 2016

A Slow Kind of Fast

(Story)

Nov 14, 2016

America Can Do Better

(Story)

Nov 07, 2016

College Students Can't Be Lazy, Right?

(Story)

Sep 06, 2016

Proposed Sodexo Restaurant-Bar for Corbett Center

(Story)

Aug 15, 2016

A letter from The Round Up Editor-In-Chief Albert Luna

(Story)

Apr 25, 2016

This season, it's do or die for Aggie football

(Story)

Apr 05, 2016

Marvin Menzies staying is a good thing, right?

(Story)

Mar 07, 2016
Mar 06, 2016

Women's Basketball falls on senior day

(Story)

Mar 01, 2016
Feb 21, 2016

Huggins, Siakam lead Aggies to WAC glory

(Story)

Feb 20, 2016

Aggie baseball struggles against Towson, pull off a comeback

(Story)

Feb 19, 2016

Aggies one win away from WAC title

(Story)

Feb 05, 2016

Aggies beat GCU, on and off the court

(Story)

Jan 31, 2016

Aggies men's basketball victorious on Lou Henson Day

(Story)

Jan 22, 2016

Aggies take down Seattle behind Salas' career-night

(Story)

Dec 03, 2015

Siakam, Baker, lead NMSU to win over UTEP

(Story)

Nov 25, 2015

Aggies win nail-biter in overtime

(Story)

Nov 22, 2015

Siakam, Chuha lead Aggies to blowout win

(Story)

Nov 19, 2015

NMSU completes comeback behind Siakam's stellar night

(Story)

Nov 18, 2015

Aggies blow out rival UNM in home-opener

(Story)

Nov 16, 2015

Baker, Siakam shine in loss to UNM

(Story)

Nov 14, 2015

Siakam's big second half propels NMSU to season-opening win

(Story)

Nov 07, 2015

Senior Sendoff: NMSU volleyball wins final home game

(Story)

Nov 06, 2015

NMSU volleyball sweeps California State, keeps the streak alive

(Story)

Oct 21, 2015

Aggies extend winning streak, sweep rival UTEP

(Story)

Oct 17, 2015

Aggies Win Nail-Biter to Stay Perfect in WAC

(Story)

Oct 16, 2015

Freshmen Find Groove as NMSU Stays Perfect in WAC Play

(Story)

Oct 09, 2015

NMSU Rugby Team Paving New Roads

(Story)

Sep 30, 2015

Sweet Volleyball: Aggies Get First Win Against Lobos Since 2012

(Story)

Sep 22, 2015

Bye Week Evaluation: Aggie Football

(Story)

Sep 11, 2015

Volleyball's Comeback Falls Short

(Story)

Sep 10, 2015

NMSU Women Stall Out in Second Half

(Story)

Sep 04, 2015

Aggie Football Entering Crucial Year

(Story)

Aug 27, 2015

Aggie Women's Soccer Falls in Record-Setting Matchup

(Story)