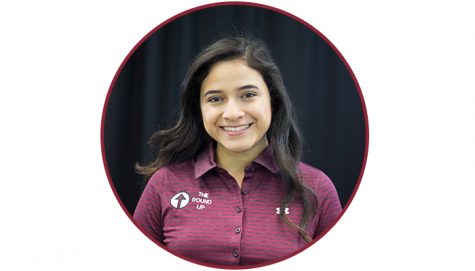 Allysa Tellez is a junior at New Mexico State University. She is studying journalism and mass communications with a minor in government. She is originally from El Paso and commutes to Las Cruces to attend school daily. Allysa began writing at a very young age and won several writing competitions in her school district for her short stories. During high school, Allysa was involved with the Eastwood Sabre and the Student Television Network. She also did theatre for several years.
Fascinated with student media, she decided to pursue a college career in journalism. Tellez is also involved with News 22 and has completed internships with KFOX in El Paso and Latinitas, a non-profit organization to promote women in technology and media.
When Tellez is not in school, she enjoys attending concerts or going to the movies with friends. She has two dogs and loves to read and write.
In the future, Tellez hopes to pursue a career as a reporter for a local news station or paper.
Allysa Tellez, Staff Writer
Nov 28, 2018

NMSU receives over 2 million dollars in gifts on Giving Tuesday 

(Story)

Nov 27, 2018

Las Cruces voters approve GO Bond D in recent midterm election 

(Story)

Nov 06, 2018

Graduate Students push for more transparency with administration

(Story)

Nov 05, 2018

Senator Tom Udall visits NMSU to talk about the importance of voting

(Story)

Oct 25, 2018

New Mexico Employee Council holds annual Employee Appreciation Picnic

(Story)

Oct 24, 2018

Early voting draws in over 300 casted ballots at Corbett Center on first day 

(Story)

Oct 22, 2018

ASNMSU appoints two Associate Justices and confirms Chief Justice

(Story)

Oct 09, 2018

ACES college pushes for Go Bond D

(Story)

Oct 08, 2018

ASNMSU passes resolution for Indigenous People's Day after heated debate

(Story)

Sep 27, 2018

ASNMSU holds voter registration event on campus

(Story)

Sep 25, 2018

ASNMSU opens application process for Spring 2019 senate election

(Story)

Sep 24, 2018

ASNMSU Senators pass first bills of 2018-2019

(Story)

Sep 12, 2018

Senator Martin Heinrich introduces new bill to increase Federal Pell Grant

(Story)

Sep 06, 2018

Three new senators are elected to College of Arts and Sciences

(Story)

Aug 28, 2018

Corbett Center to become alternate early voting location

(Story)

Aug 27, 2018

ASNMSU introduces new mission and vision statements

(Story)

Aug 24, 2018

ASNMSU selects head of Online Campus Task Force committee

(Story)