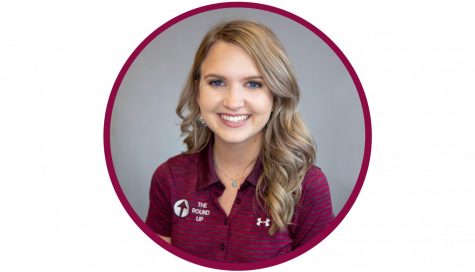 Ch'Ree Essary, entering her third year at The Round Up, currently serves as the publication's Managing Editor. The Eastern New Mexico native is a senior at New Mexico State University studying Agricultural Communication with a minor in Journalism and Media Studies.
Essary began her career at The Round Up as a staff writer her first semester at NMSU. She has enjoyed writing about New Mexico politics and covered the
State of New Mexico's 53rd Legislature, Second Session
in 2018 and followed bills that impacted NMSU and its students. Essary has covered the 2018 New Mexico governor election and wrote one of The Round Up's most-read articles from the 2017-2018 academic year, an investigative piece on
Democratic Governor Candidate Michelle Lujan Grisham
. In addition, Essary has covered national politics as she reported on a presidential visit to El Paso, Texas.
Following her graduation in May 2020, Essary has interests to pursue a career in the field of science or agriculture communications.
Ch'ree Essary, Managing Editor
Oct 02, 2019

NMSU's Devasthali Hall reports break in, investigation ongoing

(Story)

Sep 24, 2019

Timely Warnings: September struck with fondlings at NMSU

(Story)

Sep 18, 2019

Governor Lujan Grisham announces proposal for free college for all New Mexicans

(Story)

Sep 11, 2019

NMSU Police Department to hold active shooter training

(Story)

Sep 05, 2019

Fabián García to be inducted into National Agricultural Center Hall of Fame

(Story)

Apr 09, 2019

NMSU student captures video of cockroach near food at Taos Restaurant

(Story)

Mar 15, 2019

Texas country singer, Parker McCollum, to perform at Whiskey Dick's

(Story)

Mar 11, 2019

Bill would create NMSU campus in Mexico

(Story)

Feb 26, 2019

Opinion: In this political world, objectivity is what we need

(Story)

Feb 13, 2019

Trump holds rally in El Paso amidst Mexican border clash

(Story)

Feb 04, 2019

Minimum wage bills puts some NMSU departments at risk for cuts

(Story)

Nov 28, 2018

Creating Superior Student Service: Vice president of student success' vision

(Story)

Nov 07, 2018

NMSU students react positively to Lujan Grisham's gubernatorial win

(Story)

Oct 24, 2018

President Floros announces Interim Provost

(Story)

Oct 12, 2018

Steve Pearce plans on improving primary education

(Story)

Aug 30, 2018

The Spirit versus the Spreadsheet: NMSU terminates long-time employee

(Story)

May 07, 2018

Governor Candidate Apodaca has unique economic plan

(Story)

Apr 23, 2018

American Petroleum Institute visits NM in search of new employees

(Story)

Apr 15, 2018

Controversial past still follows New Mexico governor candidate Lujan Grisham

(Story)

Apr 03, 2018
Feb 21, 2018

How safe is studying abroad?

(Story)

Feb 19, 2018

Congressman Steve Pearce talks to NMSU students

(Story)

Feb 16, 2018

News and Culture Podcast: Staff reports and New Mexico Politics

(Story)

Feb 08, 2018

Country Music Singer, Josh Ward, Comes to Whiskey Dicks

(Story)

Feb 05, 2018

New Mexico State students fight for lottery scholarship

(Story)

Jan 18, 2018

The Psychology of Learning

(Story)

Nov 24, 2017

Small Business Saturday in Las Cruces

(Story)

Nov 15, 2017

No-Shave November Hits the Midway Point

(Story)

Nov 07, 2017

Milton Hall's Days are Numbered

(Story)

Oct 31, 2017

NMSU College of ACES Branding Ceremony

(Story)

Oct 30, 2017

Astronomy Department Looks to Resuscitate A-Mountain Observatory

(Story)

Oct 28, 2017

NMSU holds annual Homecoming Parade

(Story)

Oct 19, 2017

Midterm season is here

(Story)

Oct 18, 2017

Homecoming Festivities Are Set to Begin

(Story)

Oct 04, 2017

Puerto Rican Exchange-Student Speaks Out About Hurricane Maria

(Story)

Sep 27, 2017

NMSU Celebrates Hispanic Heritage Month

(Story)

Sep 25, 2017

Testing Season is Upon Us

(Story)