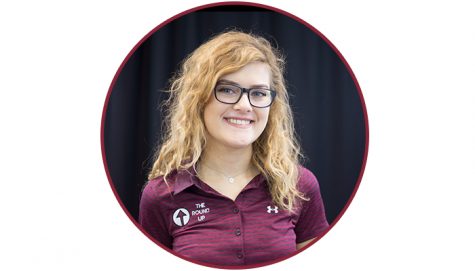 Jensen Stell was born and raised in Albuquerque, New Mexico. There, she attended Eldorado High School where she was actively involved in theater all four years.
Stell acted in plays such as Arsenic & Old Lace, Grease, and Macbeth. She was also President of her high school's Thespian Society. Jensen won Performing Arts Student of The Year her senior year, and was given the "Most Promising" award four years in a row by the Thespian Society at Eldorado. Jensen is a huge advocate for all of the arts, and her goal as a writer for The Round Up is to provide the arts with the publicity and outlet that they deserve.
Somebody somewhere is always creating something that's worth writing about. She is an only child, she is also really into astrology. That being said, she's a Capricorn. In her freetime, Stell enjoys reading, watching documentaries of all sorts, and spending time with her closest friends.
Jensen Stell, Staff Writer
May 02, 2019

"My Fair Lady" play stands as tribute to Mark Medoff

(Story)

Apr 08, 2019

KRUX Fest showcases unique sounds at annual music festival

(Story)

Mar 18, 2019

Juried Art Show displays student work

(Story)

Mar 08, 2019

Feminist Border Arts Film Festival to be held this weekend at NMSU

(Story)

Feb 27, 2019

Film producer holds workshop on auditioning at LCIFF

(Story)

Feb 26, 2019

"Chi-Town" movie documentary shows off prominent NMSU ties

(Story)

Feb 22, 2019

Las Cruces International Film Festival begins with workshop

(Story)

Feb 19, 2019

NMSU celebrates LGBT+ with Pride Season

(Story)

Feb 18, 2019

NMSU Theatre Arts 'Silent Sky' production set to open Friday

(Story)

Feb 05, 2019

NMSU Art Gallery hosts colorful display

(Story)

Jan 31, 2019

The dangers of 'killer' entertainment

(Story)

Jan 25, 2019

Modern and Mexican: Matteo's restaurant opens on University Avenue

(Story)

Jan 17, 2019

Routine drainage to NMSU's Stewart Street sparks wet roadways

(Story)

Nov 14, 2018

NMSU production Inspecting Carol set to debut this holiday season

(Story)

Nov 09, 2018

'Tis the season: A Christmas tree christens top of under-construction art building

(Story)

Nov 08, 2018

Netflix expected to lean on New Mexico college graduates to develop production hub

(Story)

Nov 06, 2018

Traveling art exhibit Truth Booth visits NMSU

(Story)

Oct 18, 2018

The 63rd New Mexico Water Conference held at Las Cruces Convention Center

(Story)

Oct 09, 2018

New York City artist's exhibit comes to NMSU

(Story)

Oct 08, 2018

Art project pastes students on campus

(Story)

Oct 01, 2018

The River Bride production wraps up

(Story)

Sep 24, 2018

NMSU professor develops projects during six-month venture in Europe

(Story)

Sep 19, 2018

Most frequent crimes on campus

(Story)

Sep 14, 2018

L.A. Casting Director visits NMSU

(Story)

Sep 10, 2018

NMSU looks to be proactive in preventing on-campus sexual assaults

(Story)

Sep 05, 2018

Nationally renowned artist visits NMSU

(Story)

Aug 23, 2018

Greek Life: The pros and cons

(Story)

Aug 17, 2018

Casting for NMSU Theatre productions begins Saturday

(Story)