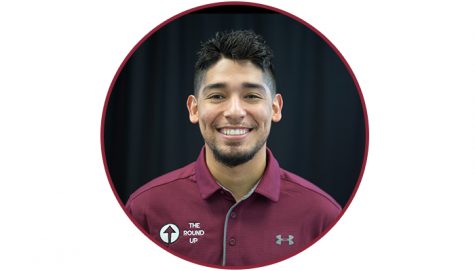 Jonah J. Gallegos enters his second year at The Round Up and is currently a senior, majoring in journalism. Born and raised in Las Cruces, New Mexico, he has a love and passion both for the city and as well as New Mexico State University.
Jonah played football and ran track for Centennial High School, but now sticks to intramural sports on campus. Growing up, he has always had an eye for sports and even kept his own statistics for his favorite teams and players. In his sophomore year of college, Jonah held a position for NM State Athletics as an intern under former Assistant A.D. Bill Powers.
While there he had a chance to work with Sports Information Directors and experienced what they go through, and even had some hands on experience with writing game recaps. Now pursuing his dream job as a Sports Information Director, he is extremely excited to continue his writing career at The Round Up.
Jonah has always had a love for writing and brings his unique style and personality to the organization. He feels extremely blessed to have this opportunity of working with fellow students and friends.
In his free time, Jonah likes to stay active by participating in sports, lifting weights, creative writing, hanging with friends and is involved with his Campus Ministry at St. Alberts Newman Center. He aims to one day work with either his beloved Chicago Cubs or prestigious Dallas Cowboys as a Sports Information Director.
Jonah Gallegos, Sports Writer
May 02, 2019

Column: Farewell and best wishes, NMSU Round Up

(Story)

Apr 26, 2019

Aggies look to jump into driver's seat of WAC in weekend series vs. Sac State

(Story)

Apr 14, 2019

NM State sweeps Bears for first perfect WAC weekend of season

(Story)

Apr 12, 2019

Aggies outlast Northern Colorado for third-straight win

(Story)

Apr 07, 2019

NM State rebounds with win over Lopes in series finale

(Story)

Apr 05, 2019

New Mexico State stumbles in series opener against GCU

(Story)

Mar 26, 2019

Aggies with fifth-straight win over Battle of I-25 rival UNM

(Story)

Mar 24, 2019

NM State with comeback victory over Cal State Bakersfield in series finale

(Story)

Mar 22, 2019

Aggies start WAC play with 9-4 loss to Cal State Bakersfield

(Story)

Mar 19, 2019

Salas to cap off illustrious career with one final trip to the Big Dance

(Story)

Mar 18, 2019

NM State women's basketball to face Iowa State in NCAA Tournament

(Story)

Mar 17, 2019

NM State men's basketball to face Auburn in NCAA Tournament

(Story)

Mar 11, 2019

Women's track and field team hope to carry over indoor success into outdoor season

(Story)

Mar 10, 2019

NM State bounces back to take weekend series vs. La Salle

(Story)

Mar 08, 2019

La Salle bullpen hands Aggies third loss of the season

(Story)

Mar 03, 2019

NM State continues home domination with big win over Delaware

(Story)

Mar 02, 2019

Aggies make easy work of Chicago State on senior day

(Story)

Feb 28, 2019

NM State women's basketball brings home fifth-straight WAC title

(Story)

Feb 22, 2019

NM State opens series vs. Yale with another blowout victory

(Story)

Feb 17, 2019

New Mexico State baseball begins season on historic offense tear

(Story)

Feb 15, 2019

Aggies crush Texas Southern 20-2 to kick off 2019 season

(Story)

Feb 14, 2019

New Mexico State baseball prepares for season-opening series

(Story)

Feb 09, 2019

Aggies get redemption, extend WAC lead with 81-52 thrashing of GCU

(Story)

Feb 07, 2019

New Mexico State starts the back-half of conference play with a win over CSUB

(Story)

Jan 26, 2019

NM State ride stifling defense to 18th straight WAC win at home

(Story)

Jan 19, 2019

Aggie women take down UVU in gritty battle for top spot in the WAC

(Story)

Aug 20, 2018

NM State volleyball prepares to open the 2018 season Friday

(Story)

May 06, 2018

NMSU baseball ends senior day with a walk-off grand slam

(Story)

May 04, 2018

NMSU baseball collects 30th win in front of record breaking crowd

(Story)

May 01, 2018

NMSU crushes rival UNM for second time this season

(Story)

Apr 26, 2018

New Mexico State Baseball to enter important part of the season; a closer look into the WAC

(Story)

Apr 17, 2018

New Mexico State defeats Sul Ross State to make it eight straight wins

(Story)

Apr 15, 2018

Aggies with the sweep over Chicago State

(Story)

Apr 13, 2018

Aggies extend win streak to five, rout Chicago State in series opener

(Story)

Apr 09, 2018

Amberg twins enjoy final season of competing together at New Mexico State

(Story)

Mar 31, 2018

Aggies unable to hold off Sacramento State, drop series finale

(Story)

Mar 29, 2018

Aggies rout Sacramento State

(Story)

Mar 18, 2018

Aggies complete the series sweep over Maine, a confident bunch now heads into big week

(Story)

Mar 17, 2018

New Mexico State Baseball continues to be aggressive at the plate; wins both games against Maine

(Story)

Mar 15, 2018

Sports Podcast: March Madness tournament predictions; basketball overview

(Story)

Mar 11, 2018

New Mexico State takes down GCU; claims WAC Tournament Title and heads to the NCAA Tournament

(Story/Media)

Mar 10, 2018

New Mexico State heads back to WAC Tournament championship, seventh straight WAC championship appearance

(Story/Media)

Mar 09, 2018

Women Aggies fall to Seattle U in WAC semifinal game

(Story/Media)

Mar 08, 2018

New Mexico State takes care of business, advances to WAC tournament semifinals

(Story/Media)

Mar 04, 2018

New Mexico State routs Harvard in series finale; Aggies win three of four in weekend series

(Story)

Mar 02, 2018

Aggies face adversity late, but hold off Harvard for the win

(Story)

Feb 24, 2018

Aggies clinch WAC regular season title on senior night

(Story)

Feb 24, 2018

New Mexico State baseball looks for series sweep over Mississippi Valley State

(Story)

Feb 23, 2018

Aggies score 39 runs in shutout win, a new school record for most runs in a single-game

(Story)

Feb 18, 2018

New Mexico State closes out Towson series with a win

(Story)

Feb 17, 2018

New Mexico State Baseball splits doubleheader with Towson

(Story)

Feb 16, 2018

Sports Podcast: Basketball Outlook; Mailbag

(Story)

Feb 10, 2018

New Mexico State-GCU game comes down to exciting finish in front of sold out crowd

(Story)

Feb 08, 2018

New Mexico State's defense locks down Cal-State Bakersfield

(Story)

Feb 03, 2018

New Mexico State shuts down the WAC's top scorer in win over UTRGV

(Story)

Jan 30, 2018

New Mexico State extends win streak to eight

(Story)

Jan 25, 2018

In ever-changing WAC, New Mexico State manages to remain king of the conference

(Story)

Jan 20, 2018

New Mexico State takes sole possession of first place in the WAC after immense win

(Story)

Jan 18, 2018

New Mexico State Continues Superb Play and Remains Undefeated in WAC

(Story)

Dec 12, 2017

NMSU's Jemerrio Jones Grabs A Triple-Double In Blowout Win

(Story)

Dec 06, 2017

Men's Basketball Falls to San Diego in a Thriller

(Story)

Dec 03, 2017

Aggies Outlast Prairie View A&M and Make It Five Straight Wins

(Story)

Nov 25, 2017

Coach Jans and The Aggies Grab Another Rivalry Win

(Story)

Nov 22, 2017

New Mexico State Men's Basketball Blows Out Colorado State

(Story)

Nov 17, 2017

Students Have Mixed Feelings about Paul Weir's Return to Las Cruces

(Story)

Nov 04, 2017

NMSU Volleyball Tops Off Senior Day With a Win

(Story)

Nov 01, 2017

NMSU Men's Basketball Gets Win, But Struggles Defensively

(Story)

Oct 28, 2017

NMSU Men's Basketball Continues to Strive

(Story)

Oct 26, 2017

NMSU Women's Basketball Spends Day at Local Catholic School

(Story)

Oct 16, 2017

Volleyball Sweeps In-State Rival UNM

(Story)

Oct 12, 2017

Players continue to step up as Volleyball sweeps CSU Bakersfield

(Story)

Oct 06, 2017

Men's Basketball schedule reveals difficult first month

(Story)

Sep 30, 2017

NMSU Volleyball knocks off UMKC

(Story)

Sep 28, 2017

NMSU Volleyball Bounces Back With Win Over Chicago State

(Story)

Sep 19, 2017

Volleyball sweeps rival UTEP

(Story)

Sep 16, 2017

Stuff the Stadium Part II to take place Saturday

(Story)

Sep 08, 2017

NMSU Volleyball Collects Back-to-Back Home Wins

(Story)

Aug 31, 2017

Volleyball drops first home game in close match

(Story)

Aug 30, 2017

Financial Cuts in New Mexico Lottery Scholarship Impacts NMSU Students

(Story)

Aug 21, 2017

NMSU Football Show Support for Law Enforcement in Aggie Badge Bowl

(Story)

Aug 17, 2017

NMSU Enters Partnership; Introduces Own Beer

(Story)