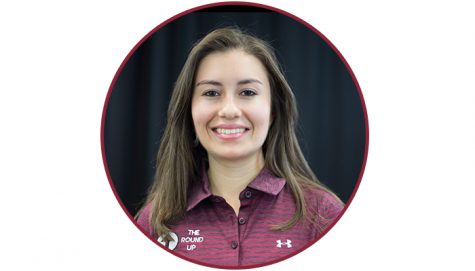 Leah Romero is a third year college student at NMSU pursuing a degree in Journalism and Mass Communication and a minor degree in Music. She was born and raised in Las Cruces and graduated from Centennial High School in 2016.
She joined the Round Up halfway through the 2018 spring semester as a staff writer. This will be her first full year on the staff as a feature writer. Her experience also includes working with the White Sands Missile Range Public Affairs Office for a summer where her coverage included multiple Change of Command ceremonies and a Nobel Peace Prize commissioned photographer's visit to Trinity Site. Her work has been featured in the White Sands Missile Ranger and both the Las Cruces Sun-News and Las Cruces Bulletin.
Outside the Round Up, Leah holds leadership roles with the NMSU College Democrats and the National Society of Collegiate Scholars. She enjoys playing the flute in campus ensembles and also baking and rollerblading in her free time.
She is looking forward to another exciting year at NMSU and the Round Up. Her goals this year are to report on important stories impacting the university while also challenging herself to grow as a writer and reporter.
Leah Romero, News Editor
Apr 26, 2019

Conner and Burnside officially sworn into office as ASNMSU president and vice president

(Story/Media)

Apr 24, 2019

New ASNMSU president Cisneros replaces close friend in office; says there's still work to be done

(Story)

Apr 12, 2019

ASNMSU President Emerson Morrow officially resigns; avoids impeachment hearing

(Story)

Apr 04, 2019

ASNMSU president-elect Conner is eagerly waiting to take office

(Story)

Mar 22, 2019

Resolution 49 for ASNMSU President impeachment passes through senate

(Story)

Mar 20, 2019

Evan Conner named ASNMSU President-elect after run-off legality issues arise

(Story)

Mar 14, 2019

ASNMSU voting in full swing

(Story)

Mar 13, 2019

ASNMSU President Morrow says he's 'committed to finishing the job'

(Story)

Mar 12, 2019

ASNMSU senators speak out on presidential impeachment resolution

(Story)

Mar 08, 2019

ASNMSU Presidential candidates hold debate prior to election week

(Story)

Mar 06, 2019

ASNMSU to introduce legislation that may lead to impeachment of President Morrow

(Story)

Mar 05, 2019

New NMSU student regent excited to represent University

(Story)

Feb 28, 2019

NMSU Scholar Dollar$ priority application due today

(Story)

Feb 25, 2019

ASNMSU passes resolution supporting university sustainable efforts 

(Story)

Feb 12, 2019

Proposals for fractional grading and Fall Break at NMSU move forward 

(Story)

Feb 07, 2019

NMSU Regents pass 120-credit hour degree requirement  

(Story)

Feb 06, 2019

Electric scooters returned to NMSU after dispute

(Story)

Jan 25, 2019

ASNMSU holds first meeting of 2019

(Story)

Jan 23, 2019

Contractor alleges unpaid invoices from Spin; electric scooters being held hostage

(Story)

Jan 23, 2019

Higher-education bills introduced at New Mexico's 54th Legislature

(Story)

Jan 18, 2019

Electric scooters become instant sensation on NMSU's campus

(Story)

Jan 15, 2019

Electric scooters set to debut at NMSU as Spring semester begins

(Story)

Nov 27, 2018

NMSU Alumna to lead Courtyard Marriott hotel 

(Story)

Nov 08, 2018

Campus water consumption falls from previous year

(Story)

Nov 07, 2018

Xochitl Torres Small overtakes the lead in New Mexico's 2nd Congressional District

(Story)

Nov 05, 2018

Democratic candidates rally in Las Cruces before midterm elections: Story/Photo Gallery

(Story)

Oct 31, 2018

Michelle Lujan Grisham places emphasis on New Mexico education

(Story)

Oct 25, 2018

NMSU Golf Course offers more than just the game of golf 

(Story)

Oct 24, 2018

Early voting begins at NMSU in attempt to encourage young voters to vote

(Story)

Oct 17, 2018

Kavanaugh hearing spurs discussion of sexual assault at New Mexico State

(Story)

Oct 10, 2018

NMSU freshmen suffer housing overflow

(Story)

Oct 03, 2018

NMSU Engineering Council approved ASNMSU bylaws resolutions

(Story)

Sep 26, 2018

NMSU Special Events brings experience but no revenue to the University

(Story)

Sep 20, 2018

NMSU and UTEP compete in annual I-10 coalition blood drive

(Story)

Sep 18, 2018

New Courtyard Marriott will give NMSU students a unique, hands-on experience

(Story)

Sep 10, 2018

NMSU expanding campus with Heritage Farm project

(Story)

Aug 21, 2018

Pistol Pete's 1888 Ale now available in cans

(Story)

Aug 14, 2018

NMSU Parking and ID Services has new location 

(Story)

Aug 07, 2018

Corbett Center welcomes new Pete's Patio

(Story)

May 02, 2018

NMSU journalism class donates to nonprofit organization

(Story)

Apr 20, 2018

NMSU's Concrete Canoe Team head to nationals after win at regional competition

(Story)

Apr 11, 2018

Temperatures set to change dramatically beginning with near-record highs Wednesday

(Story)

Apr 05, 2018

NMSU Wind Symphony traveled for Enchantment Tour this past week

(Story)

Mar 28, 2018

NMSU Air Force ROTC hosts first-annual A&M day

(Story)

Mar 20, 2018

W.A.V.E. reminds students to stay safe during Spring Break

(Story)