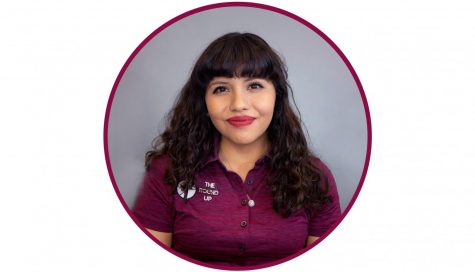 Marianne Salas is in her third year at New Mexico State University, and is majoring in English and Pre-law. She plans to attend Arizona State University Law upon graduating from NMSU, focusing on either criminal or civil law. Her ultimate goal is to work as an Assistant United States Attorney in the Phoenix office. Marianne graduated from Gadsden High School in 2016 in the top 1%, and played softball competitively growing up. She was also involved in Student Council and National Honors Society.
Though having never been in journalism before, Marianne has always been an avid reader and writer, and hopes to further develop her critical thinking, communication, and writing skills in her first year at the RoundUp. She is excited to work with such a supportive team.
When Marianne is not drowning in case briefs and Shakespeare, she enjoys watching How I Met Your Mother, reading for fun, and spending time with friends and family. Growing up an only child, she is incredibly close to both her parents, and tries to visit home at least once a week. Marianne is an avid environmentalist, and often follows news regarding climate change and politics. Marianne loves cats, and plans to purchase an exotic shorthair kitten upon graduation.
Marianne Salas, Political Writer
Aug 22, 2019

Art department claims new home in Devasthali Hall

(Story)

Apr 29, 2019

NMSU looks to create more eco-friendly campus in lieu of recently-celebrated Earth Day

(Story)

Apr 23, 2019

NMSU to extend Sandia Laboratory partnership additional 10 years

(Story)

Apr 10, 2019

NMSU President Floros: Most of tuition increase will go directly back to students

(Story)

Apr 05, 2019

ASNMSU's "It's On Us" campaign raises sexual assault awareness on campus

(Story)

Mar 21, 2019

House Bill 7 looks to develop, expand NMSU agriculture

(Story)

Mar 18, 2019

NMSU's Chile Pepper Institute to possibly develops chile peppers for NASA

(Story)

Mar 14, 2019

Students weigh cost amidst nearing NMSU Housing Selection process

(Story)

Mar 07, 2019

NMSU kicks off Latino Week

(Story)

Feb 20, 2019

Black History Month underway at NMSU

(Story)

Feb 19, 2019

Aggie Experience offers glimpse of student life at NMSU

(Story)

Feb 14, 2019

Valentine's Day Provides Opportunity to Raise Awareness of Healthy versus Unhealthy Relationships

(Story)

Feb 04, 2019

NMSU athletics' "Grand in the Stands" promotion positively impacting winners' lives

(Story)

Jan 30, 2019

Chamisa's changing landscape raises questions on building exterior and water usage

(Story)

Jan 22, 2019

NMSU organization decreases feral cat population on campus

(Story)

Dec 06, 2018

Best holiday date ideas in the Las Cruces area

(Story)

Nov 05, 2018

Military and Veterans Appreciation Week begins with kickoff event inside Memorial Tower

(Story)

Nov 03, 2018

Time to turn back the clocks an hour: Daylight Savings Time set to end tonight

(Story)

Oct 29, 2018

NMSU's "Aggies Go Global" continues to provide international opportunities for students

(Story)

Oct 22, 2018

NMSU student programs work to combat effects of DACA rulings for students

(Story)

Oct 16, 2018

Halloween costume ideas for the NMSU couple

(Story)

Oct 04, 2018

Pete's Patio nearing completion

(Story)

Sep 28, 2018

NMSU students can exchange peanut butter for parking ticket reductions

(Story)

Sep 24, 2018

Students have several healthy options around NMSU's campus

(Story)

Sep 11, 2018

New, modern apartments attract NMSU students off-campus

(Story)

Sep 04, 2018

NMSU's Army ROTC cadets undergo combat water survival training

(Story)