Huntley leads NM State to win in home finale vs. Alcorn State
Hang on for a minute...we're trying to find some more stories you might like.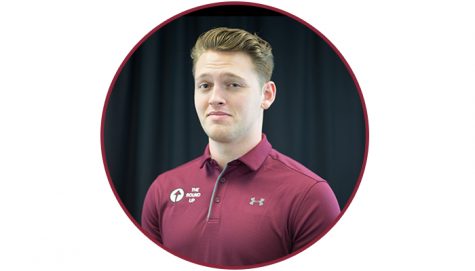 More stories from James Martin
There haven't been many bright spots for the New Mexico State football team this year, but a 52-42 win over Alcorn State in the final home game of 2018 will at least end the season at Aggie Memorial Stadium on a high note thanks to an all-world performance by running back Jason Huntley.
Like they have several times this season, NM State got off to a blistering start, jumping out to a quick 14-0 lead in the first quarter after Huntley returned the opening kickoff 99 yards to the house and Royce Caldwell hauled in his second touchdown catch of the season.
Alcorn State would score one in the first, but the Aggies continued taking it to them in the second — something that hasn't happened much this season — scoring three more times in a row (two touchdown passes to Jonathan Boone and a Huntley rushing touchdown) to make it an early four possession game.
Like they have several times this season, though, NM State let the Braves hang in enough to make things unnecessarily tight in the fourth quarter.
Alcorn State took advantage of some shoddy Aggie defense, claiming momentum just before halftime and stealing a touchdown with under a minute left to play before the break. That surge would be carried through the fourth quarter, with the Braves going on a 28-3 scoring run to make it a three point game with under 10 minutes to play.
Huntley and the offense weren't going to let this one slip away, though.
The junior found the edge for his third score of the game to give NM State a much needed cushion with seven minutes left, then, on the next possession, sealed the deal, taking a screen pass 60 yards, cutting across the field to find the end zone and cap off the game of his life.
"When we're down, I feel like that's when my team need me the most. In the late moments of the game, that's when I'm trying to get us a score," Huntley said when asked about his delivering in clutch time in recent weeks. "I just wanted the win, to be honest. I just wanted to take the seniors and make sure they had a good going out."
And a good going-out it was.
Huntley led the Aggies with 253 all-purpose yards and four total touchdowns but offensive contributions across the board, as evidenced by their 529 total yards and a season-high 52 points, propelled NM State to a much-needed senior day win.
"Our offense is playing with a lot of confidence… and we've got a lot of weapons," Martin said of his offensive group. "We just keep getting better and better, which is great because we return this whole offense next year, so it's really important we finish up strong going in to next year."
Adkins continued to show why Martin promoted him back in September, throwing for 396 yards and four touchdowns while Boone, Huntley, Christian Gibson and Royce Caldwell all amassed 80 scrimmage yards for NM State.
As a senior, Caldwell was especially passionate about tonight's home finale but was pleased with how he, and the team, finished out his career on their home turf.
"I'm going to miss playing Aggie football here. I wanted this game, like I wanted the previous nine before… It's just me being a team captain. I hold myself and hold everybody else to a high standard — it's a brotherhood," Caldwell said of his emotions throughout the game. "We just felt like, for us, we had to grind one out, we have to get one, and that's just going to help your team excel even more [going forward]."
This marked the last appearence in Las Cruces for 18 seniors, and it is without question that the class has left an indelible mark on the program that will be appreciated for years to come.
"It's always great to win that last game at home, and I think they certainly deserved that — for everything they've been through and everything they've done for this football program. We're going to miss those guys, on and off the field," Martin said. "They've been a great group to coach, great group of young men. They're all going to get their degrees and they're going to be successful people walking out of here, so I'm real happy for them."

Hang on for a minute...we're trying to find some more stories you might like.
About the Writer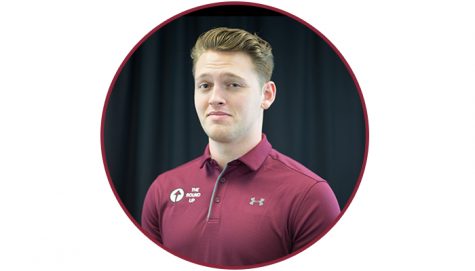 James Martin, Sports Editor
James Martin is a second-year sportswriter and a sophomore majoring in journalism. He was born and raised in Las Cruces, New Mexico and graduated from...