NMSU and UDA to begin first men's developmental soccer team in US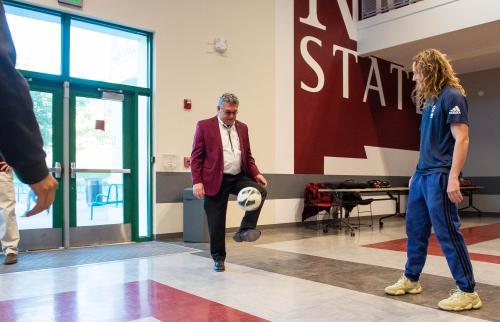 New Mexico State University has partnered with University Degrees Abroad to have their first UDA soccer program and men's developmental soccer team in the United States at NMSU that will play in the United Premier Soccer League.
Director of graduate recruitment for UDA Jeff Thompson stated they began UDA with the idea of using a European-style soccer academy.
"We started University Degrees Abroad with the idea to have a European academy of which we have in Chester, England. We're in our second season over there, it's actually about the eighth year that we've done developmental academies," Thompson said.
According to the UDA website, UDA has agreed to establish a European-style academy soccer program with a professional coaching environment at NMSU. All program participants must be full-time, degree seeking students of either NMSU or Doña Ana County Community Colleges.
The reason UDA decided on having the soccer program in NMSU is because Thompson stated he is more familiar with the university's climate and academic quality.
"New Mexico State just ticked all the boxes. One of those reasons is that I've lived in Las Cruces for almost 30 years. When it came to have a great academic provider like New Mexico State and with year-round weather where you can play almost 365 days a year. Actually, my daughter's a NMSU alumni so I understand the academic quality at New Mexico State," Thompson said.
Thompson noted that US soccer seasons are short, restricting many students' chances of being on-field.
"The current atmosphere of collegiate soccer in the U.S. is a 20-game schedule and they play between August and October. They'll carry 32 players on a roster, and you've got guys sitting on the bench that get nothing as far as playing time goes," Thompson said.
Thompson said that since they will playing in the UPSL, every player recruited will have time to play in the game because game seasons are longer.
"We guarantee that everybody on our roster will have the chance to play at a minimum of 25 matches over the course from August through June because we will play in the UPSL. Their seasons runs up to through June and if you make it into the playoffs you're playing into July," Thompson said.
As far for the number of players recruited, Thompson hopes to have 50 players and two squads in the academy program by the third year.
NMSU freshman Emmanuel Esparza said he thinks the program will be a good opportunity for people interested in soccer.
"I think that it's a great idea. There would be guys that would be actually interested in joining the team and trying out and not only that, but I think it would bring more applications from athletes that want to do the sports here," Esparza said.
Esparza also claimed that when hearing that the program will only recruit full-time degree seeking students, he didn't approve of the idea. Though, he admitted he would have to look more into the topic.
"I would have to learn more about it. I don't know what the reason behind that is, but it sounds to me like it's not an equal opportunity for everybody so I'm going to say it is something I would not really approve of," Esparza said.
According to the UDA site, regional recruitment events for the fall semester at NMSU have already begun. The first event was at Denver, Colo. on Nov. 3. Events are set for Dallas, Texas on Nov. 30. and Las Cruces, Dec. 7.
Leave a Comment