Round Up Lifestyle: NMSU Tweets of the Week
More stories from Round Up Editorial Staff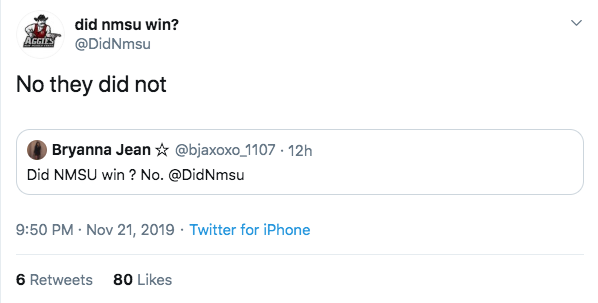 The whole New Mexico State campus is mourning after last night's 78-77 loss to University of New Mexico…
I'm telling my kids Las Cruces is the closest planet to the sun pic.twitter.com/72cpPILKog

— Air-in (@ADaragon7) November 21, 2019
No they did not https://t.co/te7zD4K6aJ

— did nmsu win? (@DidNmsu) November 22, 2019
I'm gonna tell my kids this was Mr. Rogers. #nmsu #unm pic.twitter.com/4MuV30OTtL

— Jonathan (@holguinjon) November 22, 2019
Telling my kids this was MJ pic.twitter.com/RYDpAfo5dw

— Barstool NMSU (@barstoolnmsu) November 20, 2019
UNM: Keeping ugly girls out of NMSU since 1889!

— The PanAmmo (@PanAmmunition) November 21, 2019
Quick reminder, fuck UNM

— Barstool NMSU (@barstoolnmsu) November 22, 2019
Step 1: Apply to UNM
Step 2: Get Accepted to UNM
Step 3:

| ̄ ̄ ̄ ̄ ̄|
I Stay cause|
| Your car |
| Got stolen |
| _____ |
(__/) ||
(•ㅅ•) ||
/   づ https://t.co/D1PifmI6Qe

— Barstool NMSU (@barstoolnmsu) November 14, 2019
The Round Up will be out of the office next week for Thanksgiving Break. We will continue our coverage of the NMSU community Monday, Dec. 2.
Happy Thanksgiving from The Round Up staff!
If you see a funny, crazy or borderline inappropriate tweet you'd like you be featured on Round Up Lifestyle, DM us @nmsuroundup or use the hashtag #RoundUpLifestyle.