Let's Talk About It: A Call to all Aggies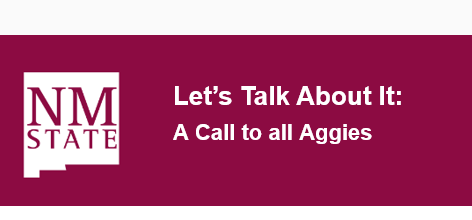 We, the senior leadership of New Mexico State University and the NMSU Diversity Council, are disheartened that we are still experiencing tragedies of racially based hatred in 2020. Words cannot express our deepest sympathy to the families, friends, and loved ones of George Floyd, Ahmaud Arbery, Breonna Taylor, Nina Pop, Sean Reed, Tony McDade, and others who have fallen victim to the senseless killings in the African American community. We also mourn with the communities of color that are being decimated by COVID-19, due in part to systemic inequities created by institutionalized racism. Our hearts ache for both a nation in crisis and the protestors who are frustrated, angry, disappointed, and exhausted by a system that has failed them most egregiously.

Through our grief for the countless known and unknown victims of systematic racism, we persevere in the hope that this moment will shine a light and motivate everyone to stand for justice and peace in our community. This is not the time to fall into despair. The campus and the world need our leadership, kindness and love. We can accomplish great things when we act in solidarity with those who fight for freedom and push America to live up to its promise. We have to continue to use the light of knowledge, love, equity, humanity, and respect to guide the nation out of these dark times.

We are better than this, and we must illuminate the path to justice and equality by asking ourselves about the way forward: What can we do, individually and collectively as the NMSU and Las Cruces community? What are the difficult conversations we must have and with whom? What are the action plans we need to craft? These are the challenges in the days and weeks ahead. Together, we must continue to be thoughtful and respectful as we engage in the hard work of creating positive change in our communities and across our nation.

To start this dialogue, we invite you to join in an honest and open discussion virtually this Friday, June 5th, at 3 pm for Let's Talk About It: Diversity, Justice, Inclusion, and Respect. Our own, Dr. Patrick Turner and Kimberly York, co-directors of Black Programs, will facilitate the event, in conjunction with Dr. Henrietta Pichon, Associate Dean in the College of Education at NMSU, and Dr. Darryl Holloman, Vice President for Student Affairs at Spelman College. Please join this discussion at https://nmsu.zoom.us/j/94380857456, and send questions to https://president.nmsu.edu/lets-talk-about-…sion-and-respect/.

This statement is supported by the senior leadership of New Mexico State University and the NMSU Diversity Council.
Leave a Comment