NMSU Cheer teams go 'full out' at the NCA College Nationals competition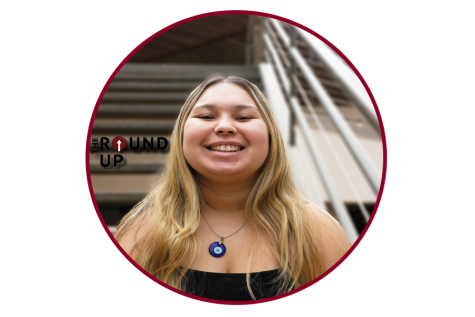 More stories from Leighanne Munoz
On April 7 to April 9, New Mexico State University's two cheer teams competed at the NCA (National Cheerleaders Association) College Nationals in Daytona, Florida. The teams competed in the Intermediate Small Coed Division 1A and Advanced Large Coed Division 1A. This competition is one of the biggest events in college cheer-leading and teams prepare for these two days beginning from try-outs in May.
Michelle Kuiv, a graduate student who has been cheering for 17 years and is ending her second season with the Aggies on the Small Coed team, gives insight on how the university's cheer team made it more inviting for all types of cheerleaders to join.
"This season NMSU purposefully recruited for two different styles of teams: one small coed or all girl with typically group stunts and one large coed with typical coed stunts," Kuiv said. She went on to explain how this benefits athletes looking for a team to join. "There are often bases or back spots (especially female) that graduate high school and either don't have experience stunting coed or have a preference toward group stunting." She added.
By splitting the teams, it gave NMSU Cheer teams a better chance at bringing home a national title. This was the first year the college took a second team and it paid off well. The Large Coed team took fifth place and the Small Coed team, (Smoed) took third place in their division as a first-year team. This team competed in the Ocean Center both days for the competition.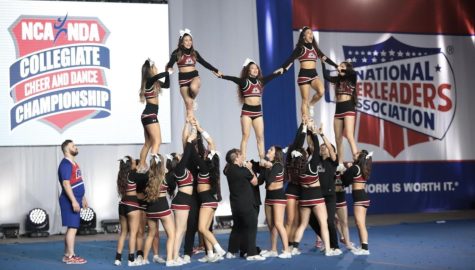 Kuiv explains how nervous she was waiting for the team before to finish, but also how much energy she had stepping onto the floor. "Once you get onto the floor and take a deep breath it's show time," she said.
She also speaks about how they just remind each other that, "it is just another full out". 'Full out' is a term cheerleaders use when they will complete the whole routine with all skills included. This reminds them to stay calm while out on stage while still putting the best performance out on the floor.
The Bandshell is one of the biggest stages for cheerleaders and is known to be one of the most nerve-wracking experiences. The stage is set outside where the nine panels of mat are laid across with a huge banner behind it. The stage faces a big crowd of people and is next to the beach.
Brianna Lopez is a third year on the Large Coed team who has been cheering for 10 years. "I was nervous because I can hear the crowd and the music from the team before us. Then, it was our turn I felt like I was going to throw up," Lopez said. She mentioned that it all went away once she heard the announcer call their name.
"I had to smile and wave to the crowd. I bounced up and down to see how the floor felt because we were outside, and it felt a little squishy. Once the music came on in the moment it felt so slow, but in reality, it was so fast. By the time I zoned back in I was already done with my dance, and I took in every emotion I had because we did it and it felt so good." Lopez said.
Both Kuiv and Lopez reflected on the hardships of this season from injuries to having people leave the team, they both said it was all worth it in the end; seeing their coaches' faces and realizing that their hard work paid off. New Mexico State University Cheer teams are having tryouts and clinic on May 7, 2022. Videos are due May , 2022. For more information you can contact them on Instagram @nmstateheer, Facebook NM State Cheer, or Twitter @NMStateCheer.
Leave a Comment
About the Contributor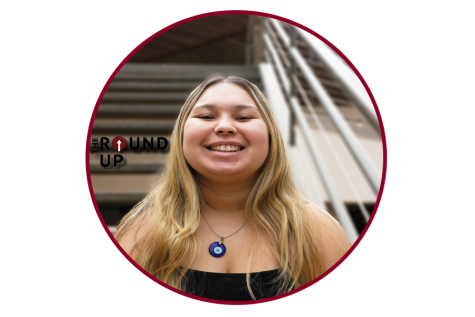 Leighanne Munoz, Staff Writer
Leighanne Muñoz is finishing her first year with  The Round Up and is a Staff Writer. She is entering her sophomore year and second semester at New Mexico...