Aggie Football Entering Crucial Year
By Albert Luna
Staff Writer
Everyone has probably seen the signs driving around the city, coming in from El Paso, even walking around campus. Everywhere you go, you can't miss it: Stuff the Stadium.
NMSU's football season is once again upon us, bearing with it an undertone, a sort of elephant in the room that cannot be easily ignored: attendance has been on the decline.
This has been the trend for more than a decade now, though success in football has eluded NMSU for the better part of its history.
Current NMSU students did not grow up with Aggie football being a powerhouse. In fact, the Aggies have only been to three bowl games in the program's history (all at the Sun Bowl down the road). Their last appearance was in 1960 (during which season they went undefeated).
The bowl game-drought for the Aggies is going on year 55, easily the longest and probably most documented dry run in Division 1 Football Bowl Subdivision (FBS) history. The causes for such a streak are anyone's guess: bad plays, bad coaches, or just bad luck.
Because they are not players nor field personnel, fans' only response to such a record is to gradually stop showing up to games.
Aggie Memorial Stadium in the recent past could fit a capacity of just over 30,000 fans, with the highest recorded attendance on September 26, 1998, when the stadium held 32,993 onlookers as the Aggies battled rival UTEP (extra seating arrangements were required for that particular matchup).
But this off-season, the stadium had some cosmetic work done on the eastside, with the addition of a new skybox for fans. The add-on, which reportedly cost upward of $1.1 million, reduced seating capacity by about 2,000 people, says Patrick Kennedy, the ticketing manager for special events and games for the university.
With this skybox, the new estimated capacity has dropped to just over 28,000. But the Aggies may still have difficulty stuffing the stadium, based on recent history.
When compared with the stadium capacities of UNM—about 39,000—and UTEP—about 51,000— both Division1 FBS schools, a capacity of 30,000—much less, 28,000—seems on the smaller side.
But a reduced stadium capacity should ostensibly make it easier for fans to stuff the stadium, right?
Probably not.
The statistics show the case is the exact opposite. Attendance at New Mexico State football games has had a slow, consistent decline in the last decade and even more evidently within the past five to six seasons.
In 2014, NMSU had below 50 percent capacity attendance in all but one game, against rival UNM. That means on five different occasions, fans failed to fill up even half of what Aggie Stadium can actually hold.
Digging a little bit deeper, on two different occasions, NMSU failed to reach even 10,000 for its attendance, with the 2014 home season finale against Louisiana Monroe amounting to a disappointing 6,000 people in attendance.
Sounds more like a high school game attendance than a Division 1 university.
Even more alarming is that just 12 years ago, NMSU competed at home against Louisiana Monroe, a game which saw an attendance of 12,000, the lowest turnout of that season.
In just 12 years, NMSU's attendance for a game against the same opponent declined 50 percent.
Granted, a team such as Louisiana Monroe may not be the most enticing team for audiences.
But consider NMSU's matches against Battle of I-25 rival UNM in both 2002 and 2014. The 2002 season, which the Aggies finished with a respectable 7-5 record, the Aggies competed against the Lobos in a 28,500-attendance game at home.
In 2014, that number had decreased by nearly 4,000, when attendance should have increased, if anything.
The nation's interest in football has only ever been increasing. Students at NMSU over the last 12 years have not had the same "be there for the big game" mentality that many other university students have.
In the past half-decade, NMSU has brought in some significant talent. Further, teams such as San Diego State, Boise State, San Jose State, Louisiana Tech, Hawaii, Nevada, Fresno State, Ohio, Minnesota, and BYU have played in Aggie Memorial Stadium in the past five seasons.
Yet none of these games exceeded more than 20,000 attendances, under 70 percent stadium capacity.
Kennedy says fans are underestimating and underappreciating what they have in their community.
"There is only 128 FBS football teams in the entire nation and we are fortunate enough to have one right here in our city of Las Cruces," Kennedy says. "Win or lose games, fans should be excited regardless of who's playing us (Aggies)."
Lagging home game attendances has put the university in a hard position. According to NCAA Division 1 rules, FBS teams have to meet minimum attendance requirements (average 15,000 people in actual or paid attendance per home game), at least once in a two-year period. NCAA Football Championship Subdivision teams do not need to meet this requirement.
The question must be raised: If NMSU has difficulty meeting the 15,000 attendance requirement, should the program switch to being an FCS team?
"The university by no means would want to go down to FCS level," he says. "They simply do not have as much weight from an attention standpoint as a FBS would."
FBS teams receive more media attention, particularly when they play in post-season bowl games, and because the total number of games played each year is on the rise.
In contrast, FCS is a playoff-orientated division in which there are no bowl games and simply a large single-elimination playoff tournament that hardly receives national media attention other than the championship game usually.
From a marketing perspective, it is imperative NMSU maintain the minimum requirement for attendance.
In 2013, NMSU was in danger of coming up short on this requirement, until a third party stepped in and bought the remaining 6,000 tickets for the season just to get to the 15,000-person mark. The third party was the NMSU Foundation, Inc., which consists of local citizens and businesspeople, primarily alumnae.
Kennedy says such an action is not unusual even at other Division 1 universities.
"There are a number of FBS schools in the region that require this sort of loophole to keep their FBS status," he says.
He further says 2013 was not the first time a purchase of this magnitude was made.
"We've had similar transactions in the past," he says. "Sometimes it can be a great boost to get fans in the stadium for free."
In an effort to prevent another Foundation buyout comes the push by NMSU to "stuff the stadium" on September 12 against Georgia Southern.
The promotion was initiated by Mario Moccia, NMSU athletics director.
According to Kennedy, the September 12 game should be a sellout. If a sellout can indeed happen, it would be a first in years and could help build attendance momentum for the game the following week against Battle of I-10 rival UTEP.
To reach the sellout point, ticket prices have been slashed.
Moccia, in a recent newspaper interview, said he expected the game to actually be in the top three of all-time revenue games. Kennedy says Moccia is also using local alums and businesses, working free of charge, to sell tickets to the public.
This is definitely a grass roots campaign.
We will see if this new promotion works in Year Three of the Doug Martin-era.

Hang on for a minute...we're trying to find some more stories you might like.
About the Writer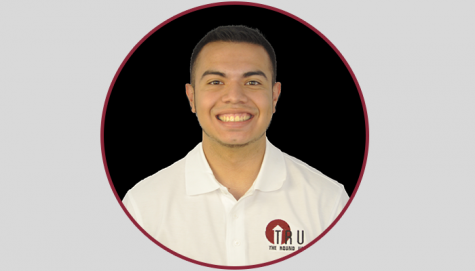 Albert Luna, Editor-in-Chief
Albert is in his second year as the Editor-in-Chief and third year overall working for The Round Up. Originally from El Paso, Texas, Luna brings to...