NMSU alum paints generational trauma in upcoming exhibition
From humble beginnings of drawing figures on a dry erase board, to having her work featured in national art exhibitions, artist Analinda Gonzalez portrays her own lived experiences within the U.S. immigration system through her artwork. Her pieces spark dialogue among her audience about the injustices of separation and conflict that many families encounter when faced with deportation.  
Gonzalez is originally from Los Angeles, where her mother, a U.S. born citizen, met her father, a Mexican immigrant. When she was four years old, her father was abruptly taken into custody for living in the U.S. as an undocumented citizen. He received a 10-year immigration ban, but was deported from the U.S. for 19 years.  
Her father's court date to receive legal  residency was scheduled right after the tragedy of 9/11, resulting in a harsher enforcement of his ban, since the current state of the nation led the immigration system to become increasingly strict. When Gonzalez's parents went to their appointment to get his permanent visa, he was sent to a detention facility in Denver, where her family temporarily relocated for six months. Later, when her father was deported to Mexico, she and her mother moved to El Paso, where they would cross the border every day to visit him in Ciudad Juarez.  
"I hated it," she said. "It was a really traumatic experience, especially when I was that young. I didn't understand what was going on."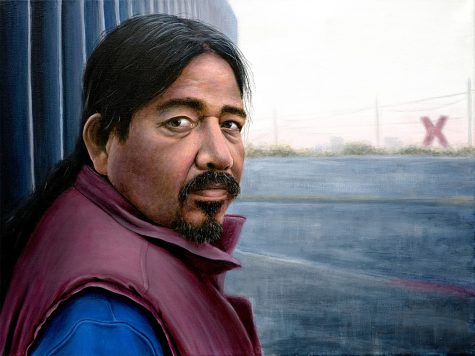 The family was eventually able to live together along the border, but Gonzalez and her mother would cross into El Paso to go to work and school. When her parents were at work and she was at home, Gonzalez kept herself busy drawing characters on a dry erase board that her mother had given her. Her mother worked as an art director and her father was a carpenter, so she mentioned how they were both always very supportive of her creative interests.  
She began taking art classes at a young age and continued on with them throughout high school. Once she got to college, she began deepening her focus on the subject matter she wanted to produce in her art. Her mentor at El Paso Community College implored her to question what separated her from other artists and discover what made her work unique. 
"It just dawned on me when I started really thinking about my upbringing," Gonzalez said. "It [immigration] doesn't feel foreign to me; it's normal. I know it's bad, but I know how to live with it … But anytime I told people that my dad was deported, it opened dialogue to something really political." 
Gonzalez paints and draws realistic figures that depict the socio-political issues that her family has faced — primarily as a direct result of her father's deportation. In this context, her work often places portraits of herself and her parents, especially her father, in scenes at the U.S.-Mexico border. Through her use of pastels and acrylic paint, she aims to create a level of intimacy and personal connection between her audience and her artwork. 
"By no means am I trying to speak for every family," she said. "It's such a complex system. That's why I'm just shedding light on my family's story … By making something that's so contentious more personal, it makes it more relatable. Having viewers step in my shoes, they're able to identify with something that maybe they weren't able to before." 
Gonzalez transferred to NMSU after receiving her associate's degree from El Paso Community College. She graduated from the university in December of 2021 with a Bachelor's in Fine Arts.  
One of Analinda's previous art professors, Craig Cully, elaborated on the various ways she grew as an artist in her time at New Mexico State. Gonzalez began her studies with Cully in his intermediate courses after she transferred to NMSU. He said that she was seeking guidance on building conceptual depth within the subject matter of her work. 
"Not only did she find a topic that connected with her personally, but she also came to understand its political resonance as well as how the look of her work fit into the larger dialogue of art history and contemporary art practices," Cully said. "All the while Analinda continued to develop her technical craft, her work became increasingly more accurately rendered and more illusionistically sophisticated."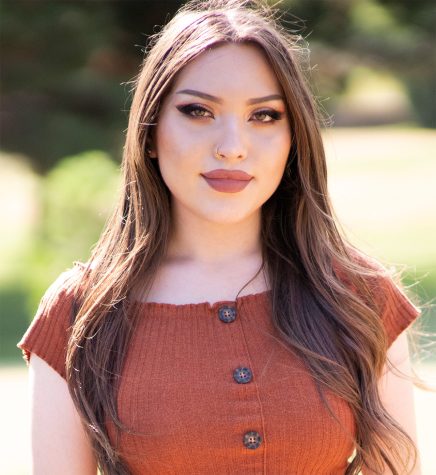 Cully remarked that Gonzalez was one of the most hardworking students and dedicated individuals that he's ever had the privilege of working with. He also mentioned that from the moment she started at the university, it was apparent to everyone that she was very talented – but even with her great skill, he always asked more of her and pushed her to challenge herself. 
"I was always very impressed with everything she produced, but seeing her hunger for success and willingness to take on new challenges, I never let her know just how exceptional her work was, but instead always directed her to where she might find ever more richness in terms of concepts, composition, and craft," he said. "She never disappointed." 
He also mentioned that since Gonzalez's work is frequently derived from her own life experiences, audiences can find an intense amount of depth and can appreciate her art. Cully said her genuine care about her subject matter conveys both a political relevance and an emotional connection. 
Carlos Lee Sullivan, a fellow artist, met Gonzalez when they were both studying at NMSU. He said that she was very prominent in the art department and that it was "hard to miss her artwork." Since he graduated in the spring, he's been looking for other ways to contribute to the art community. He became a curator at Cruces Creatives, a non-profit makerspace in Las Cruces. Sullivan reached out to Gonzalez to see if she was interested in putting on a solo show at the gallery, and when she said yes, the two began collaborating on piecing everything together. 
"To have all of them [her art pieces] in one place, at one time, I think is going to be pretty exciting," Sullivan said. 
The body of work that will be displayed at her solo show includes pieces that Gonzalez has been building on since her undergrad. Sullivan discussed the emotional engagement that her art typically has with people. 
"It's all about invoking this empathic response about the kind of injustices that he [her father] has been treated with, and the way that's affected her and her family," he said. "How that story can be related to other stories – I think that's interesting." 
Sullivan remarked that although Gonzalez's work often appears "traditionally painted," it has the ability to speak volumes about political injustices that empathize with a broader audience. 
"Her work, at first brush – at first glance – feels like very traditional work, so you walk in and you're not expected to be confronted with anything subversive," he said. "For a lot of people, intuitively, they don't expect that artwork to hit them over the head." 
Gonzalez's work has been showcased in multiple renowned exhibitions, from El Paso to New York City. She won best of show at the EPCC Student Art Show in 2019, and has been a student finalist at the AXA Art Prize in New York for two consecutive years. 
Gonzalez's solo exhibition opening will be held at Cruces Creatives at 205 E Lohman Ave. on Friday, Dec. 2. from 6 p.m. to 9 p.m. Her work can also be viewed on her website: analindagonzalez.com. 
"If I can at least move somebody to maybe think about immigration in a different light, that's my goal," Gonzalez said. "And even if I can't, I want to just start a dialogue among my audience." 
Leave a Comment
About the Contributor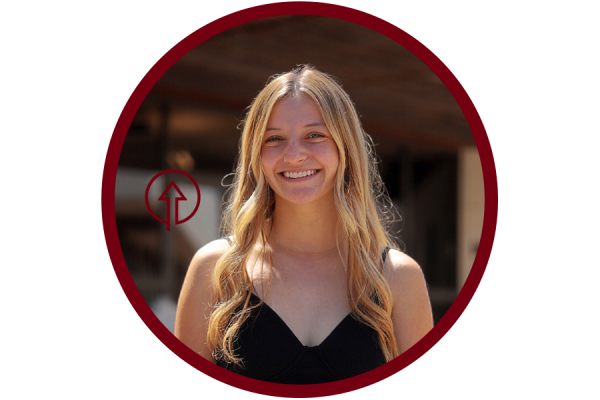 Riley Robertson, Editor-in-Chief
Riley Robertson is entering her second year with The Round Up as the Editor-in-Chief. She is a junior at NMSU double majoring in Journalism & Media...