Wide variety of student artwork exhibited at 2023 Juried Student Show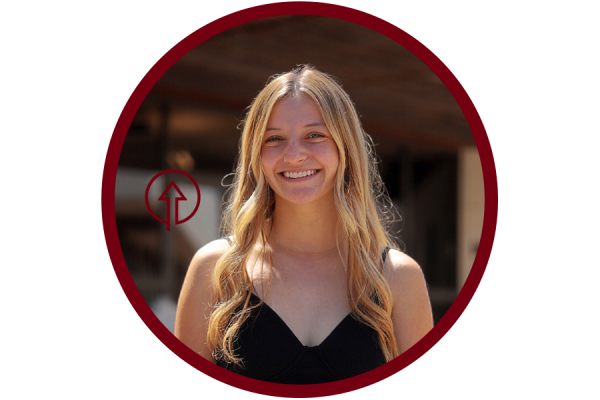 More stories from Riley Robertson
The 2023 Juried Student Show opened Friday, Mar. 24, 2023 at NMSU's University Art Museum (UAM). The show accepts submissions from students of all majors at the university, celebrating the artistic diversity across campus. An awards ceremony took place during the opening night, where several students were presented with donor-funded awards for their pieces in the exhibition.      
Paulina Burnside, a senior English major, is taking an introductory metal works class at NMSU. Her first assignment was to create a pendant that represents a modern issue and a solution for it. While some of her classmates focused on issues like climate change and social justice, Burnside wanted to highlight the fast-fashion industry.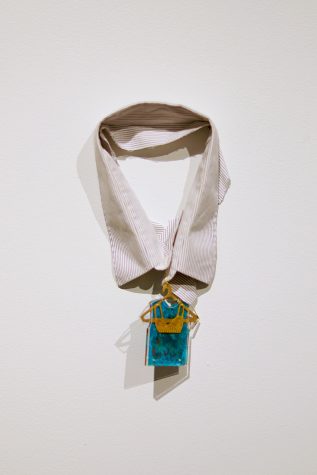 Her piece, titled "Hanger on Collar", showcases several pieces of clothing on a metal hanger, which each represent an element of fast fashion and consumerism. The plexiglass t-shirt and the vest represent the value of simplicity; the bra highlights the large expenses many women have to dedicate to buying underwear; and the hanger brings all the pieces together.  
"I'm pretty passionate about conscious consuming," Burnside said. "The idea that so many brands are mass producing clothing at the rate that's going on right now is wholly unsustainable … My whole point is to just simplify your wardrobe, or re–wear your staple pieces all the time."  
Burnside was awarded the "Hase Metals Award" for her piece and was honored during the ceremony. She said she had never submitted any of her work to be featured in an art show before, so she was grateful for the opportunity to be selected.  
"I think it's a good reminder to any student on campus that if you have any sort of creative urge, or if you feel like you have something that you can make, go for it," she said. "Our campus is a really great place to sign up for art classes … you don't have to be an art major." 
Jesus Hernandez is graduating in May with a Bachelor of Arts and a Bachelor of Creative Media. He works as the graphic designer at the UAM and also helps outside of the museum with projects in the art department. In his position at the museum, he designed the aesthetic for the show, including the title walls, printed posters, and social media graphics.   
Hernandez received the "Exploration in Materials Award" for his piece, "Battle for Womanhood". He used various historical newspapers as his canvas, which tell stories of the fight for women's rights – from women finally being granted the right to vote, to Roe v. Wade being overturned. Hernandez depicted Wonder Woman in the center of the piece, surrounded by many other female icons who have paved the way for women's rights. He remarked that Wonder Woman has always been an iconic symbol of female strength, and mentioned that his piece showcases prominent women leaders in front of the U.S. Capitol Building, since the battle for women's rights is far from being over.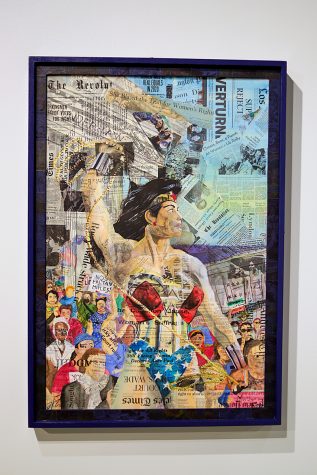 "'Battle for Womanhood' is a way to put a photo lens into saying, 'we should be moving forward instead of backward,'" Hernandez said. 
He remarked that the frame of his piece was intentionally created to allude to "old memory boxes" that his grandparents, and many others', kept newspaper cutouts and other keepsakes in.  
"I wanted to make it feel like these newspapers and all this history is inside that memory box," Hernandez said. "My whole inspiration for it came from recent events that I wanted to call attention to, as well as my grandparent who recently passed away." 
Hernandez started at the museum as an intern, and mentioned that he always tried to do his best wherever he was placed. He said he has enjoyed learning various skills in different art mediums, which have helped him grow as a graphic designer. During the awards ceremony and throughout the show, many commented on the legacy he is leaving on the UAM and on the art department as a whole. After graduation, he plans to move to California to take a position at the San Francisco Museum of Modern Art. 
"I have a lot of tools in my pocket to be able to work with," he said. "I just like being able to captivate the people before they even see the artwork [at the show]."  
Citlali Delgado is majoring in Studio Art at NMSU and received the Excellence in Painting Award for her piece, "Destino Manifesto". She grew up in El Paso, a city that she called very dear to her heart and to her culture.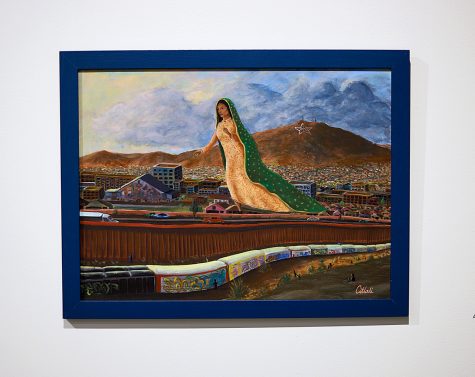 Her painting mirrors John Gast's "American Progress" (1872), which originally depicts westward expansion and the theme of manifest destiny. In her rendition, Delgado portrayed the reclamation of the land by native peoples, who are doing so through the humanitarian crisis/migration crisis. She replaced the angel in Gast's painting with the Virgen de Guadalupe, who is a prominent cultural and religious icon in Mexican communities, as well as a symbol of hope. 
"This is a very rewarding experience, coming to the show and being accepted," she said. "Winning this award feels like I'm doing something right and using my artistic ability to give my community a voice … This is definitely motivation as well for me to keep going, and I'm very grateful and thankful to receive it." 
For more information on the Juried Student Show, visit the UAM website. The exhibition will be open in Devasthali Hall until Apr. 15, 2023.  
Leave a Comment
About the Contributors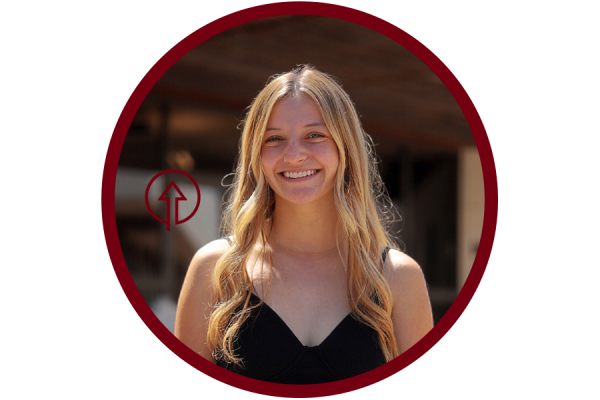 Riley Robertson, Editor-in-Chief
Riley Robertson is entering her second year with The Round Up as the Editor-in-Chief. She is a junior at NMSU double majoring in Journalism & Media...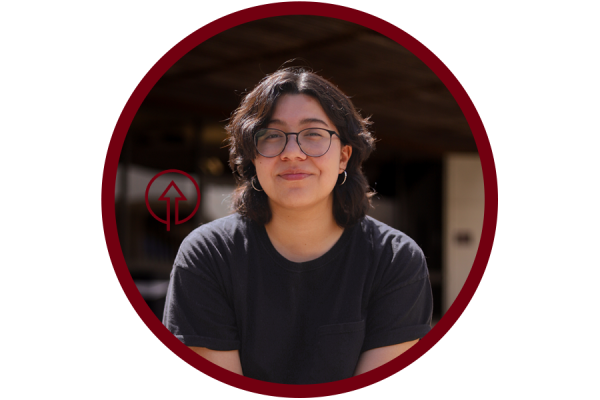 Leah De La Torre, Multimedia Specialist
Leah De La Torre is entering her second year at The Round Up as a multimedia specialist. She will be majoring in Journalism and Media Studies. She grew...