Local Esports icon continues legacy as an Aggie at NMSU
Many video game players see plugging in a controller and firing up a gaming system as just a hobby, a student from New Mexico State University has found success beyond the monitor.
Dylan Eaton grew up in the small town of Shiprock, N.M. about 30 minutes from the Four Corners Monument. Living in such a remote location called for imagination beyond the physical world, and video games provided a platform for just that.
Online gaming made it easy for Eaton to connect with individuals from diverse cultures. Being culturally aware despite where he was from is something he praises gaming for.
World-renowned video game title "Call of Duty" was what Eaton chose to begin to compete in competitively, which he found rapid success in the local scene. Many people recognize him behind the screen by his in-game name, "Turk3yNeck."
From north to south and everywhere in between the state of New Mexico, he has succeeded in many local tournaments and has become a force to be reckoned with. After winning eight local championships and over $3,000 in prize earnings later, Eaton has found himself on the cusp of a recently successful NM State Esports program.
While he never foresaw himself representing a university and competing at the collegiate level, he is thankful for the opportunity to do that while studying toward his degree. He is currently in his second year of competing for  NM State Esports in the College Call of Duty League (CCL), demonstrating his dedication as a valuable team member.
"The Esports team was what mainly went into my decision to come to NMSU because I didn't know of any other school who was offering one," Eaton said. "An old friend was [also] persuading me to go and to me, it seemed like the right decision to go."
He's not the only one who has chosen NMSU because of the growing Esports program, which continues to grow in popularity by the day.
Alan Aguilar, Head Recruiting Manager for NM State Esports, emphasized the importance of recruiting outside talent for the program's growth. The acquisition of student-players like Dylan Eaton has set the bar on what is expected from future recruits.
"There aren't many players like Dylan, he makes my work easy because he is confident in himself, his teammates and he is very good at what he does without having an egotistical approach to the team," Aguilar said. "In reality, he is almost the perfect example of what we look for in recruits at NM State Esports, players like him with great morals and values exceed our expectations in every way."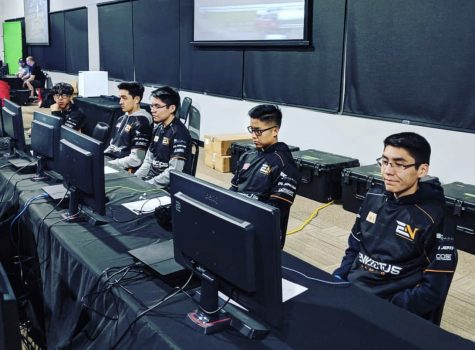 The team-building aspect is one of the main positive aspects of the Esports program at NMSU, as many students have found genuine friendships to carry on outside of gaming. Having a team player like Eaton has helped compose players around him and be in the right mental state when they need to be.
Isaac Grill, teammate, and player on the "Call of Duty" team, said that Eaton has helped the team as an in-game leader, primarily in the communicating aspect.
"I was an emotional player that would mentally check out at times if we were losing in a series or a map count," Grill said. "He [Eaton] never loses composure ever, and I have never seen him get mad or stop communicating with us at any point of our games, I've been trying to replicate that."
There is mutual respect on both ends, and NMSU is a perfect environment for him to thrive in. Living on campus and having access to the Esports lab has allowed him to start competing in online tournaments again, something he had to stop doing while he lived back home.
Eaton added he is eager to continue doing what he loves while attending college. "My end goal at NMSU is to bring a championship to the Esports program as well as successfully complete my higher education," he said.
Leave a Comment