Student Involvement and Leadership Programs hosted the annual Aggie Carnival on Wednesday, Aug. 23 on International Mall to invite students to walk around and learn about the recognized student organizations at New Mexico State University. 
Summer break is over, and NMSU is typically eager to kickstart the semester with an event for students to remember. During the carnival, dozens of student organizations invited both new and returning students to their tents to learn more about their groups, while enticing them with merchandise, food, and fun activities. The Aggie Carnival was more than just a fun event; it was an opportunity for students to meet like-minded people and discover exciting extracurricular activities they might venture towards in their school semester. 
Jessica Nevarez, the Leadership and Engagement Coordinator, was excited to enhance the student experience with the event.  
"The whole purpose of the carnival as its core is an involvement fair," Nevarez said. "So, we really give the opportunity to all of our recognized organizations to come out and table in one spot so that incoming students or returning students that didn't find something that they liked the year before can find something and make the most of it while they're here at the university." 
At the Aggie Carnival, many groups and clubs presented themselves to students, each offering unique experiences. Whether it be enjoying the sport of rugby, playing card games with friends, or being involved in student government, students had plenty of options to choose from.  
Many fraternities and sororities attended the carnival to recruit students, and Sigma Chi is one of many that promoted themselves. Damian Anaya, student president of Sigma Chi, shared their past accomplishments and their heartfelt story. 
"We focus heavily on our philanthropic donations," Anaya said. "Last year, we were able to raise over $25,000 for the Huntsman Cancer Foundation. We're very proud of that because recently, one of our brothers was diagnosed with Hodgkin's lymphoma stage two, and it really meant a lot to us to be able to raise that amount of money just to show that, you know, we care about what we do, and we care about our members." 
Anaya delved deeper into camaraderie and what students can experience if they join.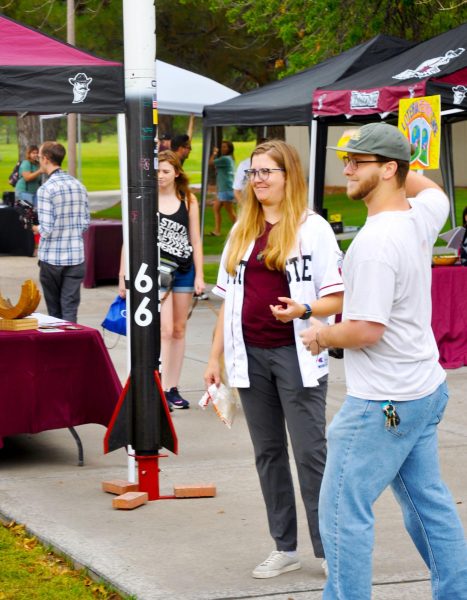 "Honestly, we just want to look for guys that, you know, focus heavily on their academics, want a string brotherhood, and a place to belong," Anaya said. "We just want members to have the best experience they possibly can, so there's not a certain student we're looking for. It's just whether or not we come to them and whether or not we provide that experience that they deserve."
Many academic organizations participated in the carnival, some very passionate about the pursuit of science. One of those organizations is The Society for Engineering and Physics. The communications officer, Z Burns, discussed their primary mission. 
"So, we kind of have a dual purpose when it comes to our STEM students; we really want to give them both soft skills and hard skills that are going to help them in school and graduate school if that's what they want to do and in their professional lives and beyond," Burns said. "We really want to get people engaged with science; we want to show them that science is fun. Science is cool. Science is absolutely not boring." 
Burns elaborated on her organization's activities for new students wanting to join. 
"The bulk of our meetings is actually spent on construction of projects," Burns said. "So that is going everything from the design phase to actually building something. We really want anybody who has an interest or wants to learn a bit more about science just because they think it's interesting." 
The most important element of the Aggie Carnival is student turnout. Despite a light rain throughout the duration of the event, students' curiosity and interest in campus culture led to a high number of attendees.  
Marleigh Manns, a freshman softball player majoring in human nutrition, spoke about her experience at the carnival. 
"It's really nice," Manns said. "I mean, the only downfall is of course the rain, but it's really nice. It's very colorful and community oriented. The dunk contest is exciting since my coach is here about to get dunked, and that's all I've seen right now. I have to go down and see more."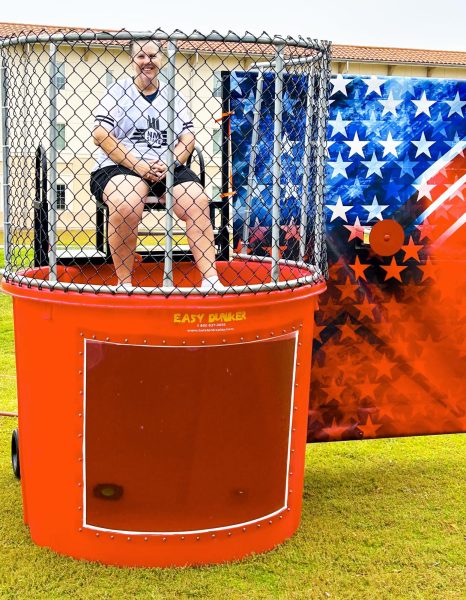 Gabe Williams, a sophomore majoring in computer science, thought the carnival was a good opportunity for students to create lasting friendships and expand their interests.  
"The carnival is really cool," Williams said. "It's nice seeing all these tables, all the new people, freshmen, sophomores, everyone that's mixed around, and especially the free stuff, too. I think everyone should definitely come out and see all the different groups on campus to broaden their horizon and see what groups they can join. Some of the groups that you could join, you can meet with friends for a lifetime, and everything like that. So, I think it is really a blessing." 
Nevarez said that Aggie Carnival is meant for students to not only find something new, but also to hopefully find their place at the university.   
"Be willing to try something new," Nevarez suggested. "No matter how uncomfortable it is. That's the best thing I could tell anybody … just really put yourself out there. Ask the stupid questions, make the mistakes, and then bounce back."