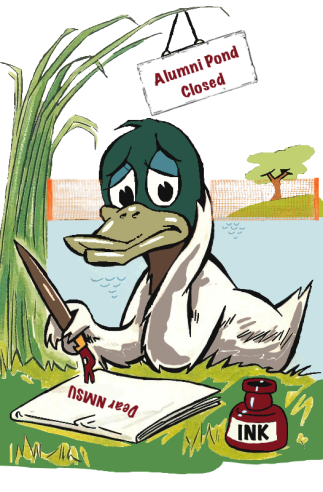 New Mexico State University's Alumni Pond, commonly referred to as the NMSU Duck Pond, closed on Tuesday, Aug. 1 for renovation. Alumni Pond, an admired place by community members who go to fish, admire wildlife or relax, was drained and fenced off after discovering a significant decrease in water level.  
According to Timothy Dobson, executive director of operations of NMSU Facilities and Services, the pond's water level dropped 8 feet within three days, indicating a possible leak in the pond's liner.  
"A construction fence was placed around the pond to help keep our community safe while the pond was drained," Dobson said. "We have met with representatives of Molzen Corbin, a local engineering firm, to review the repair project and have started procurement activities to grant them a contract to determine the failure and provide options for repairs." 
Dobson said it has been over 20 years since previous major repairs and said this renovation could take up to a year, but the estimated time is still unclear. The repairs may be challenging due to the size of the maintenance team and resources.  
"As a reference point, we have 16 groundskeepers to maintain the 300 landscaped acres that make up the main campus," Dobson said. "We will keep the pond closed during the investigation and repairs. Once we evaluate the condition of the liner and severity of the leak, we will have a better estimate for a time to repair."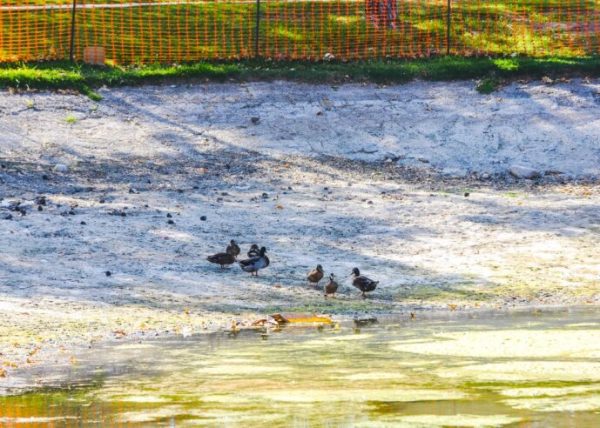 While the pond is open to everyone, it is frequently visited by students. Kailia Rankin, in particular, is an NMSU student who enjoys the peaceful atmosphere, but is unsettled by the amount of waste she finds floating in the habitat.  
"I think the pond closing is sad because it's a place where I go to reflect and hang out with the ducks," Rankin said. "I think [the renovation] is good because the trash and mistreating is definitely an issue, so I think that closing it off disallows disturbance of the pond. I hope that these ducks are provided with a more clean, safe and overall, more suitable living environment."  
The university is taking the closure as an opportunity to fully refurbish the pond so it will not only be an inviting space, but also a resource to expand NMSU's academic mission. NMSU Facilities and Services is collaborating with NMSU's College of Agricultural, Consumer and Environmental Sciences' Department of Fish, Wildlife and Conservation Ecology, to make Alumni Pond a living research lab for students. Dobson said they already work with faculty and students to maintain the pond located near Knox Hall.  
"For fisheries and aquatic quality work, there are often limited numbers of places where we can quickly and safely train students," said Matthew Gompper, professor and department head of the Department of Fish, Wildlife and Conservation Ecology. "To have two permanent water bodies on campus provides a unique and immediately accessible setting for students to gain insights into diverse topics, including topics such as fish management, water quality, invasive species biology and artificial ponds ecology, among others." 
According to Dobson, an additional aeration fountain will be installed because the Department of Fish, Wildlife and Conservation Ecology advised an increase in aeration to improve the pond's ecosystem.  
"I feel that the community will be appreciative of the repairs and renovations," Dobson said. "We are improving the pond's ecosystem which leads to a better facility. Our community appears to be understanding and we have received comments that they are looking forward to the improvements and reopening of the pond."