As Congress prepares to revise a federal food policy bill, New Mexico State University's Save the Children Action Network is fighting to ensure that the voices of New Mexican children are heard. 
Save the Children is a humanitarian organization working to help children around the world. NMSU is home to a branch of Save the Children Action Network (SCAN), the political advocacy arm of the Save the Children organization. While the group advocates primarily for early childhood education development, they also address other topics including food insecurity, climate change, and mental health.
"We cover a lot of different issues here at SCAN and NMSU has been really great and kind of leading the way on that; one day we'll do an event that's in regard to early childhood, the next day will be in regard to food insecurity, the next in regard to immigration," said Brady Steele, manager of New Mexico's SCAN organization. "NMSU has really kind of taken the lead on that and really showed the intersectionality of these issues." 
Many of the students involved in NMSU's branch of Save the Children use their own experiences as children to guide them. Ivy Saavedra, President of NMSU's SCAN organization, says that she tries to advocate in ways that she wishes someone would have for her. 
"We live in a system that's designed to fail people like myself," Saavedra said. "I was very lucky to where I didn't become a statistic. And there's children all over the U.S. who don't necessarily look like me or live in the same situations I lived in, but they're still going through certain things." 
One of the biggest potential impacts on children will be the FARM Bill, which is the agricultural and food policy of the federal government. Revised every five years, the bill covers food stamps and the Supplemental Nutrition Assistance Program (SNAP), which provides low-income families assistance in purchasing food.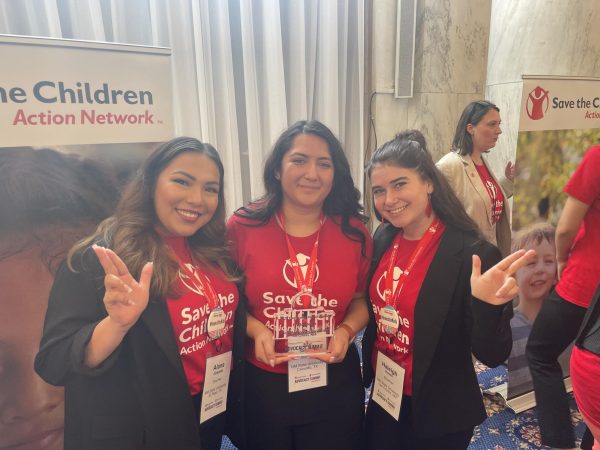 Now that the bill will be reauthorized this September, SCAN is fighting to ensure that the reauthorization will not include cost cuts and that children and their families have the money they need to live. They also hope to make access to SNAP benefits easier, such as being able to access the application over the phone for families who can't drive, and being able to buy food that has been pre-cooked or frozen. 
"We want our communities to be able to access the food that they need, and the food that they care about, and the food that responds to them culturally," Steele said. "And that's something we're thinking a lot about here in New Mexico, especially with such a large indigenous population and a large Latinx population." 
At a summit in Washington, D.C. in July, several members of NMSU's SCAN organization teamed up with Save the Children members from around the country in lobbying for the FARM Bill. Steele and Saavedra were both present, and Saavedra was awarded Student Advocate of the Year by Save the Children. NMSU graduate student Haleigh Haven was also among the NMSU students who attended. 
"If we're not properly advocating for factors such as increased SNAP benefits or expanded access to healthy food, it not only impacts our children, but it impacts our economic system and education system," Haven said. "It creates this domino effect. I know it's cliché, but children really are the future and that's really something we were able to drive home sitting with these legislators and the senators." 
While in D.C., the group spoke to legislators and senators of several states, including Ben Ray Lujan (New Mexico), Veronica Escobar (Texas), and representatives for John Cornyn (Texas). Saavedra says that while she was surprised at how many of their views on the FARM Bill lined up with members of both parties, acting in the best interest of children should be a bipartisan interest.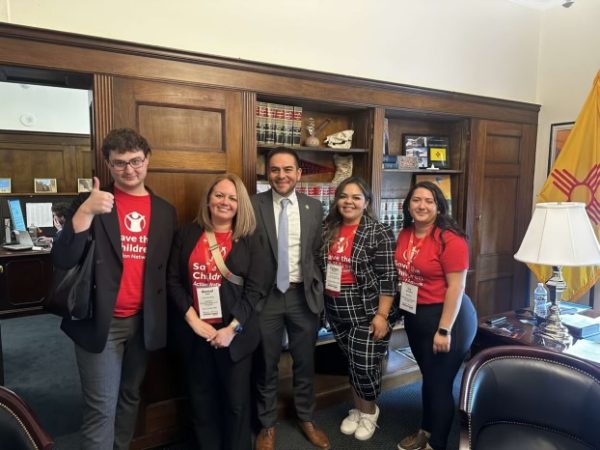 "We try to keep everything bipartisan," she said. "We don't try to lean one way or the other. I understand that we all have our own political agenda, and we all vote a certain way. But at the end of the day, we want to make sure that we're advocating for kids because kids don't have a side." 
As the rewrite of the FARM Bill approaches, NMSU's SCAN organization is continuing to remind legislators of their demands through petitions, letters, and phone calls to ensure that their voices, and the voices of the children they fight for, are heard. 
"I feel like we've done a lot, we've really helped to mobilize our community and mobilize the state of New Mexico and just get everybody involved," Haven said. "Although we might be seen as a small state population-wise, I feel that we've made a big impact on state and national policy, and I'm excited to see how they vote when it comes to the FARM Bill. Even if maybe just a quarter of what we were expecting to come out of it happens, I think that's still a win for New Mexican children."