Community members raced to New Mexico State University on Saturday, Sept. 9 to participate in a Color Run for the Las Cruces Community of Hope. 
The run was held in partnership between NMSU's Office of Experiential Learning and the Community of Hope. The 5K course extended around the NMSU campus with "color stations" at multiple points throughout, where volunteers threw powdered and pigmented chalk on passing runners for a burst of color. The event charged a $20 entry fee for individual runners, or $85 for groups, in order to support the Camp Hope fundraiser.    
"We were really fortunate to partner with NMSU and the Office of Experiential Learning to help support Camp Hope, which is a tent city that's at the Mesilla Valley Community of Hope," said Nicole Martinez, a Community of Hope representative. "Camp Hope shelters up to 50 people every night who are experiencing homelessness. So, it's a tent city that's located right in our backyard."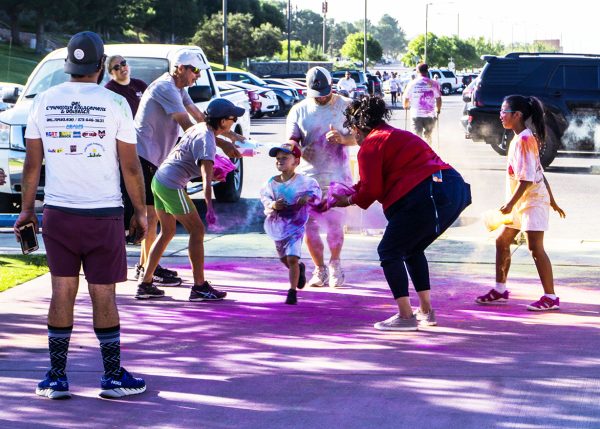 Camp Hope runs solely off of donations and is not supported by any federal, state, or local funds. The goal is to not only get as many people as possible off the streets, but to eventually end their homelessness by getting them into apartments, as well. 
Alice Delgado, the program specialist for the Office of Experiential Learning, said that the department chose a color run to partner with the Community of Hope because they thought it would be a fun way to get the community out in support of a good cause. 
"I think it's important for NMSU to support the Community of Hope because we've always talked about reaching out to the community, being part of it," Delgado said. "We take up a big portion of the city, and it doesn't hurt for people who are from Las Cruces to kind of get to know the area around them and become more aware of some of the things that the community needs help with and doing some philanthropy work along the way." 
This "philanthropy" is what drew a lot of the runners to the event in the first place. Emily Silverman, a Las Cruces community member and NMSU graduate, initially attended because her son's football team chose to run instead of having practice. She and the rest of her family stayed for the cause.  
"We try to support most of our community outreach programs and everything," Silverman said. "I'm a realtor in our community and we're always raising money for different organizations, including the Community of Hope. So, I think it's always important to do anything to help others that need our help."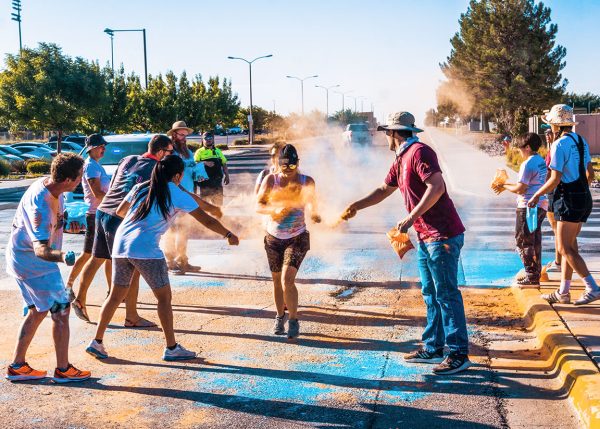 Along with the Silverman family, there were 230 runners and 47 volunteers, many of whom were NMSU students. There were also multiple sponsors, including the NMSU Foundation, Gym Magic, Little Steps Pediatrics, and Adams Radio of Las Cruces. Ultimately, the Office of Experiential Learning was able to raise over $4,000 for Camp Hope.  
"It exceeded our expectations," Delgado said. "So many people showed up. It's such a good time, so many vibrant colors. And we're always just so heartened to see our community give back, especially our Aggies, and have this partnership with NMSU to help show the people that we're serving that people care about them. They're not invisible." 
Camp Hope is continuing a six-week campaign to earn money for their Tent to Rent fundraiser. For more information, visit tentstorents.org.